WWE Extreme Rules: John Cena Beats Brock Lesnar Despite MMA; What Does It Mean?
April 30, 2012

Brock Lesnar brought the world of mixed martial arts into the WWE ring on Sunday night at Extreme Rules. It was evident in the beginning of the match when John Cena was the victim of viscous elbows that split his head open.
Cena was able to prevail in the end when he laid Lesnar out in the middle of the ring on the steel steps that had been left there by Lesnar.
The same steps that Lesnar used to stand on and taunt Cena were the same steps that Lesnar met his end on.
It was a battle from the opening bell for Cena, as he fought to withstand Lesnar's abuse. It was abuse that has been rarely seen in the WWE. 
Lesnar clearly had no reservations about bringing the skills he learned in the UFC to the WWE. From his appearance with gloves and knee guards to the kimura that he slapped on Cena a few times throughout the match.
Lesnar was clearly incorporating MMA to his wrestling skills in a way that has never been done before.
This all coming from a guy who clearly overpowers most men that are put before him.
At the end of the match, though, it was Cena who prevailed when he smashed Lesnar in the face with his chain and landed an Attitude Adjustment to finish him off.
What does it all mean going forward?
It appears that the WWE has struck pure gold with Lesnar. He has emerged as the ultimate villain and the intimidating bully that the WWE has not had in some time. Lesnar is everything that they could have hoped for and more.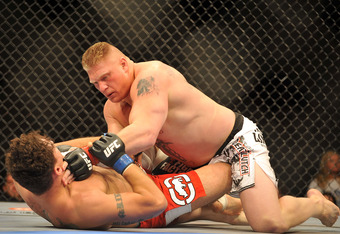 Jon Kopaloff/Getty Images
With the match now over, there are many various angles that can be taken with both Cena and Lesnar. Cena's speech at the end of the match made it sound like he might have been unhappy with the match that took place.
It appears that Cena is going to be taking a leave for a while, but it remains unclear as to why. He eluded to his boss being unhappy with him and also the injuries that he might have suffered in this match.
As for Lesnar, it seems as though he is going to be very involved in what happens going forward, even after losing this match. 
All I kept thinking while he was seemingly annihilating Cena was, when is the Rock going to come back? I do not see any way that The Rock and Lesnar do not square off at any point in the next year. That will likely come down the road, though. 
In terms of short-term plans, it has been rumored that Lesnar will face Randy Orton at SummerSlam.
It remains to be seen if these rumors come to fruition, however.
Extreme Rules proved that the WWE is on the rise and that Cena and Lesnar are still vital parts of it.