Predators vs. Coyotes: Highlights, Twitter Reaction and Analysis for Game 2
April 30, 2012

Christian Petersen/Getty Images
The Phoenix Coyotes' improbable run through the 2012 Stanley Cup playoffs took another surprising step forward with a 5-3 win over the Nashville Predators in Game 2 of their Western Conference semifinal series on Sunday.
As in Game 1, both teams blatantly ignored the prediction that they'd battle in low-scoring affairs, combining for eight goals on 71 shots.
As a result, the 'Yotes own a 2-0 series lead for the first time since 1987, when they were the Winnipeg Jets.
Tweets of the Night
TSN's Bruce Arthur calls these numbers "interesting":
Interesting numbers: about 10,000 people watch every local Predators broadcast, up from 4,000 last year. The Panthers, last year: 1,600.

— Bruce Arthur (@bruce_arthur) April 29, 2012
I call them "mildly to moderately depressing." Speaking of depressing numbers, it would appear that Happy Gilmore couldn't help but poke fun at 'Yotes fans:
Attendance for Phoenix Coyotes fans was at an all time high last night. twitter.com/_Happy_Gilmore…

— Happy Gilmore (@_Happy_Gilmore) April 28, 2012
Apparently, nobody told "Don Cherry" that Keith Tkachuk retired after last season...and hasn't played for Phoenix since 2001:
WAIT SINCE WHEN IS KEITH KACHOOK NOT ON THE COYOTES ANYMORE?

— Don Cherry Parody (@DonCherryParody) April 30, 2012
Must-See Highlight
Taylor Pyatt gets the nod for scoring what proved to be the winning goal, slotting home the rebound of a Shane Doan shot shortly after the Preds scored their second.
Grades for Key Predators Players
Ryan Suter: B
Good news for Ryan Suter: He registered two points—a goal and an assist.
Christian Petersen/Getty Images
Bad news: He rated a minus-two on the evening and, as one of Nashville's blue-line leaders, bears a significant burden for surrendering five goals and 39 shots.
Pekka Rinne: C+
Sunday's game wasn't Pekka Rinne's finest hour in net, to say the least. Granted, he didn't get the sort of blue-line support that any goalie needs, but five goals is still five goals, regardless of the bombardment.
Grades for Key Coyotes Players
Radim Vrbata: A-
The 'Yotes' leading goalscorer during the regular season put the puck in the net for the second time in the series to put Phoenix up, 3-1, in the second period. He also assisted on Martin Hanzal's score and finished the game with a plus-two rating.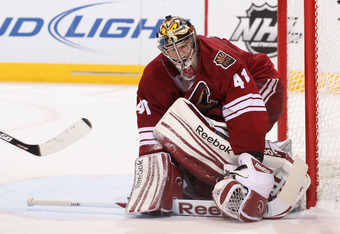 Christian Petersen/Getty Images
Mike Smith: B
Mike Smith wasn't "great," per se, letting in three goals on 33 shots.
But, he was better than his Nashville counterpart and good enough to give Phoenix a 2-0 series lead.
Deciding Factor: Defense
Defense was important in Game 2 not because there was much played, but rather, because even the smallest bit of attention paid at the blue line would ultimately make the difference.
As it did in Phoenix's favor. Time and again, the Preds appeared to be busy watching the puck rather than defending the 'Yotes' skaters. That uncharacteristically lackadaisical approach opened up easy opportunities for Phoenix, which wasted little time and effort converting them into goals. 
Game MVP: Keith Yandle
As a whole, the 'Yotes' blueliners did an excellent job of going from defense to offense and creating chances on the break. Keith Yandle and Oliver Ekman-Larsson both deserve credit for the effort, though Yandle gets a slight edge for having a more direct hand in two of Phoenix's scores.
What's Next
Both teams will head to Nashville for Game 3 on Wednesday, with the 'Yotes hoping to take a commanding 3-0 series lead and the Preds looking to narrow the gap.