Gregory Shamus/Getty Images
April 29, 2012
The Michigan Wolverines are on the cusp of a return to dominance in the Big Ten and college football at large. Three years of inconsistent and somewhat sloppy play saw the Wolverines fade from the spotlight. A BCS bowl win to cap an 11-2 season has brought them back to the forefront of the college football stage.
The Wolverines have solidified their offense over the spring. Quarterback Denard Robinson has improved his passing abilities, and his scrambling is still a major threat. 
His receiving corps is solid, with Roy Roundtree likely being his No. 1 target this season. Other standout receivers include Jeremy Gallon, Drew Dileo and Jerald Robinson. 
The running game was in question last season. Brady Hoke's Wolverines utilized a rushing back-by-committee approach with Fitzgerald Toussaint, Vincent Smith and Stephen Hopkins sharing the load. None of the three seemed to stand out in the minds of the fans and coaches. However, toward the middle of the season Toussaint brought his game together and rushed for more than 1,000 yards. He will start at tailback in 2012 and will almost certainly top 1,000 yards rushing again.
There are some concerns about the defensive line play. Team leaders Mike Martin and Ryan Van Bergen have graduated and moved onto the draft. Much of the rest of the defense is still intact. In fact, everything behind the line seems to have  greatly improved.
The linebacker play looked very crisp during spring action. Linebacker Brandin Hawthorne has shown exponential improvement since last season.
The safeties and corners are looking very sharp as well. Cornerback Blake Countess showed great promise as a freshman last season. He is a rising star and will improve on his impressive performance from last season. He could very well be the next Leon Hall.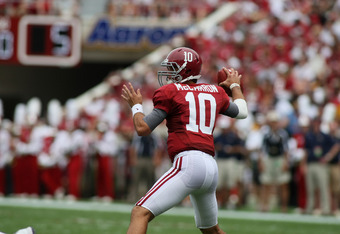 Greg McWilliams/Getty Images
Those elements added together (along with a slightly deflated Big Ten conference) make for a winning season for the Wolverines. Their one stumble will be the season opener on neutral ground against the Alabama Crimson Tide.
The Tide will still have a high-powered defense and a superb running game, even after losing many starters to the draft. Clearly, Alabama is still going to be able to move the ball very well both on the ground and through the air.
Quarterback A.J. McCarron showed tremendous growth as a leader on the field during the BCS National Championship Game with LSU in January. His passing skills are honed, and he seems all-around more comfortable running the offense.
Alabama will be the true test for the Wolverines, and one I fear they may not overcome. With star defensive players leaving for the draft, Alabama may be down to just about Michigan's level this season.
Other games of concern are Michigan State, Nebraska and Ohio State. Michigan State dealt the Wolverines one of their two losses in 2011. The MSU game is in Ann Arbor this season, so the pressure is a little less. Additionally, the Spartans' star QB, Kirk Cousins, has moved on to the draft. The Spartans will pose a formidable challenge, but one that is by no means insurmountable.
Nebraska's visit to Michigan Stadium last year was one of the more vicious beatings of Big Ten play as Michigan outscored Nebraska 45-17. The meeting will be in Lincoln this year, but a 28-point loss cannot be solely attributed to Michigan's home-field advantage. Michigan will simply be the superior team in 2012 as well.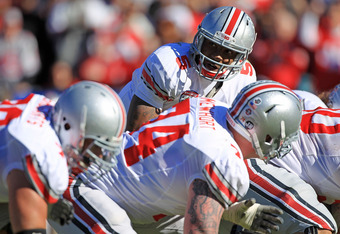 Scott Halleran/Getty Images
The Ohio State-Michigan game is one of the fiercest rivalries in sports. It is also one of the most unpredictable. I have attempted to estimate a probable outcome, but it is extremely difficult. And there will be many predictions for this game as the season approaches—some will predict a Michigan victory, and some a triumph for Ohio State. It could be a blowout for either team. In any case, Michigan is more complete as a team while Ohio State has the arguably the most intimidating stadium in college football.
Perhaps these factors will offset each other and make for an overtime spectacular.
Michigan fans need not worry about teams like Minnesota, Indiana and Purdue. The rest season will be pretty straightforward with the exceptions of the Ohio State, Nebraska and Michigan State games.
It all ends up in a record of 11-1 in regular-season play and a trip to the Big Ten Championship Game.
Michigan Wolverines: 11-1 (8-0)
L: 09-01-12: Michigan Wolverines 38  vs. Alabama Crimson Tide 41
W: 09-08-12: Air Force Falcons 3  @ Michigan Wolverines 48
W: 09-15-12: UMass Minutemen 10  @ Michigan Wolverines 38
W: 09-22-12: Michigan Wolverines 38  @ Notre Dame Fighting Irish 31
W: 10-06-12: Michigan Wolverines 45  @ Purdue Boilermakers 31
W: 10-13-12: Illinois Fighting Illini 17  @ Michigan Wolverines 35
W: 10-20-12: Michigan State Spartans 38  @ Michigan Wolverines 44
W: 10-27-12: Michigan Wolverines 24  @ Nebraska Cornhuskers 17
W: 11-03-12: Michigan Wolverines 45  @ Minnesota Golden Gophers 14
W: 11-10-12: Northwestern Wildcats 31  @ Michigan Wolverines 41
W: 11-17-12: Iowa Hawkeyes 24  @ Michigan Wolverines 31
W (OT):11-24-12: Michigan Wolverines 42  @ Ohio State Buckeyes 38
Like the new article format? Send us feedback!