NBA Playoffs 2012: 3 Simple Steps to Fix the Knicks' Offense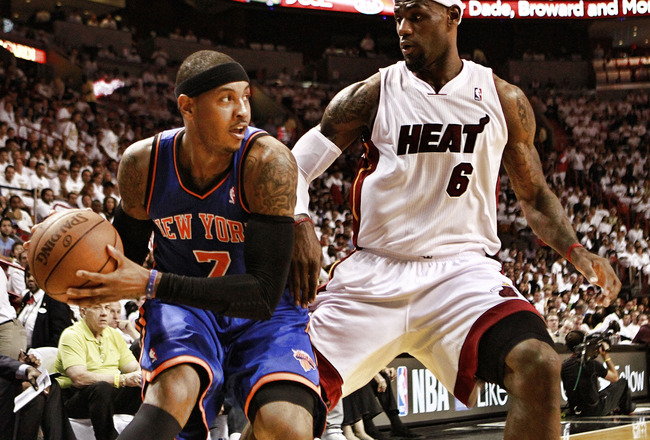 Marc Serota/Getty Images
There is no nice way of putting it: Game 1 was miserable for the Knicks.
New York had a lot of steam heading into the playoffs, but Miami simply embarrassed them on Sunday afternoon as they cruised to a 33-point win. While it looks like Miami is in cruise control, all hope is not lost for the Knicks.
Miami's championship odds dramatically increased due to a couple of torn ACLs suffered on Sunday, but the games still need to be played. The entire Knicks season has been one big roller-coaster ride, proving that they are just a magical hot streak away from shocking the Heat.
Luckily for the Knicks, this is not March Madness and there is some time to rebound. In order to shock the world, the Knicks are going to need score more than 67 points, and here's how they will do so.
Stop Panicking
Marc Serota/Getty Images
The Knicks play in two types of modes. I refer to them as the "look-at-us-we-are-scorching" mode and the "we're-going-to-lose-if-we-don't-chuck-up-desperation-shots" mode.
The first mode is the one that every Knicks fan wants to see: they share the ball, find the open guy, and make electrifying alley-oops. They play with the intensity of a college team and I'll be the first to admit that it brings a smile to my face.
And then there's the second mode. When the Knicks find themselves in a hole, it is as if all hell breaks loose and they become an entirely different team. They start chucking up horrible shots, not looking for the open guy, and picking up technical fouls. A formula for disaster.
In order for them to have a chance in the series, they have to play in the first mode at all. Panicking only results in their lackluster performances, which they simply cannot afford.
It's inevitable that the Knicks will be faced with some leads to overcome against a team like the Heat, but they will have to keep their composure and play like they do with the lead.
If they keep the intensity, and distribute the ball, they are a quality team. If they shoot bad shots and become hot-headed, they have nowhere to go.
Fire from Three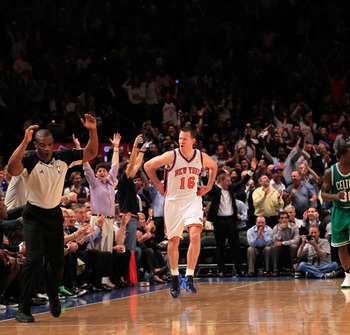 Chris Trotman/Getty Images
How does an underdog ever win? Some will say luck. Some will say timing. When in reality, it's momentum.
Miami is simply more athletic and physical than New York. However, the Knicks can shoot. With JR Smith, Steve Novak, Baron Davis, and Carmelo Anthony, the Knicks have numerous long-range weapons.
I'm not saying the Knicks should only shoot threes, but they should exploit the one strength they have as a momentum shifter. Three-point shooting is what holds the Knicks together, and for them to have a shot, they will need momentum swings.
When Steve Novak hits a three, there is a certain ecstasy released into the atmosphere that electrifies the Knicks bench. Momentum is key, and the Knicks need to achieve it by the three ball.
Ask Miami to Stop Paying the Refs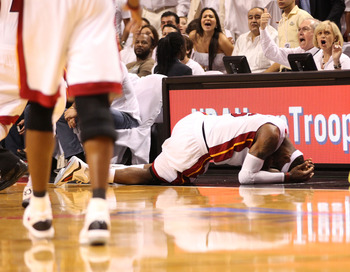 Marc Serota/Getty Images
It's bad enough that the Knicks are overmatched, but to the way Game 1 was called is only making matters impossible for New York.
It seemed as if every time the Knicks made a layup, a charge was called on Sunday. If Game 2 is called with half of the erroneous calls that Game 1 saw, the Knicks will have a chance to stick around for four quarters instead of one.
New York can do all they can to compete with Miami, but if they don't get any calls their way, it's going to be tough to come away with a single win.
In a perfect world, the Knicks will scotch the nets from deep, distribute the ball, and the impartial refs make the calls. Nothing is impossible.
Keep Reading

New York Knicks: Like this team?