NBA MVP 2012 Race: How LeBron James Ranks Against Recent MVPs
April 30, 2012

Marc Serota/Getty Images
LeBron James is a near-lock to win the MVP Award for good reason—he's led a dominant Miami Heat team and became the clear leader both on and off the court.
He averaged 27.1 points, 7.9 rebounds, 6.2 assists, 1.9 steals and made 53 percent of his field-goal attempts in yet another season that redefined versatility in the NBA. He's been a model of efficiency and balance, improving upon past performances that were hard to beat.
Is this the most impressive MVP-caliber campaign in recent memory? A survey of the last decade's winners may put things in perspective. 
Derrick Rose, Chicago Bulls—2011
It's hard for a point guard to have a better season than the one Rose put together in 2010-11. He averaged an even 25 points along with 7.7 assists and 4.1 boards. The young superstar may not have matched LeBron's efficiency and well-rounded play, but there's something to be said for just how much the Bulls relied on Rose last year.
He doesn't play with superstars like Dwyane Wade and Chris Bosh, and he single-handedly put Chicago on his back at key moments. James has certainly had a better campaign by the numbers, but Rose's breakout season was special in its own right.
Kobe Bryant, Los Angeles Lakers—2008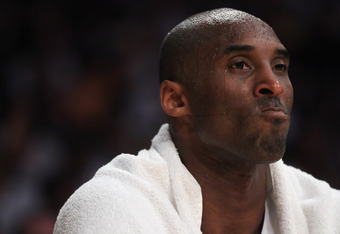 Jeff Gross/Getty Images
After being edged out in MVP voting in each of his previous two masterpiece seasons, Bryant finally got one in a year that was pretty typical by Kobe's standards. In any of those seasons, Bryant at his best still doesn't match LeBron's efficiency and versatility.
Bryant and Rose are unique talents in their own rights, but LeBron's size simply gives him the ability to impact the game with his defense, rebounding and exceptional court vision.
Dirk Nowtizki, Dallas Mavericks—2007
After having two seasons that were even more productive than his MVP year, Nowitzki was finally recognized thanks to his improved shooting efficiency and Dallas' success. Dirk has been one of the most unique and un-guardable shooters over the last decade, but he simply doesn't hold a candle to LeBron's defensive presence and ability to distribute.
Steve Nash, Phoenix Suns—2005 and 2006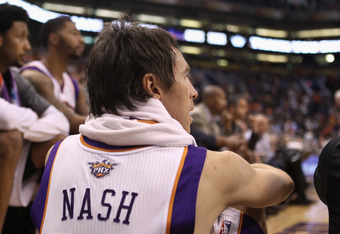 Christian Petersen/Getty Images
Nash stands out as one of his generation's best passers, and that should by no means diminish his exceptional shooting ability. His two MVP seasons in Phoenix are more about team contributions than overall production.
Guys like Nash will never put up LeBron-like numbers, but it's hard to argue with their ability to make teammates qualitatively better—an essential component to Mike D'Antoni's offense.
Kevin Garnett, Minnesota Timberwolves—2004
It's easy to forget just how dominant Kevin Garnett was in his prime. He averaged 24.2 points, 13.9 rebounds, five assists, 2.2 blocks and 1.5 steals in one of the most versatile seasons a power forward has ever had—and while shooting 50 percent no less.
Garnett deserves additional praise given just how bad his team was. Outside of veterans Sam Cassell and Latrell Sprewell, this team depended on the likes of Mark Madsen, Ervin Johnson and "the Mayor" Fred Hoiberg.
KG's season deserves more attention. It's hard for even LeBron to match this kind of dominance.
Tim Duncan, San Antonio Spurs—2002 and 2003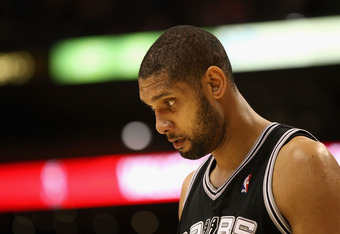 Christian Petersen/Getty Images
While the Spurs now have one of the league's deepest teams, that wasn't always the case. Duncan was central to an effort supported by an aging David Robinson and a very fresh Tony Parker.
He averaged 25.5 and 23.3 points in his MVP campaigns, collecting nearly 13 boards a game in each. He also established himself as one of the league's most intimidating defensive presences and a brilliant passer from the post.
The best years from Garnett's and Duncan's primes are reminders of just how valuable an elite big man can be. LeBron's season may rival these iconic performances, but it hasn't surpassed them.