NFL Draft 2012: Predicting Bust Odds for Every First-Round Pick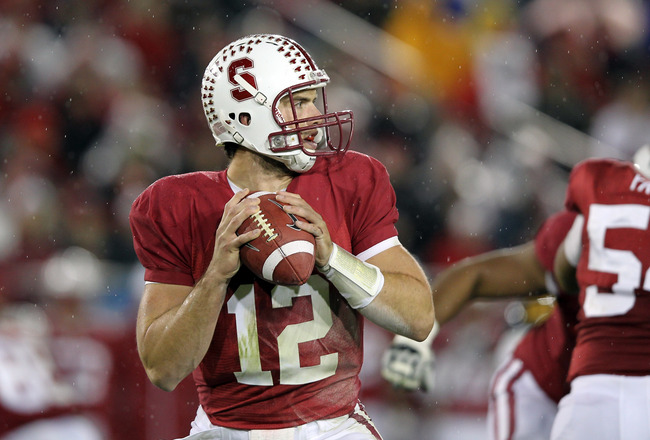 Ezra Shaw/Getty Images
With the 2012 NFL draft in the books, it's time to look at each first-round pick. Or, more precisely, which picks are going to bust.
What are the odds of Andrew Luck busting? Or Robert Griffin? Are they more or less likely to bust than Trent Richardson?
Here, we take a look at all this and more. Find out if your team went all in with a risky product or played it safe with a sure bet.
1. Indianapolis Colts: Andrew Luck, QB, Stanford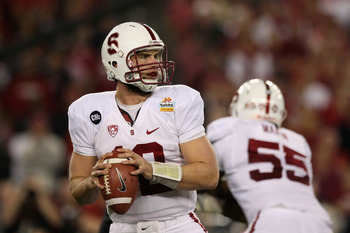 Donald Miralle/Getty Images
Okay, there's no point in playing games. Andrew Luck is as safe of a prospect as a quarterback can be. He has already ran a more complicated offense than most quarterbacks run in the NFL.
Luck chose between three plays at the line of scrimmage based on what he saw from the defense. Few quarterbacks make those types of decisions at the next level.
The Stanford star isn't just smart, though. He is also a great athlete with good arm strength and superb athlete. Barring something unforeseen, Luck will not bust.
Bust Odds: 5 percent
2. Washington Redskins: Robert Griffin III, QB, Baylor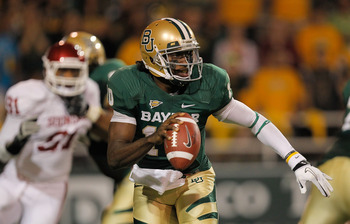 Sarah Glenn/Getty Images
Robert Griffin's experience in a pro-style offense causes him to be seen as a risky prospect. However, Griffin's skill-set is easily transferred to the NFL.
The Heisman winner is an incredible athlete with elite running ability, but he can throw the ball to all levels of the field too. The risk lies not with Griffin's abilities but with his durability.
Griffin isn't exactly small at 223 pounds, but he has had injury problems in the past and missed almost the entire 2009 season. Whether this will be an issue in the bigger, stronger NFL remains to be seen.
Bust Odds: 20 percent
3. Cleveland Browns: Trent Richardson, RB, Alabama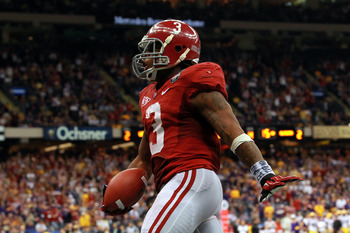 Ronald Martinez/Getty Images
Running backs are historically easy to project to the NFL, and Trent Richardson is a special running back prospect. No prospect is more complete, and Richardson is full of star potential.
Unless the Alabama star suddenly develops injury issues, it's hard to imagine him becoming anything less than an elite player in the NFL. And at 5'9", 228 pounds, Richardson doesn't exactly have a frail build.
Bust Odds: 2 percent
4. Minnesota Vikings: Matt Kalil, OT, USC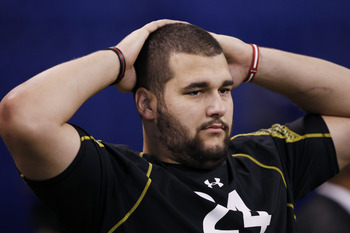 Joe Robbins/Getty Images
As his draft position suggests, Matt Kalil is widely considered a franchise left tackle. He's technically sound and doesn't have any glaring flaws.
However, left tackles drafted in the top five aren't full proof. Imperfections that don't show up in the college game suddenly appear, and Kalil may not be dominant to overcome these issues.
Bust Odds: 10 percent
5. Minnesota Vikings: Justin Blackmon, WR, Oklahoma State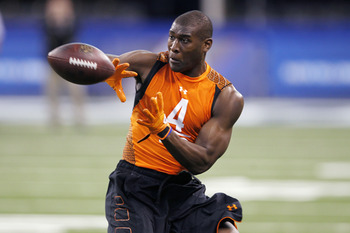 Joe Robbins/Getty Images
Because he's a good route-runner with solid catching ability, Justin Blackmon is a pretty safe prospect. Whether or not he busts depends partially on the specific definition of a bust.
Blackmon isn't likely to completely fail out of the league. He also isn't likely to be a stud who is worthy of a top-five selection. He'll fall somewhere in between as a solid but unspectacular player.
Bust Odds: 15 percent
6. Dallas Cowboys: Morris Claiborne, CB, LSU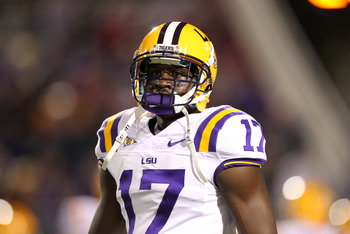 Joe Murphy/Getty Images
There's a reason Dallas traded up so high for Morris Claiborne. He's an outstanding talent with the technique to easily transition to the NFL.
Claiborne's best chance of busting is through injury. He doesn't have any flaws in his game that would cause him to fail to become a solid starting cornerback.
Bust Odds: 7 percent
7. Tampa Bay Buccaneers: Mark Barron, S, Alabama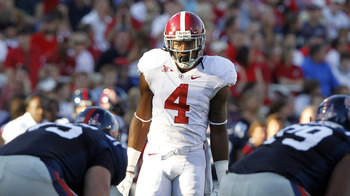 Butch Dill/Getty Images
After a seemingly meteoric rise, Mark Barron ended up being a top-seven pick. He was viewed as merely a first-round pick until the last couple weeks in the draft, and it's hard to see why he was drafted so early.
With that said, Barron is a solid all-around player who should be a solid starter for a number of years. TH eone thing that could hurt him is Tampa Bay's scheme. It's hard to know how the Buccaneers will use him.
Bust Odds: 15 percent
8. Miami Dolphins: Ryan Tannehill, QB, Texas A&M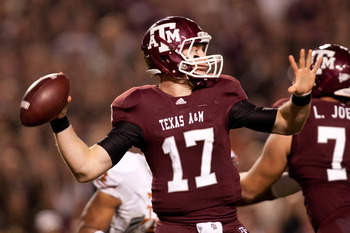 Darren Carroll/Getty Images
Ryan Tannehill is an incredibly talented player, but he didn't produce at an elite level in college, and he has limited experience as a starting quarterback.
So while Tannehill has terrific upside, he also has great downside. Joe Philbin and Tannehill's former offensive coordinator Mike Sherman's presence in Miami does help his odds, though.
Bust Odds: 35 percent
9. Carolina Panthers: Luke Kuechly, LB, Boston College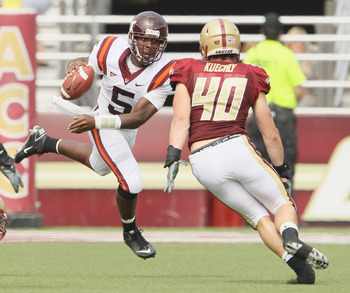 Elsa/Getty Images
An intelligent player with outstanding instincts, Luke Kuechly is one of the safest players in this draft. Kuechly isn't the traditional "safe prospect" because he is also a talented athlete with good upside.
With time, Kuechly could be a top-five inside linebacker, but it's hard to imagine him being anything worse than above average. Only injuries could derail the slightly undersized linebacker's career.
Bust Odds: 5 percent
10. Buffalo Bills: Stephon Gilmore, CB, South Carolina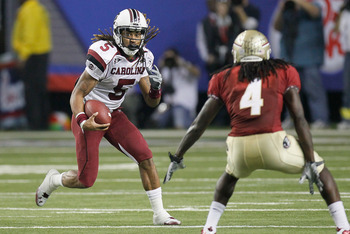 Kevin C. Cox/Getty Images
Though he is a great athlete with outstanding upside, Stephon Gilmore isn't exactly a safe prospect. He was inconsistent at South Carolina and needs to work on his technique.
It's possible the Bills got an absolute steal here. However, it's also possible they got a huge bust in the top 10. At this point, though, teams have to sacrifice on either floor or ceiling. Buffalo chose to sacrifice on floor.
Bust Odds: 30 percent
11. Kansas City Chiefs: Dontari Poe, DT, Memphis
Joe Robbins/Getty Images
Players who are 6'4" and 346 pounds aren't supposed to move like Dontari Poe does. That's why he was considered a good value pick at No. 11.
That doesn't mean he is a safe pick. In fact, Poe didn't produce very well at Memphis, and he has a lot to work on as a player. Also, men of Poe's size always have some risk when it comes to weight and conditioning.
Romeo Crennel's presence in Kansas City doesn't hurt Poe's odds of succeeding, though.
Bust Odds: 35 percent
12. Philadelphia Eagles: Fletcher Cox, DT, Mississippi State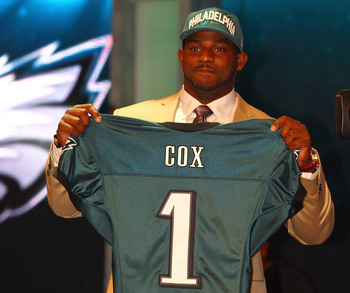 Al Bello/Getty Images
Fletcher Cox's fall outside of the top 10 was one of the biggest surprises of the draft. He was one of the best players in the draft, and he plays a well-rounded game.
With Jim Washburn coaching Philadelphia's defensive line, Cox couldn't have a much better chance of succeeding. The Eagles' scheme and staff is perfect for Cox.
Bust Odds: 8 percent
13. Arizona Cardinals: Michael Floyd, WR, Notre Dame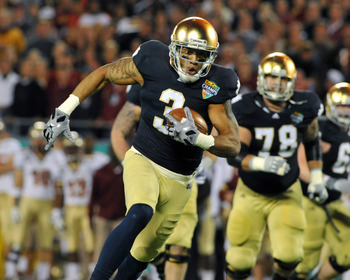 Al Messerschmidt/Getty Images
Michael Floyd's upside is big, but his downside is too. Floyd has had off-the-field issues and suffered multiple injuries at Notre Dame.
Also, all big wideouts have a little more risk. Floyd doesn't have overly smooth hips and may struggle to get open in the NFL. It's possible Floyd will be a beast opposite Larry Fitzgerald, but he could be out of the league in a few years.
Bust Odds: 35 percent
14. St. Louis Rams: Michael Brockers, DT, LSU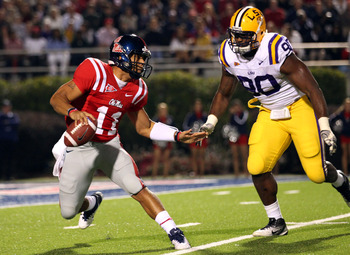 Joe Murphy/Getty Images
A physical freak, Michael Brockers weighs in at 6'5", 322 pounds and offers great athleticism and power. However, Brockers has limited experience and hasn't shown much as a pass-rusher.
All inexperienced players are risky, and Brockers is especially so. He didn't produce great numbers at LSU, and his draft position is based almost entirely on upside.
Bust Odds: 40 percent
15. Seattle Seahawks: Bruce Irvin, OLB, West Virginia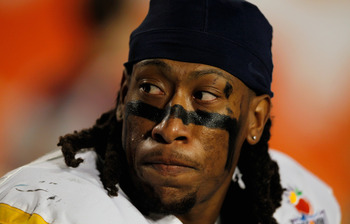 Streeter Lecka/Getty Images
There is something to like about Bruce Irvin. He has an incredible first step and the most upside of any edge rusher in the draft. That's about all there is to like, though.
Irvin is weak at the point of attack and lacks any real pass-rushing moves. He is almost useless against the run and is still raw as a pass-rusher. This is a massive risk for Seattle, and it isn't likely to pay off.
Bust Odds: 55 percent
16. New York Jets: Quinton Coples, DE, North Carolina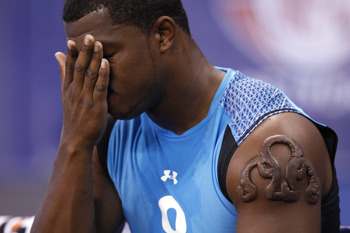 Joe Robbins/Getty Images
At North Carolina, Quinton Coples showed his tremendous talent, but he also showed a terrible motor and lack of interest at times. The North Carolina defensive end is going to be playing under a terrific defensive coordinator, though.
Coples' best fit is as a 5-tech in New York's 3-4 scheme, so he has a chance to succeed. He's in a great situation, but in the end, Coples' success comes down to him, and that's a risk.
Bust Odds: 40 percent
17. Cincinnati Bengals: Dre Kirkpatrick, CB, Alabama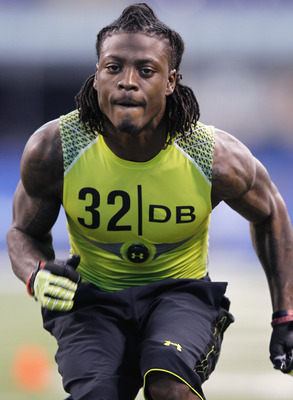 Joe Robbins/Getty Images
At 6'2", 186 pounds, Dre Kirkpatrick is a talented player with some flaws. He doesn't have overly smooth hips and may have to move to safety in the NFL.
Even if he does move to safety, though, Kirkpatrick should be an excellent player. The risk comes with Kirkpatrick's off-the-field problems and slight frame. Injuries and arrests are two of the most frequent causes of busts.
Bust Odds: 30 percent
18. San Diego Chargers: Melvin Ingram, OLB, South Carolina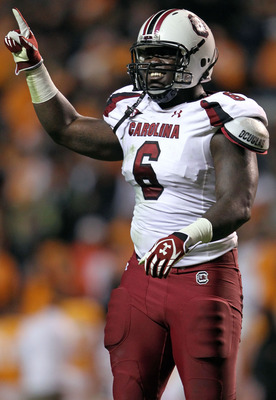 Andy Lyons/Getty Images
An incredibly versatile player, Melvin Ingram's best fit is as a 3-4 outside linebacker, where he'll be playing in San Diego. Ingram won't be an elite pass-rusher, but he will offer value in other ways.
Unfortunately for Ingram, San Diego runs a rather bland defense, so his skills may not be properly utilized. The scheme will be a huge factor in Ingram's success.
Bust Odds: 30 percent
19. Chicago Bears: Shea McClellin, OLB, Boise State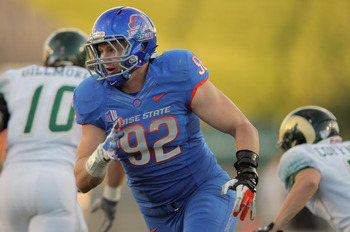 Doug Pensinger/Getty Images
A 6'3", 260-pound defensive end/outside linebacker hybrid, Shea McClellin will move around in Chicago's defense. McClellin isn't a pure pass-rusher, but he has enough burst to be productive.
Again, the question is how Chicago uses McClellin. If the Bears move him around and take advantage of his strengths, he could be a star. If not, he could bust.
Bust Odds: 25 percent
20. Tennessee Titans: Kendall Wright, WR, Baylor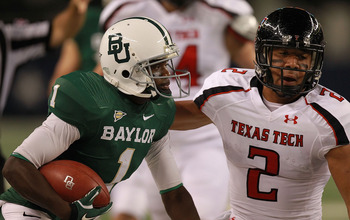 Ronald Martinez/Getty Images
The Titans are building a fast, explosive offense. Kendall Wright joins a wide receiver corps that already has Nate Washington, so he can play out of the slot where he excels.
Jake Locker looks to be a future star too, so Wright should benefit from good quarterback play. Wright isn't very big, though, and he could develop injury problems in the future.
Bust Odds: 15 percent
21. New England Patriots: Chandler Jones, DE, Syracuse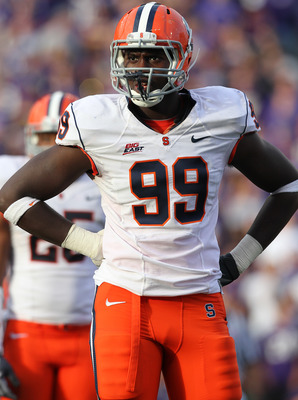 Otto Greule Jr/Getty Images
Chandler Jones is arguably the best defensive end in this draft, and he provides a combination of terrific length and above-average athleticism. In Bill Belichick's defense, Jones could be a star.
Jones has the ability to gain or lose weight, so he is schematically versatile. He's not a finished product, though, and all projects are a bit risky.
Bust Odds: 20 percent
22. Cleveland Browns: Brandon Weeden, QB, Oklahoma State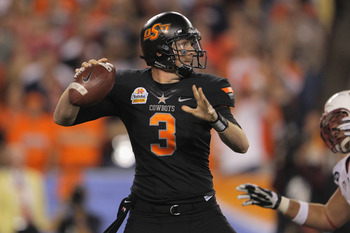 Doug Pensinger/Getty Images
If he were younger and didn't have a past shoulder injury, Brandon Weeden would be a terrific quarterback prospect. However, he is 28 years old, and he did hurt his shoulder as a minor league pitcher.
Weeden's skill set and quarterback abilities are excellent, but he may be physically declining by the time he is ready to really produce in the NFL. There is risk with all quarterbacks, but Weeden carries more than most.
Bust Odds: 40 percent
23. Detroit Lions: Riley Reiff, OT, Iowa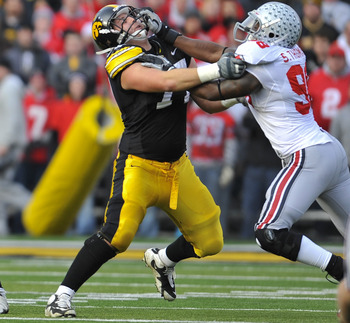 David Purdy/Getty Images
Even if he doesn't develop into a starting left tackle, Riley Reiff should be terrific on the right side. He is a good athlete with decent power.
Reiff's arm length is a concern, though, and he may not have good enough footwork to compensate for it. He could also struggle with power rushers if he does play right tackle.
Bust Odds: 25 percent
24. Pittsburgh Steelers: David DeCastro, OG, Stanford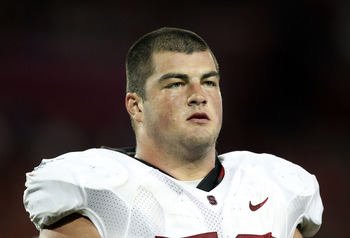 Christian Petersen/Getty Images
The best guard prospect in years, David DeCastro is already a great guard, and he has the ability to get much better as his career unfolds. He's the complete package.
It is almost impossible to imagine DeCastro busting. He is such a good player that it seems like injuries are the only thing that could possibly derail his career.
Bust Odds: 3 percent
25. New England Patriots: Dont'a Hightower, LB, Alabama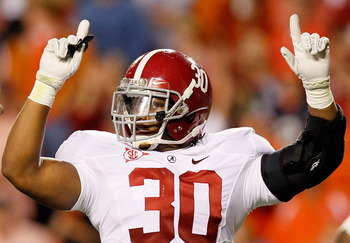 Kevin C. Cox/Getty Images
A massive 6'2", 265-pound linebacker, Dont'a Hightower is an interesting player. He'll move around, filling different roles in New England's defense, but he has to be used right.
If the Patriots try to use Hightower too much in coverage, he'll fail. The Alabama product needs to be attacking against the run and pass, not dropping back and playing conservatively. Hightower's range is also a concern.
Bust Odds: 35 percent
26. Houston Texans: Whitney Mercilus, OLB, Illinois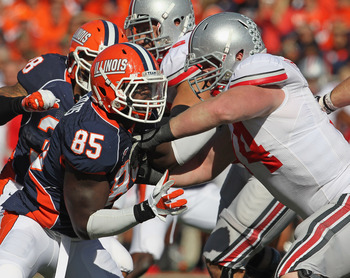 Jonathan Daniel/Getty Images
Though he was incredibly productive at Illinois, Whitney Mercilus is incredibly risky. He doesn't have much in the way of pass-rushing moves, and his burst isn't elite.
Mercilus needs to be split out off tackle in order to succeed. If Houston tries to force him into a conventional role, he will bust.
Bust Odds: 40 percent
27. Cincinnati Bengals: Kevin Zeitler, OG, Wisconsin
Jamie Sabau/Getty Images
Guards don't bust too often. Kevin Zeitler plays with nastiness and hasn't had injury issues. He can play in pass protection, and he can run-block. There's nothing not to like.
Zeitler doesn't have elite upside, but there isn't a reason he should bust. He'll be a solid player in Cincinnati for many years.
Bust Odds: 10 percent
28. Green Bay Packers: Nick Perry, OLB, USC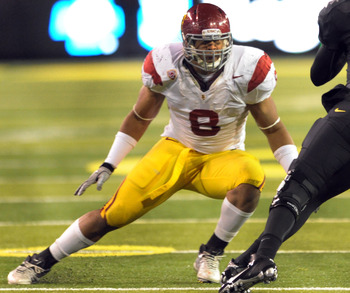 Steve Dykes/Getty Images
Nick Perry is an outstanding athlete, but he isn't a great football player. Perry's not smooth off the edge, and he will be a huge project in coverage. There are definite flaws in his game.
The USC defensive end could become a star. He could also bust out of the league in a few years. There is a low floor and a high ceiling here.
Bust Odds: 40 percent
29. Minnesota Vikings: Harrison Smith, S, Notre Dame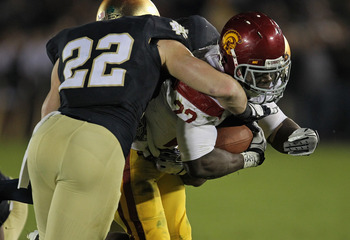 Jonathan Daniel/Getty Images
Harrison Smith isn't a first-round talent. Maybe he'll end up being a good player, but, based on his college film, he should not have gone this early.
Safeties frequently bust because they can't tackle well, and Smith needs to improve there. He goes for the big hit far too often and lets offensive players get by. That's a big issue to overcome in the NFL.
Bust Odds: 35 percent
30. San Francisco 49ers: A.J. Jenkins, WR, Illinois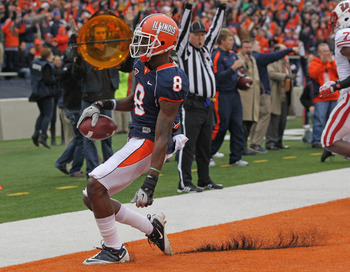 Jonathan Daniel/Getty Images
A.J. Jenkins is a solid player. He has good speed on the outside and can catch the football. Well-rounded players like him don't bust at a high rate.
However, busting is anything less than becoming a No. 1 wideout, Jenkins will probably bust. He simply doesn't have that type of upside and won't become much more than a solid No. 2 option.
Bust Odds: 30 percent
31. Tampa Bay Buccaneers: Doug Martin, RB, Boise State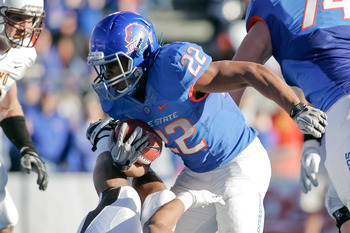 Otto Kitsinger III/Getty Images
Running backs don't come a whole lot more complete than Doug Martin is. He is a powerful back with good catching and blocking abilities. The Boise State product can become a feature back.
Martin isn't overly explosive, though, and he may not be enough of a home-run hitter in the NFL. He's more of a ground-it-out back and may not create enough big plays to become a good starting running back. That's not too likely, though.
Bust Odds: 15 percent
32. New York Giants: David Wilson, RB, Virginia Tech
Matthew Stockman/Getty Images
David Wilson is certainly talented. He's a terrific athlete who can make guys miss in the open field, and he can catch the football.
Wilson isn't an every-down back, though, and he won't run through many tackles. First-round running backs are expected to start, and Wilson may not ever do that at a high level.
Bust Odds: 40 percent
Keep Reading