Why the Denver Broncos' Best Picks Didn't Even Have Their Names Called
April 30, 2012

Christian Petersen/Getty Images
The Denver Broncos, led by John Elway, made one of the biggest splashes in free-agency history when they announced that they had signed former Colts quarterback and future Hall-of-Famer Peyton Manning to a five-year, $96 million contract. Because of the acquisition of Manning, the Broncos traded away Tim Tebow, who helped lead the team to a massive upset of the Pittsburgh Steelers in last season's playoffs.
Along with the signing of Manning, the Broncos signed one of his former favorite targets, Brandon Stokley. Additionally, the team also acquired cornerback Tracy Porter, tight ends Joel Dreessen and Jacob Tamme, wide receivers Andre Caldwell and Jason Hill, quarterback Caleb Hanie and safety Mike Adams. The team also announced that they had hired former Jaguars head coach Jack Del Rio as the team's new offensive coordinator. Unfortunately, their defense took a major hit, as safety Brian Dawkins announced his retirement.
The Broncos also snapped up several good players in this year's NFL draft, led by top pick Derek Wolfe. However, I believe that the Broncos' best rookies this season could be some that didn't even have their names called.
2012 NFL Draft
First, let's analyze what the Broncos did do with their draft. 
During the draft, the Broncos held the 25th overall selection but traded down to the 36th overall pick, which came early in the second round. Their pick raised some eyebrows as they selected Cincinnati defensive tackle Derek Wolfe with the pick. Wolfe was one of the most complete defensive tackles in the draft, as he registered 70 total tackles, 21.5 tackles for loss and 9.5 sacks. His stellar play for the Bearcats earned him the conference's Defensive Player of the Year Award.
Although there were numerous players on the board that were considered better, Elway and Co. felt that Wolfe fit their scheme the best, as he rarely makes mistakes and is amazing in a 3-technique, which is what the Broncos run. They felt that Wolfe would become a better prospect that Kendall Reyes (49th to San Diego), Jerel Worthy (51st to Green Bay) and Devon Still (53rd to Cincinnati). They could be right, but it will take some time for Wolfe to learn the Broncos' new system under Del Rio.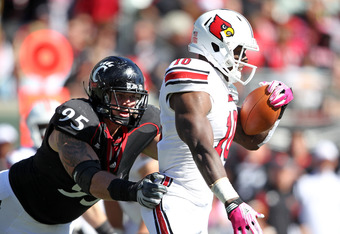 Andy Lyons/Getty Images
The front office also made a puzzling move later in the second round, as they tabbed Arizona State quarterback Brock Osweiler with the 57th overall selection. The team signed Hanie in the offseason to become the team's second-string quarterback, but the addition of Osweiler vastly changes that. Not to mention, there's also the aforementioned Manning, who will undoubtedly be the starter at the beginning of the season. But for whatever reason, the Broncos decided to take an early chance on Osweiler, who still has a lot of to learn and could have benefited greatly if he returned to the Sun Devils.
As mentioned earlier, the Broncos signed Manning to a five-year deal in the offseason. It remains unlikely and uncertain that Manning still has five years left in the tank, but the Broncos' front office seems to think he does. But in case his neck gets hurt at some point in the near future, Osweiler will be there to take over. Even if that's the case, it doesn't make much sense to me, as the Broncos had higher needs other than a backup signal-caller. Only time will tell as to how Osweiler does at the professional level.
The Broncos stayed on offense in the third round, as they took a chance on San Diego State running back Ronnie Hillman. I had previously listed Hillman as one of the most underrated prospects in the draft, but I always had him as a fourth-round pick. The Broncos took him with the 67th overall selection, which I consider a minor reach. Hillman could eventually become a legitimate player in the NFL, but it will take some time. The Broncos already have Willis McGahee on the roster, who rushed for 1,199 yards and four touchdowns last season. However, McGahee is 30 years old, which is considered old for a starting running back. Additionally, the Broncos also have the injury-prone Knowshon Moreno, who has struggled to stay healthy since entering the NFL in 2009.
Hillman could eventually supplant Moreno and possibly McGahee if he falters, but I don't know if he'd ever develop into a week-to-week, every-snap starter.
With their fourth-round pick they acquired from Jacksonville, the Broncos selected one of Osweiler's teammates at Arizona State, cornerback Omar Bolden. Bolden has amazing skills and he was once considered to be a top cornerback prospect in this year's draft, but missed his final season at Arizona State with a torn ACL. If he can stay healthy and return one-hundred percent, the Broncos could find a major steal.
Seven picks later, the Broncos drafted center Philip Blake from Baylor. Denver already has J.D. Walton on the roster, who also played collegiately at Baylor. The pick was somewhat puzzling, but it could turn out to be a great pick if he reaches his ceiling. With their final two picks, the Broncos went back to the defensive side, as they took two SEC players, Tennessee defensive lineman Malik Jackson and Kentucky linebacker Danny Trevathan in the fifth- and sixth-rounds, respectively. Personally, I believe both athletes can become quality players at the professional level, if given the opportunity.
UFAs
After the draft was over, the Broncos announced that they had signed 13 free agents, including Texas A&M cornerback Coryell Judie, Oklahoma State defensive end Jamie Blatnick, Arkansas linebacker Jerry Franklin, San Jose State safety Duke Ihenacho, Toledo receiver Eric Page and Osweiler's favorite target at Arizona State, receiver Gerell Robinson.
Judie, a former Aggie, was once considered a second- or third-round prospect, but his stock dropped significantly before the draft, evidenced by him not going in the first 253 selections. Judie was a solid player at Texas A&M, after accumulating 79 total tackles, one sack, four interceptions and 13 passes defensed. Judie may not have been one of the 10 best cornerbacks in the draft, but I believe he can become a very special player in the right system. Judie also returned a number of kicks in his two seasons with the Aggies, so he could become a legitimate double-threat for John Fox's squad.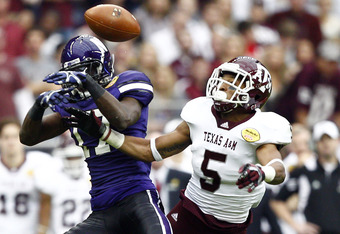 Bob Levey/Getty Images
Also, I firmly believe that the Broncos got a humongous steal when they signed free-agent linebacker Jerry Franklin to a contract. Franklin, who played collegiately at Arkansas, was a starter during all four years with the Razorbacks as he accumulated 81, 94, 100 and 101 total tackles, respectively. Furthermore, he registered 31 tackles for loss, 10 sacks, five interceptions, 19 passes defensed, two forced fumbles and four fumble recoveries. Franklin was an outstanding linebacker and it surprised that he didn't have his name called in 253 attempts. Franklin could become a very valuable asset to the Broncos in the near future.
However, the Broncos did exceedingly well with the signings of Jamie Blatnick, Eric Page and Gerell Robinson. Blatnick, who was once considered a Day 2 prospect, played at Oklahoma State for four seasons. After playing sparingly over his first couple of years, Blatnick had a coming-out party during his senior campaign, as he registered 50 total tackles, 13.5 tackles for loss, eight sacks and one interception. Over his stellar career, Blatnick accumulated 118 total tackles, 23.5 tackles for loss, 16 sacks, one interception, 10 passes defensed, three forced fumbles and two fumble recoveries.
It amazed me that Blatnick wasn't selected during the draft, as I believe he could become a quality lineman in the NFL. He had a fairly decent combine, as he ran a 4.90 in the 40-yard dash, a 9'4" broad jump, a 32.5 vertical jump and bench-pressed 28 times. If given the opportunity, I believe Blatnick can succeed with the Broncos.
Finally, the Broncos picked up two receivers in free agency, Toledo's Eric Page and Arizona State's Gerell Robinson.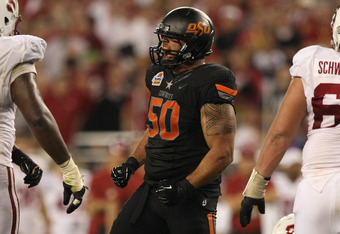 Donald Miralle/Getty Images
Page was a reception machine during his three years at Toledo, as he registered 82, 99 and 125 receptions, respectively. His 306 catches is an all-time record at the school, as well as his 3,446 receiving yards. Also during the three-year span, Page caught 25 touchdowns, along with one rushing touchdown. Page was also a great kick-returner especially in 2010 when he returned 28 kicks for 871 yards (31.1 average) and three touchdowns. His season was good enough for him to be selected to the college football All-America Team as a kick returner.
Unfortunately for Page, he played in the Mid-America Conference, so he played inferior competition. If he had recorded those numbers in a conference such as the SEC, Pac-12, Big Ten or Big 12, Page would have been selected in the first three rounds. But since he played at such a small conference, it hurt his draft stock even though he had phenomenal numbers.
Page would likely never become a true No. 1 or No. 2 receiver in the NFL, as he'd likely flourish in the slot. It may be hard for him to reach No. 3 on the depth chart however, as Eric Decker, Demaryius Thomas, Jason Hill, Brandon Stokley, Andre Caldwell and possibly Matt Willis will all be ahead of him. But if he has a stellar training camp and does well in practice, he could survive the final cut and make the roster.
The same applies to Gerell Robinson, who I thought was one of the most intriguing prospects in the entire draft, not just at receiver. I considered Robinson to be a fourth- or fifth-round choice, but he managed to go undrafted. Robinson's 4.62 in the 40-yard dash likely hurt his cause, even though he stands at 6'3" and weighs in at a stout 227 pounds. I thought, and still do, think that Robinson could wind up being a gigantic steal, as he has a lot of positives. At Arizona State, Robinson registered 135 career receptions for 2,071 yards and 12 touchdowns. Last season was undoubtedly his best campaign, as he caught 77 passes for 1,397 yards and seven touchdowns with Osweiler as his quarterback.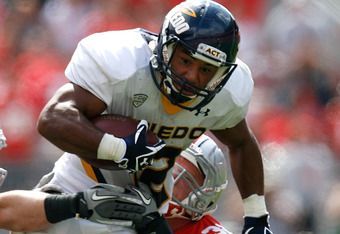 Kirk Irwin/Getty Images
Over the last few seasons, we've seen numerous undrafted receivers come into the NFL and do a solid job, such as Wes Welker, Kassim Osgood, Malcom Floyd, Lance Moore, Josh Cribbs, Nate Washington, Greg Camarillo, Miles Austin, Davone Bess, Danny Amendola, Blair White, Brandon Banks, Victor Cruz and Doug Baldwin. I don't think he'll ever become a receiver like Welker, Cruz or Austin, but he could become a valuable asset to a team like Moore, Washington or Bess. He's an appealing prospect but like Page, there are a number of receivers immediately ahead of him. If he shows the potential he has and works hard, there's no doubt in my mind that he could work his way into the rotation.
The Broncos adding Page and Robinson after the draft reminds me a lot of what the Bills did two seasons ago when they signed Donald Jones and David Nelson after the draft concluded. Jones participated in just eight games last season before suffering an injury, in which he caught 23 passes for 231 yards and one touchdown. Nelson was a key component in the Bills' offense last season, as he caught 61 passes for 658 yards and five touchdowns. I believe Page and Robinson, if they both make the roster, could register numbers like that in their rookie or second-year campaigns.
There's no doubt in my mind that the Broncos had a fairly decent draft. It may not have turned out like Philadelphia's, Cincinnati's, Indianapolis' or Pittsburgh's classes, but it was still a quality few days for the front office.
However, I believe the signings they made after the draft could be the key to their future success. Blatnick, Franklin, Judie, Page and Robinson could all become key contributors to the Broncos over the next few seasons. They will be coming in with a chip on their shoulder and show more promise than any of the draftees that had their names called over the three-day span.
The Broncos did a phenomenal job after the draft concluded, perhaps better than any of the other 31 teams. John Elway and Co. should be proud.