Russell Wilson: Seattle Seahawks Smart to Use Draft Pick on QB
April 29, 2012
Kevork Djansezian/Getty Images
Only certain individuals are built to play quarterback in the NFL. That's why so few are successful in the league.
Seattle knows that quarterbacks don't come often, so they went out and signed Green Bay quarterback Matt Flynn via free agency. While his small sample size in the NFL seems great, it's a small sample size for a reason; he's certainly not a sure thing.
That's why drafting Wisconsin quarterback Russell Wilson in the 2012 NFL draft makes perfect sense for the Seahawks organization.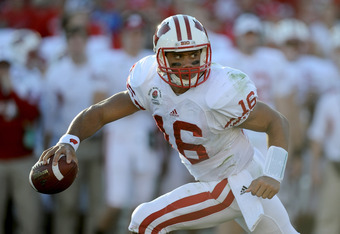 Harry How/Getty Images
Wilson is going to be a project inside Seattle's system, but he has all the intangibles you love to see from your leader under center. He's a team leader, he commands respect in the huddle, he knows the nuances of the game and his work ethic has a trickle-down impact on the rest of the team.
He is a player that would have been drafted in the top 15 of the NFL draft if he wasn't 5'11". Sounds like a selection that could have a high reward in the end result.
Flynn, as much as he looks great from the outside, isn't a sure thing. He's a late-round draft selection that was forced to sit behind superstar Aaron Rodgers. He learned the game from one of the best in the league, got a clearer example of the system and made the most of his time as a fill-in when Rodgers was out.
Seattle is taking a chance on a guy who is still unproven in the NFL. It could work out, but it could also flop.
The jury will be out for Flynn in the next few years.
Why not draft a guy you can mold into a potential starter just in case Flynn doesn't work out? It makes all the sense in the world.
Wilson was the perfect quarterback to take a chance on in the NFL draft. He has the mechanics, tools, fundamentals, knowledge, athleticism and a will to win.
Don't be shocked if Wilson is running the show in Seattle in three to five years.