Buffalo Bills Draft Grades: 4 Picks Who Will Succeed in 2012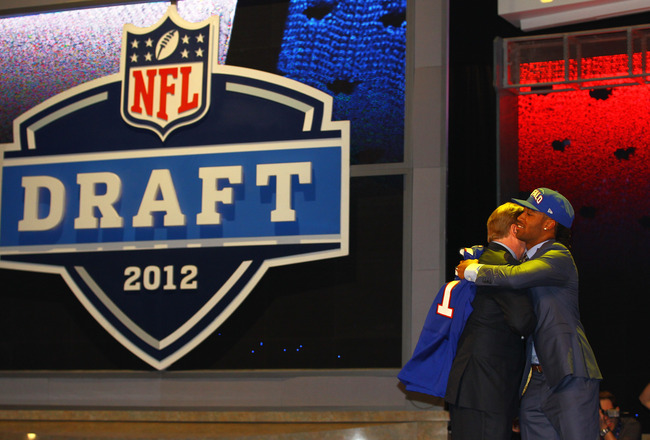 Al Bello/Getty Images
The Buffalo Bills' stellar 2012 draft yielded nine total additions. Buddy Nix and Chan Gailey filled all of the team's needs over the course of the draft, adding offensive linemen, cornerbacks, linebackers and a receiver.
All of the offseason needs for this team were met, and more often than not, met with value.
Although some of the Bills choices will need to develop into better players, some will make an immediate impact for the team in 2012.
Here are the four players drafted by the Bills most likely to make an impression in the upcoming season.
1. Stephon Gilmore, CB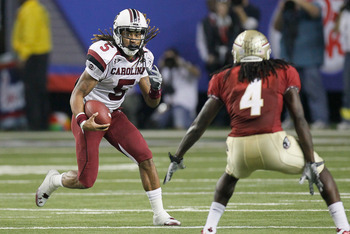 Kevin C. Cox/Getty Images
Last season, the Buffalo Bills ranked sixth in the NFL in interceptions with 20 total picks. While three of those interceptions were hauled in by linebacker Nick Barnett, the majority were made by players in the secondary. That stat is pretty remarkable given the fact that the Bills had the third worst pass-rush last season in terms of sacking opposing quarterbacks. They recorded just 29 sacks all season.
Despite the Bills' frequent inability to pressure opposing QBs, the Bills secondary cashed in by intercepting passes anyway.
The Bills first-round draft choice Stephon Gilmore will come in as an immediate starter for the team at cornerback.
With vastly improved pass-rushers by way of Mario Williams and Mark Anderson, Gilmore and the rest of the Bills' secondary could be seeing a plethora of hurried throws and dead ducks in 2012.
Gilmore not only has the potential to be a lock-down corner next season, but also the work by the Bills revamped pass-rush up front could make his job that much easier.
Gilmore has every reason to succeed in his first NFL season in Buffalo.
2. T.J. Graham, WR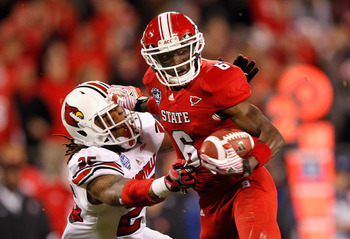 Streeter Lecka/Getty Images
Trading up two spots in the third round of the draft to select T.J. Graham out of N.C. State seemed like a questionable move by Bills management. Graham was projected to be a seventh-round draft choice by both CBS Sports and NFL Network draft analyst Mike Mayock.
Nevertheless, Graham has a chance to shine this season in Buffalo.
Graham is a speedy receiver who doubled as a track star in college. He could be very effective as a slot receiver to accommodate Stevie Johnson and David Nelson on offense.
Where the Bills third-round draft choice could really make an impact, however, is on special teams.
During his collegiate career, Graham returned two kicks as well as two punts back for touchdowns.
Special teams is a very underrated aspect of football. Although kickoffs became significantly less exciting by the decision to move kickoffs up to the 35-yard-line, leading to a great deal more touchbacks, having a dynamic kick returner and punt returner can be a game-changer. Just ask the Chicago Bears.
If Graham gets a shot as a kick/punt returner this season, he could be a major difference-maker for the Bills. He'll have the opportunity to help the team put points on the board via great field position and possibly some TD returns.
3. Cordy Glenn, OL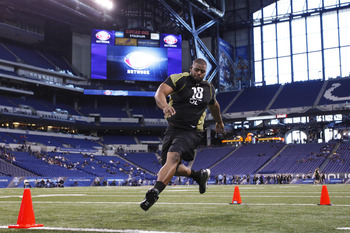 Joe Robbins/Getty Images
At this juncture, it appears that Cordy Glenn will have the opportunity to play left tackle for the Bills in 2012.
At 6'5", 345 pounds, Glenn is a massive offensive lineman with big hands and long arms at his disposal.
Despite his positives, Glenn doesn't have the quickest or most agile feet, which is a luxury he'll need in order to be a tackle at the NFL level.
However, I could see Glenn being a Pro Bowl-caliber offensive guard. If he's motivated enough, I wouldn't be shocked to see him make a smooth transition to left tackle in the NFL defending Ryan Fitzpatrick's blind side.
Regardless of what spot on the Bills' offensive line Glenn winds up playing, he'll be a difference-maker.
Glenn's versatility will be invaluable next season as he can play both guard spots as well as right tackle.
If the Bills' offensive line suffers from injuries again this season (knock on wood), Glenn will be able to move effectively all over the line.
The offensive line depth added by the Bills during the draft should be a big X-factor this season.
4. Tank Carder, LB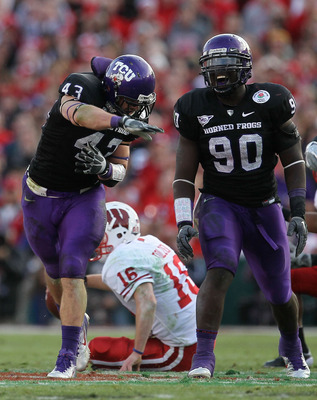 Stephen Dunn/Getty Images
Tank Carder is a football player, plain and simple.
Although he'll likely be stuck behind Kelvin Sheppard, Nick Barnett and Kirk Morrison on the depth chart, he's a hustle guy who will do all of the little things needed to make an impact as a rookie.
Carder will play on special teams this season and will probably see some time at linebacker in an effort to improve the Bills' woeful run defense from a year ago.
Unlike Vontaze Burfict, Carder can come in with a positive attitude, learn from the coaches and show the same leadership qualities he displayed at TCU.
Don't be surprised if Carder makes at least one game-saving play this season.
We may be hearing chants of "Tank!" at the Ralph sooner rather than later.
Keep Reading

Buffalo Bills: Like this team?