Andrew Luck: Keys to Early Success for Top Overall Pick
April 29, 2012
Chris Chambers/Getty Images
While it's absurd to expect Andrew Luck to have a Cam Newton-like rookie season, the Colts' new franchise quarterback is certainly capable of succeeding early.
He's been running a pro-style offense for four years now, and his mental and physical abilities just scream "NFL-ready." He's got the arm strength, the accuracy, the mechanics and, perhaps most importantly, the intelligence to lead the Colts on a surprising run this season.
Of course, he's got his fair share of obstacles to overcome before that can happen. Luck must do these three things to enjoy a successful rookie season.
Find Reggie Wayne Regularly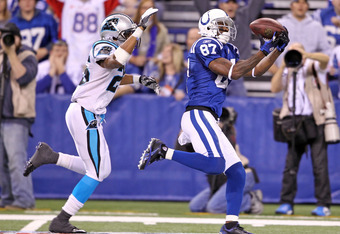 Andy Lyons/Getty Images
Reggie Wayne has been one of the best and most consistent wide receivers in the last decade. His presence will be incredibly important to Luck's development.
Every young quarterback can benefit from having a prolific veteran receiver on the roster. Wayne will be able to share some of the secrets that made Peyton Manning so successful, as well as serve as a security blanket whenever Luck gets in trouble.
Despite Indy's horrible quarterback situation last year, Wayne still racked up 960 yards and four touchdowns. He will be a very valuable commodity for Luck this season.
His Decision Making
Luck has very few flaws, but one of them is his over-confidence in his own arm.
While his fearless nature on the field is generally seen as a positive, there's a thin line between being confident and being careless.
At Stanford, he occasionally forced throws that simply weren't there. Rather than throwing the ball away or tucking it and running, he would try to thread the needle.
While he didn't get burned too often doing this in college, he won't be as lucky in the pros. In the NFL, coverage gets tighter and windows get smaller.
If he continues to force the issue against professional defenses, his interception total will be through the roof.
Develop Relationship with TEs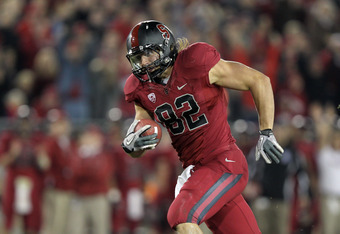 Ezra Shaw/Getty Images
The Colts did Luck a favor with their second- and third-round draft picks, selecting tight ends Coby Fleener and Dwayne Allen. With a generally weak receiving corps in Indy, the development of both players will be key to Luck's early success.
Although Fleener is a little more polished, both players have exceptional speed, ball skills and big-play ability for their position. If Luck can develop good timing with them, he will have two big, reliable weapons to play with.
Luck already has a head start with Fleener, who was one of his favorite targets at Stanford the last four years. Last season, Luck found Fleener 34 times for 667 yards and 10 touchdowns.
Allen was also very productive last season, recording 50 receptions for 598 yards and eight touchdowns for the Clemson Tigers.
If Luck can establish a rhythm with both players early in the season, he will greatly improve his chances of success.