Greatest Individual Duels in NBA Playoff History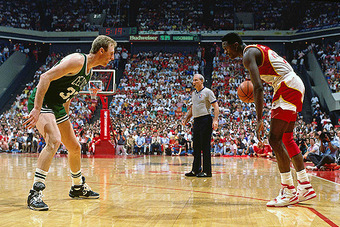 As much as teamwork is needed to win in the playoffs, we all love a good one-on-one duel. Great individual performances create legendary games and play a big part in determining how we remember those players and their teams' historically.
So, here are the 10 best individual duels in playoff history.
Begin Slideshow

»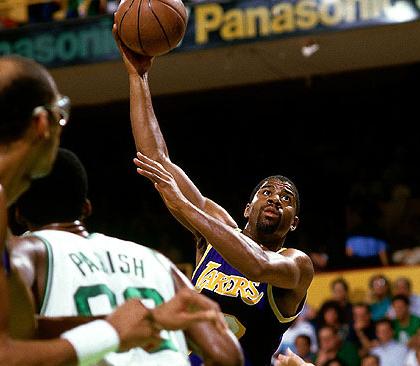 Statistically, there weren't any big-time individual duels between Magic and Bird. However, the rivalry was so big that it would have been impossible to keep them off of the list. So, we're going with the baby-skyhook game.
Magic scored 29 points to Bird's 21, but what makes this game special is what happened in the end. With 12 seconds left, Larry Bird hit a three-point bomb to put the Celtics up by two.
Kareem Abdul-Jabbar was fouled, but only made the first free throw. With the game on the line, Magic Johnson lofted a hook shot for the win. It went through the bucket with two seconds left, giving the Lakers a 3-1 series lead.
There are a million Bird-Magic moments to choose from, but this one is my favorite. Both hit potential game-winners in the final seconds, and it was the final series the two would play against each other. If there is one iconic Lakers-Celtics image of the '80s, this is it.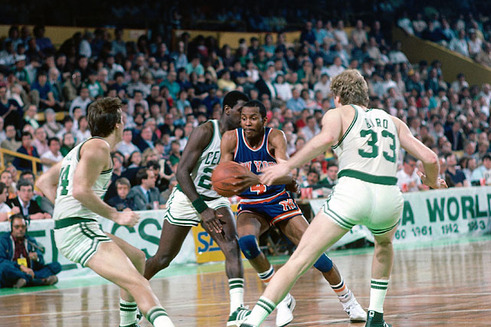 Bernard King's Knicks were the definition of a one-man team. That's why every memory of the Knicks in the early '80s is related to him scoring a lot of points. But when he was on, nobody was better.
He displayed that in what remains one of the greatest games in Madison Square Garden history. With the Knicks facing elimination in Game 6, they turned to Bernard to keep the series alive; and he did just that. He scored 44 points on 16-of-25 shooting.
It was no easy task, though. Larry Bird was fantastic as well, putting up 35 points on 14-of-28 shooting. In an incredibly close game that went down to the wire, Bernard was just a bit too good for Boston, as he led the Knicks to a 106-104 win.
Bernard's career was short-lived because of injuries, but in his prime, he was as good as anyone. His playoff heroics were the only thing keeping Knick fans sane during the long, pre-Riley/Ewing years. He remains a fan favorite to this day.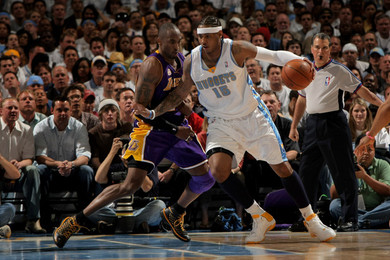 I like to think of this as the game where we all thought Carmelo Anthony made the leap. We were wrong, but it was fun for a few games.
The one game that stands out to me, though, is Game 1. Carmelo was excellent, scoring 39 points on 14-of-20 shooting. What was more impressive, though, was his awesome defense on Kobe Bryant late in the game. He absolutely smothered him.
But, nobody keeps Kobe down for long. He was just a tad better, scoring 40 points on 13-of-28 shooting.
Even if Carmelo didn't keep up this level of play in later playoff appearances, we at least got a glimpse of what he can do. If 2009 Carmelo Anthony finds the right coach and teammates, he could be to the Knicks what Kobe is to the Lakers.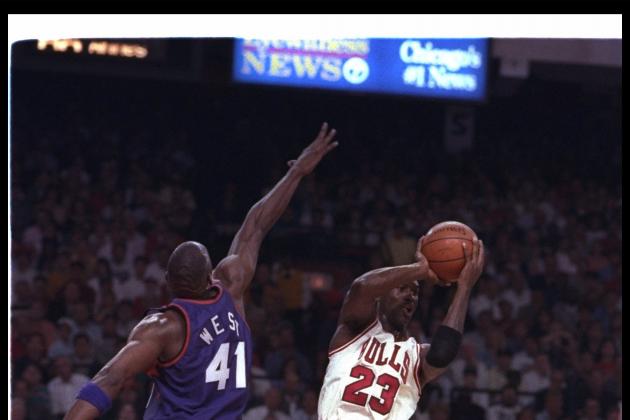 Jonathan Daniel/Getty Images

You could really pick a few games from this series to represent what an awesome duel Michael Jordan had with Charles Barkley.
Game 6 went down to the wire, with the Bulls winning the game by one point and closing out the series. There's Game 4, where Michael Jordan scored 55 points (which Barkley often refers to as "the game where he realized he could never beat Jordan").
The best individual battle, though, was Game 2. Both Jordan and Barkley scored 42 points, and both did it by making at least half of their shots. The Bulls won on a Scottie Pippen block of Danny Ainge, giving them a 2-0 series lead heading back to Chicago.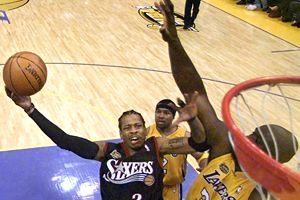 People don't seem to remember this because the series was so one-sided, but Game 1 of the 2001 NBA Finals was awesome.
People also don't seem to remember how great Shaquille O'Neal was in that game because Allen Iverson put on his Jordan cape, but the second-best player in this game put up 44 points and 20 rebounds.
Now that we've done the obligatory mention of the other guy, let's look at the real hero here. Allen Iverson, with a 34-year-old Dikembe Mutombo as his sidekick, took his Sixers into L.A. and beat the unstoppable Lakers. How unstoppable were they?
Before Game 1, they hadn't lost a single playoff game. That's right, they swept their opponent in Round 1. And Round 2. And Round 3.
The Sixers won Game 1 on the strength of a legendary Iverson performance. No matter who Phil Jackson threw on him, Iverson kept scoring, finishing the game with 48 points, including his famous jumper where he stepped over Tyronn Lue.
This game is obviously remembered more for what Iverson did, but Shaq was no slouch, either. That's why Game 1 of the '01 finals makes this list.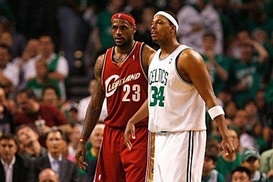 The first five duels on this list were great. The next five are legendary. We're gonna kick off the top five with the 2008 duel between LeBron and Paul Pierce.
The Celtics were the higher seed and the title favorites, but LeBron certainly didn't make it easy for them. He scored 45 points on 14-of-29 shooting, keeping the Cavs in the game until the end.
Not to be outdone, Paul Pierce gave the Celtics 41 points. P.J. Brown made an elbow jumper with 1:21 to go to give Boston a three-point lead. At that point, it came down to which of the two stars made the plays necessary to win the game.
LeBron had the first chance and failed. He missed a layup that would have cut the lead to one after missing a chance for an open jumper. Pierce then sealed the deal at the free-throw line to give the Celtics the series win.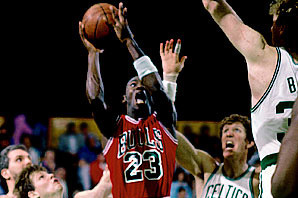 It's hard to call this one an individual duel because the individual battle was won so handily. But, the game was close and each team received a great performance from its star, so I say it's fair.
Let's start with Larry Bird. Bird had a fine game. He put up 36 points on 14-of-27 shooting to go with 12 rebounds and eight assists. An excellent performance, right?
Well...except for the fact that Michael Jordan scored 63 points. Look at that again. 63 points. Bird would later describe that game by saying his opponent was "God disguised as Michael Jordan."
You know what's sad about this, though? The Bulls still lost. I don't care how good the Celtics were (and the '86 version might be the best team ever), if you can't win when your star scores 63 points, your team has real issues. Even if they did at least take it to overtime.
This game will always be remembered for what Jordan did, but give Bird some credit. His great game allowed the Celtics to win even after enduring the onslaught by Jordan. Not many legendary performances involve a loss, but Larry Bird made that happen.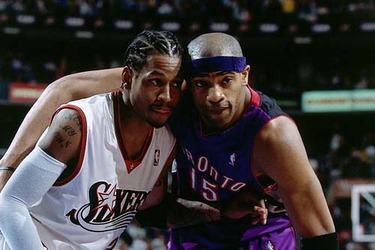 I don't think we'll ever see another series-long duel like we did between Allen Iverson and Vince Carter in 2001. Just look at the numbers.
Allen Iverson scored 54 points in Game 2.
Vince Carter responded with 50 in Game 3.
Iverson came back with 52 in Game 5.
Look at that for a second. These two were trading 50-point games like boxers throwing haymakers. It's incredible now, but remember, back in 2001, the league hadn't yet changed the rules regarding hand checks, making it even harder for perimeter players to score.
So why isn't this series No. 1 on the list? Because Vince Carter did Vince Carter things at the end of the series rather than respond with another gem. He flew to North Carolina for his college graduation on the day of Game 7 and then flew back to Philly in time for the tip, once again putting himself in front of his team.
So how did Game 7 and the series end? On a missed buzzer-beater by Carter. It literally could not have been scripted any better.
It's been over a decade, and I still think about this series constantly. I've never seen two stars just go at it like this over the course of an entire series. We'll never see this again.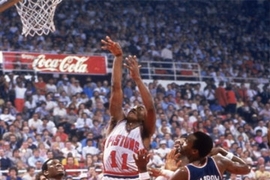 The stats don't tell the whole story of this game. Sure, Bernard's 44 points and Isiah's 35 to go along with 12 assists are fantastic stat lines, but there's more.
The Knicks controlled the entire game until the fourth quarter, when Isiah Thomas seemingly made the decision that he would not lose. He scored 16 points in 94 seconds. Most players don't score that many points in an entire game, and he did it in less than two minutes.
Unfortunately for the Pistons, it wasn't enough. Bernard took over in overtime to give the Knicks a tight 127-123 win, but other than Jordan's performance against Boston, you'd be hard-pressed to find a better performance in a loss in NBA history.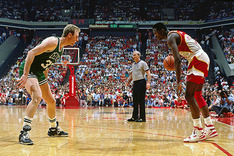 What determines the outcome of great NBA duels (and how we rank those duels historically) is who makes the big plays when they count. Many players can claim to have played in great duels, but how many can say they did it by combining for 34 points in the fourth quarter?
Larry Bird and Dominique Wilkins shared in arguably the greatest scoring quarter of all time.
Wilkins was fantastic. He scored 47 points on 19-of-23 shooting. Normally, that type of performance wins your team the game, especially when 14 of those points come in the fourth quarter.
Bird technically lost the scoring battle on that day, putting up only 34 points. So how did the Celtics win the game? Because he scored 20 of those points in the fourth quarter.
Bird and 'Nique traded baskets all day, with the Celtics eventually squeezing out a two-point win, but the Hawks gave them everything they could handle. What we saw between Bird and Wilkins will always be remembered as a classic and is certainly the greatest individual duel in playoff history.