2012 NBA Playoffs: New York Knicks and Other Teams in Deep Trouble After Game 1
April 30, 2012

Marc Serota/Getty Images
The NBA playoffs got started yesterday and already there are some teams in deep trouble. Even though each series has only had one game so far, trouble has already struck for those teams that came out on the losing side. Some have the pieces to fight back and make this a series, others could be on track to getting swept.
There's not much margin for error in the NBA playoffs. There are only a select few teams that have realistic shots at winning the NBA Championship. Every other team knows that everything will have to go right for them to win it all.
After Game 1, here are three teams whose playoff runs look to be ending very soon. Most were already longshots to begin with, with the exception of one very viable contender who has been decimated by a crucial Game 1 injury.
Probably the most obvious name on the list. Their performance in the 100-67 loss to the Miami Heat was completely abysmal and has essentially destroyed all hope of a competitive series.
We all witnessed greatness from LeBron James who had 32 points, nearly double the 17 that Knicks leading scorer J.R. Smith had. Obviously when the Heat are playing that good there are very few teams that can beat them. But the Knicks inability to generate offense or to contain James at all pretty much puts the nail in their coffin.
Rookie guard Iman Shumpert's season-ending knee injury should cost the Knicks dearly. He was widely regarded as the Knicks' best on-ball defender. With him gone, Dwyane Wade could easily dominate offensively and give the Knicks ever more problems. 
Things do change from game to game, and likely it'll be hard for the Knicks to play much worse than they did Saturday. For them to win though they will likely have nothing short of Carmelo Anthony playing out of his mind for the rest of the series. Eleven points like he had Saturday night will not be enough and I think Anthony's brilliance will get them only one win as the Heat advance in five games. 
As a six seed, the Denver Nuggets get a very tough first-round draw against the Los Angeles Lakers. Even with this being a down year for the Lakers, their championship experience makes them even more scary once the postseason begins. 
Well if yesterday's game was any indication, there's still a pretty large gap between the Lakers and the Nuggets. The Lakers easily disposed of Denver winning 103-88, with a key to their victory being stellar defensive play. And no Laker was better on defense than Andrew Bynum who tied an NBA playoff-record with 10 blocks.
One of the only Denver players that had any success on offense was Danilo Gallinari. He led the team with a playoff career-high 19 points after making 7-of-14 shots. Gallinari can't do this alone though, and for the Nuggets to make this a competitive series, he's going to need more help from Ty Lawson and Andre Miller.
What's scary about this year's Lakers is that they were playing lights-out defense against the highest scoring offense in the NBA. That does not bode well for the Nuggets, and this series looks like it could get out of hand for them very quick. I think that this series has a very good chance of ending with a Lakers sweep.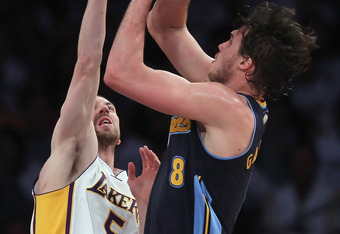 Jeff Gross/Getty Images
The only winning team to be included in this list is Chicago. But I think it's fair to include the Bulls as they have suffered a horrible calamity with Derrick Rose's injury. 
With Rose gone, no one is going to give the Bulls a chance of winning the NBA title. To be sure, they are still a deep team that could give anybody in the East problems. Well anyone except the Heat who have to realize that their opportunity to win a championship is better than it has ever been.
Still the Bulls are a deep team, and they have had success without Rose this season, finishing 18-9 in games that he didn't play in. Tom Thibodeau should still be able to coach his team to victory against the lowly Philadelphia 76ers. It probably won't be a sweep like it could have been with a healthy Rose, but the Bulls are still clearly the better team. 
Past the 6ers, the Bulls are in serious trouble. The Boston Celtics and the Atlanta Hawks both could very well take down Chicago in the conference semifinals. Then of course there's that Miami team that will likely be waiting if Chicago makes it to the conference finals. 
Rose's injury is plain and simple, one of the terrible tragedies of sports this year. If the Bulls can advance to or even win the NBA Championship, it will be a testimony to one of the greatest team efforts in NBA playoff history.