2012 NBA Free Agents: Predicting Where Aging Stars Will Land
April 29, 2012

Chris Chambers/Getty Images
This year's NBA free agency could best be described as "Deron Williams and the Geriatric Club."
Okay, so maybe that's a bit harsh, but the fact remains that after Williams, the cream of the free agency crop is mostly comprised of aging stars. Dwight Howard's decision to remain with the Orlando Magic for at least one more season stole a lot of luster from the offseason.
Still, there are several players out there that could be the missing piece for an organization. Let's take a look at where the old men might end up:
Steve Nash, 38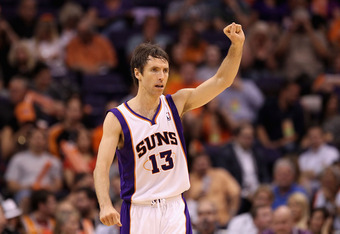 Christian Petersen/Getty Images
Nash will likely wind up as the consolation prize for teams that miss out on Deron Williams, meaning that Orlando, the Dallas Mavericks or even the Los Angeles Lakers might vie for his services.
For the time being, I would guess Williams is most likely to end up in Dallas, and an Orlando team wanting to prove its worth to Howard could make Nash a fairly lucrative offer. Don't be surprised if Nash brings his own brand of magic to Orlando next season.
Prediction: Orlando Magic
Tim Duncan, 36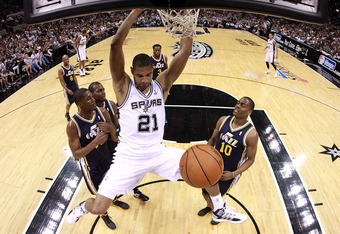 Ronald Martinez/Getty Images
He's not going anywhere if he doesn't retire. Mark it down.
Duncan is a Spur, and that's all there is to it. If he were to play for any team other than the Spurs, it would be a tragedy.
Prediction: San Antonio Spurs
Kevin Garnett, 35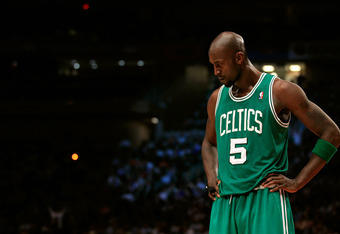 Chris Trotman/Getty Images
Garnett is no longer a dominant player, but he is still a very good one, and he'll garner quite a bit of interest on the open market.
The question is, will the Boston Celtics bring him back after the team recovered from a horrid start to win the Atlantic Division? If the Celtics make a deep playoff run, will Danny Ainge put off blowing up the veteran Celtics for a little longer?
It's no secret that the Brooklyn Nets have interest in Garnett, and chances are they'll throw way too much money at him.
This means Garnett will probably have to choose between going after another championship with a contender such as Boston or taking one last payday for an abysmal Nets team that likely will be without Deron Williams and won't be landing Dwight Howard any time soon.
Or Garnett could choose to retire. But I don't think his love of the game has faded enough for him to leave it behind just yet.
Prediction: Boston Celtics
Ray Allen, 36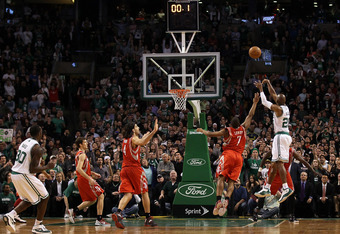 Elsa/Getty Images
I don't think Allen is done, but I would be shocked if he returns to the Celtics, especially after it came out that Allen was this close to being dealt to the Memphis Grizzlies for O.J. Mayo and a draft pick before the deal fell through.
Garnett is probably worth offering a deal for more than one year—he's a year younger than Allen and can still compete down low—but I can't imagine the Celtics offering Allen anything more than a one-year, let's-give-this-one-last-shot contract.
And I don't think he'll take it.
This is purely out of left field, but I've felt for a year or so now that if Allen left the Celtics, the Chicago Bulls would be a natural fit. Allen still competes on the defensive end, and adding another sharpshooter could do wonders for the Bulls offense.
Prediction: He won't be back with the Celtics one way or another, but the Bulls would make a lot of sense.
Hit me up on Twitter—my tweets make moves like Bill Belichick.