Draft and Undrafted Free Agent Results for Florida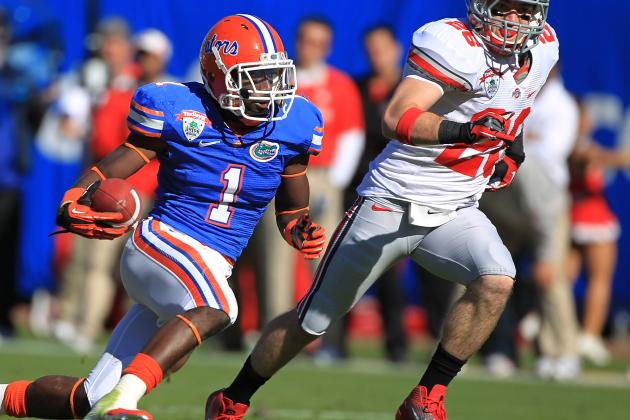 Scott Halleran/Getty Images
Chris Rainey, now of the Pittsburgh Steelers
The Gator Nation collectively felt a sense of mediocrity this past weekend when its citizens didn't see any of its players taken until the fourth round of the 2012 NFL draft. Clearly, this is something that Gator fans or fans of college football in the state of Florida are not used to.
More concerning was the fact that more Florida players were taken as undrafted free agents than drafted this year.
While many in the Gator Nation will debate how and why this happened, let's take a look at the drafted and undrafted Florida Gators and where they currently reside in the NFL.
Begin Slideshow

»
The first Florida Gators player to be picked was Jaye Howard in the fourth round by the Seattle Seahawks. The Apopka, Fla. native was well-known for his tenacity, and will be sorely missed. He now has the chance to make the same impact in the Pacific Northwest and the NFC West.
Here are Howard's statistics during the 2011 season (13 games):
Tackles: 65 (37 solo and 28 assisted), 10 for losses
Sacks: 5.5
QB Hurries: 4
Passes Broken Up: 2
The Pittsburgh Steelers have an excellent reputation when it comes to the NFL draft, and this bodes well for Chris Rainey. Selected 159th overall in the 2012 NFL draft, Rainey will most likely see duty with special teams, kickoff and/or punt returns. However, his speed could get him on the field sooner rather than later too.
Rainey's 2011 statistics (12 games)
Rushing: 171 attempts for 861 yards and two TDs (71.75 yards/game average)
Receiving: 31 receptions for 381 yards and two TDs (31.8 yards/game average)
Punt Returns: 12 returns for 106 yards and one TD (8.83 yards/return average)
Kick-off Returns: 4 returns for 103 yards (25.75 yards/return average)
To say that John Brantley's career at the University of Florida was a disappointment would be an understatement. However, expecting the same level of production out of Brantley after Tim Tebow's career in Gainesville would be like comparing Pope Benedict XVI to Pope John Paul II.
That being said, Brantley failed to live up to even minimal expectations as a starting QB and leaves Florida looking for better things in the NFL. The Baltimore Ravens decided to bring him in and take a look at any possibilities he may provide.
Brantley's 2011 Statistics (11 Games)
Passing: 144-of-240 for 2,044 yards with 11 TDs and 7 interceptions, 185.8 yards/game average (QB Rating: 140.83)
Unfortunately, the career of Deonte Thompson with the Florida Gators could be summed up easily: epic failure. The former 5-star recruit out of Belle Glade, Fla. failed to live up to the lofty expectations that he arrived with in Gainesville.
Perhaps Thompson will be best known for his famous quip about QB John Brantley being "a real quarterback," as compared to Tim Tebow.
Just like the aforementioned Brantley, Thompson has a chance to leave a lackluster career behind in Gainesville for potentially greener pastures in Baltimore.
Thompson's 2011 Statistics (13 games)
Receiving: 24 receptions for 264 yards and one TD (20.3 yards/game average)
Scoring: one TD (yes, one TD Gator fans)
He did have three tackles, two solo and one assisted during his senior year. I guess that's something to hang your hat on.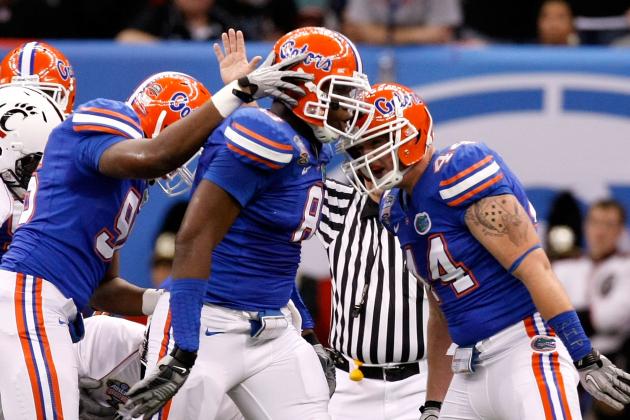 Kevin C. Cox/Getty Images

Senior DE William Green out of Hoover, Ala. was plucked by the Cleveland Browns shortly after the 2012 NFL draft concluded.
Green's 2011 Statistics (13 games)
Tackles: 21 (10 solo and 11 assisted), two for losses
Sacks: .5
QB Hurries: 2
Based on these numbers, perhaps Green will not be sorely missed in Gainesville.