Zach Parise: 10 Memorable Goals in a Devils Uniform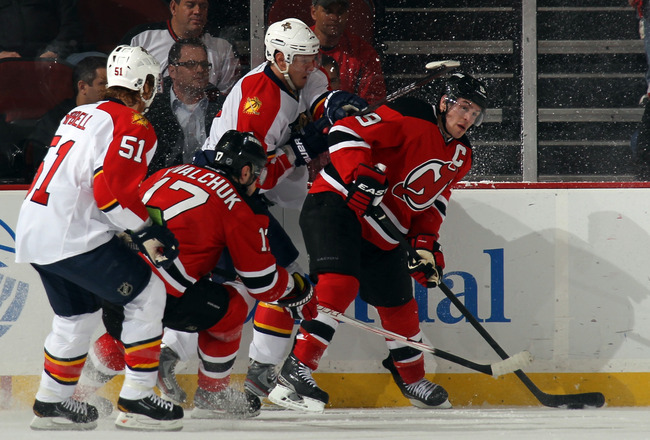 Bruce Bennett/Getty Images
With more than 200 NHL goals scored in the regular-season and playoffs combined, Zach Parise has been a go-to guy for the New Jersey Devils since the fall of 2005.
A five-time 30-goal scorer, and a 40-goal scorer in 2008-09, those numbers would likely be even higher but for a knee injury that cost him all but 13 games in 2010-11.
Here's a look at some memorable lamp-lighters from Parise's career so far.
Devils vs Penguins: Oct. 5, 2005 (1st Career Goal)
Demonstrating his goalmouth scoring tenacity for the first time in his inaugural NHL contest, Parise follows up his own rebound to collect his first-ever Devils goal in a 5-1 win over Pittsburgh at the Meadowlands, in the same game that Sidney Crosby also made his NHL debut.
Devils vs. Rangers: April 26, 2006 (First Playoff Goal)
Parise tips home a shot from the right point for his first career NHL playoff goal, and a 3-0 Devils lead in Game Three at Madison Square Garden (goal takes place around the 3:05 mark).
Devils vs. Canadiens: Nov. 30, 2007 (1st Career Hat Trick)
Parise collects his first career three-goal game, and three of the Devils' four scores, all against Carey Price in a 4-0 victory over the Habs in Newark.
Devils vs. Kings: Jan. 10, 2009 (100th Career Goal)
Parise picks up a loose puck at the blue line off a turnover in LA, skates in on Jonathan Quick, and deposits a backhander for his 100th career NHL goal.
Devils vs. Avalanche: Feb. 26, 2009
Not so much a milestone goal as one that shows Parise's skill repertoire, as he pops the puck past a Colorado defender on the boards, jumps to the inside, and skates in to roof home a shot at the Prudential Center in a 4-0 Devils' win. He went on to score a career-high 45 goals that season.
Devils vs. Canadiens: Jan. 9, 2010
Parise gets way behind the Habs defense in Montreal, then goes in alone to end the game on his patented almost straight-ahead, high backhand shot that often serves him well in shootouts.
U.S. vs. Canada: Feb. 28, 2010
Yes, technically this one doesn't count since it didn't come in a Devils' uniform, but it's easily the biggest goal of Parise's career to date—his game-tying tally for the U.S. in the final minute of the gold medal game at the 2010 Olympic Winter Games in Vancouver.
Devils vs. Capitals: March 2, 2012 (2nd Career Hat Trick)
Parise completes his second career NHL hat trick before the game is even two periods old, after the Devils steal the puck at the Washington blue line and Adam Henrique feeds No. 9 for a shot under the crossbar from in close. It follows a goal from the right side, and another in the crease area.
Devils vs. Florida: April 19, 2012
Down two games to one to Florida, Parise opens the scoring for the second straight contest, this time off a double-deflection with Travis Zajac, as the Devils knot their first-round series with the Panthers with a 4-0 triumph at The Rock.
Devils vs. Flyers: April 29, 2012
Parise gets the Devils going with his latest goal to date, as he takes a Patrik Elias pass from behind the Philadelphia net and rips it past Ilya Bryzgalov to open the scoring in their 2012 Eastern Conference semifinal series.
Keep Reading

New Jersey Devils: Like this team?