NFL Rumors: Latest Post-Draft Buzz and News from Around the League
April 29, 2012

Kevin C. Cox/Getty Images
With the much anticipated 2012 NFL draft is in the books, we take a look at the latest post-draft buzz and rumors, including the fall of Courtney Upshaw to the Baltimore Ravens, how the Cleveland Browns inquired about the No. 1 overall pick and the first-year expectations for New York Jets' rookie receiver Stephen Hill. 
Weight Concerns Dropped Upshaw?
The fall out of the first round for Alabama linebacker Courtney Upshaw was one of the more surprising storylines from day one of the draft, but at least one NFL personnel man saw the drop coming.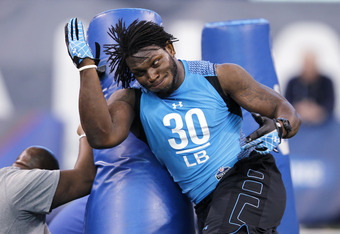 Joe Robbins/Getty Images
A decision maker in an NFL front office told Dan Pompei of National Football Post that Upshaw was likely to fall after concerns over his weight and commitment spawned during the pre-draft process. 
Some personnel men anticipated him falling after Upshaw showed up at his pro day weighing 279 pounds. Upshaw looked surprised when his weight was revealed. He may have discouraged 3-4 teams from considering him at outside linebacker, and caused some to question his commitment. Said one front office man, "That weight hurt him."
The Baltimore Ravens eventually got good value for Upshaw with the 35th overall pick.
While it's easy to see why teams were scared off by a ballooning weight, Upshaw's film shows a player that always showed up in big games and made plays all over the field. It may be safe to assume that landing in the Ravens' locker room will help any "commitment" problems from Upshaw. 
Browns Inquired About No. 1 Pick?
While nothing more than a foot note now, it's interesting to note what Cleveland Browns vice president Mike Holmgren admitted once the draft was complete Saturday.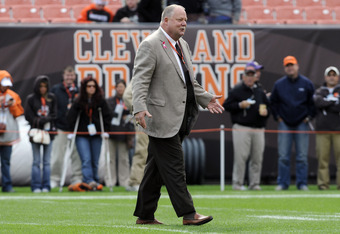 Jason Miller/Getty Images
Holmgren said that at one time during the pre-draft process, Cleveland approached the Indianapolis Colts about the availability of the No. 1 overall pick  
Unsurprisingly, the conversations didn't last long. 
Probably about five minutes. Actually I had two conversations. I had a conversation with Mr. [Jim] Irsay and also with their new general manager. I believe I was in the swimming pool at the owners meetings and I had a drink in my hand, on the second one. It wasn't very long.
The Browns eventually traded up to No. 3 overall to take Alabama running back Trent Richardson. Later in the first round, Holmgren and the Cleveland brass pulled the trigger on Oklahoma State quarterback Brandon Weeden at the No. 22 slot. 
Hill a Starter in New York?
The New York Jets took Georgia Tech receiver Stephen Hill in the second round Friday, and the early plans out of New York suggest that Hill will be given every chance to be one of the Jets' starting receivers in 2012.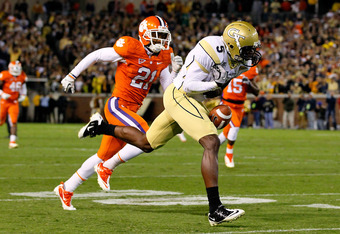 Kevin C. Cox/Getty Images
"Rex Ryan says that Quinton Coples and Stephen Hill will start this season," tweeted New York Daily News beat writer Manish Mehta. 
While raw as a route runner and inexperienced carrying a big receiving load, Hill has the size and speed combination that NFL teams salivate over. Given the lack of receivers in New York currently capable of starting, Hill's selection as a starter before camp should be no surprise. 
The guys over at Rotoworld.com made the first-year comparison for Hill of Ravens' 2011 first-rounder Torrey Smith, who caught 50 passes for 841 yards and seven touchdowns. You'd have to think the Jets would be ecstatic with that kind of rookie production from Hill in 2012.