Why Derrick Rose's Injury Doesn't Spell Doom for Chicago Bulls' Title Hopes
April 29, 2012

Jonathan Daniel/Getty Images
With a jump-stop, a twist and a painful "pop," the Chicago Bulls' NBA season took a gut-wrenching turn for the worse.
The city's favorite son, the kid prodigy destined to take the team to championship glory lay writhing in pain on the United Center floor.
It would later be announced that Rose had torn the anterior cruciate ligament in his left knee, ending his season, his Olympic dream and likely ruling him out for up to nine months.
Chicago will be in a state of mourning today, but all is not lost.
The Philadelphia 76ers still do not possess enough scoring to best Chicago four times in the remaining six games of this opening first-round series. The Bulls' defense will not be affected by Rose going down, so the Sixers should still find it just as difficult to score, especially if Andre Iguadola is again eviscerated as spectacularly as he was last night.
The Defense
Chicago's defense is built on accountability, switching and relentless help defense. If the point guard at the top of the three-point line is beaten, his man will have to endure challenges from at least two more Bulls defenders en route to the bucket.
The Depth
With Omer Asik and Taj Gibson, the Bulls have two guys playing off the bench who could start for half of the teams in the NBA right now. They have unparalleled frontcourt and backcourt depth; even little John Lucas III is now a viable weapon.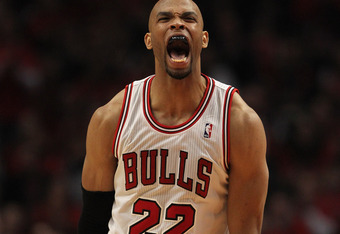 Jonathan Daniel/Getty Images
The Offense
The Bulls' offense without Derrick Rose is different, yet it is still good enough to win games. With Rose, their offense stems from him creating shots for others, scoring himself or others collecting his misses and scoring second-chance points.
With Rose gone, and the Bulls lost him for 27 games this past 66-game regular season, the Bulls relied more on ball movement and creating open looks in each player's strong areas.
If Chicago can keep up that ball movement and avoid any more serious injury, they certainly have the tools to get by the offensively offensive 76ers.
C.J. Watson
Watson started 25 games in Rose's absence this season and performed at a level that should leave Bulls fans with few worries going forward. His three-point shooting was outstanding and if he can learn to cut down on the number of times he dribbles into difficulty, the Bulls' offense will cope just fine with being stripped of their explosive spark plug.
The Emotion
Tuesday's Game 2 against Philadelphia will be racked with emotion. You can safely bet that the Bulls will come out of the gates with the fury of thousands behind them and play the Sixers off the court as they battle through the mental toll of losing a player they looked upon like a little brother.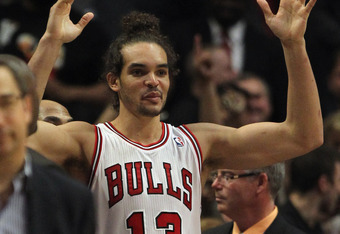 Jonathan Daniel/Getty Images
The Bulls now have a cause: do it for Derrick.
They can use this as a rallying cry. The kid from the south side of Chicago deserved so much more than this horrific end to a forgettable season.
Looking Ahead
At the present moment, I would pick the Boston Celtics to come out of their No. 4 vs. No. 5 series with the Atlanta Hawks and set up a meeting with the Bulls in the second round.
This is where it gets much more difficult for Chicago, as Boston's new starting unit, with Avery Bradley starting for Ray Allen, has been utterly torching the league.
The Celtics have been perhaps the league's best team since the All-Star break, as they recovered from an abject start, flirting around the .500 mark for weeks before finding a groove.
Carlos Boozer has become the Bulls' unlikely iron man this season, as he played in all 66 games. He has had perhaps one of his best years as a pro consistency-wise and has silenced so many of his critics that questioned his toughness and his contract size last season. He will need to maintain that consistency if he wants to help Chicago go far.
Richard "Rip" Hamilton was brought in to be the second option on this Bulls team and now that he is back to full strength, he will have to assume more of the first-option responsibility. Hamilton had back-to-back 22-point games in the final weeks of the season and averages 20 points per game in the playoffs for his career. Chicago will need every single one of those points.
The bench will have to continue to find a way to be important through each series, since without Rose, head coach Tom Thibodeau is going to have to look around for offense at times.
All is not lost. It will certainly be harder, but there is still the possibility that the Bulls can oust the Sixers, scramble past the Celtics and set up an unlikely conference finals series with the now-presumptive champion Miami Heat.