Kentucky Derby 2012: Breaking Down Odds for Every Contender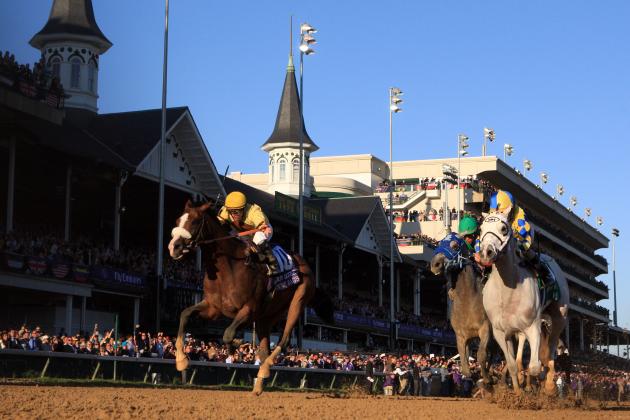 Rob Carr/Getty Images

What better way to kick off the month of May, when April showers supposedly turn to flowers, than with another Run for the Roses at the Kentucky Derby?
As always, there will be silly hats and goofy names galore at Churchill Downs for the 138th running, as legions of onlookers wait anxiously to anoint this year's Triple Crown contender.
Well, that, and to see if their bets on the race cash out or not.
The excitement of seeing tiny jockeys command giant beasts for 10 furlongs aside, much of the majesty of the Kentucky Derby understandably boils down to who won, who lost and how much it cost.
But if you're worried about which horses to root for (and bet on), never fear—we've got you covered. Let's have a look at the top contenders and their odds heading into Saturday's festivities.
(Note: all odds courtesy allhorseracing.com)
Begin Slideshow

»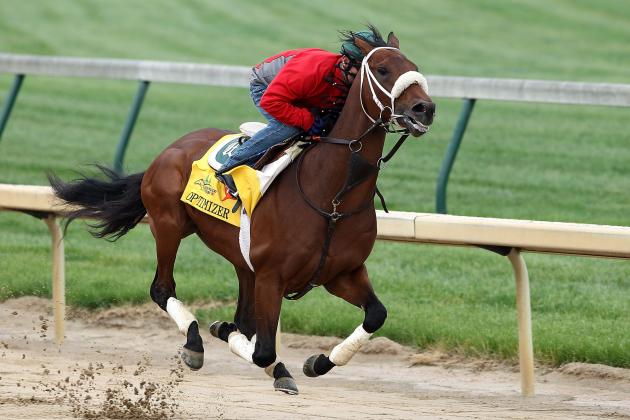 Matthew Stockman/Getty Images

Odds: 60/1
Optimizer has one thing going for him—his trainer, D. Wayne Lukas, who's won the Kentucky Derby four times.
Other than that, this three-year-old colt is hardly optimized for a Run for the Roses. He's much better on turf than he is on dirt, which he made abundantly clear with three poor results in four previous attempts this year.
Throw in some rather forgettable speed ratings, and Optimizer looks like a good bet...to finish last.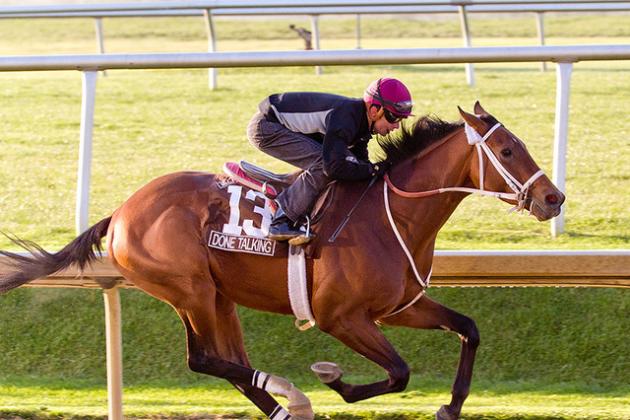 Photo Credit: WNST.net
Odds: 50/1
Done Talking has shown some surprising speed on the track at times, at least enough to make him an intriguing long shot at the Derby. He has the results from the Grade 3 Illinois Derby in April to prove it.
This colt has an outside shot at a lower prize, but isn't at all likely to taste victory at Churchill Downs when all is said and done.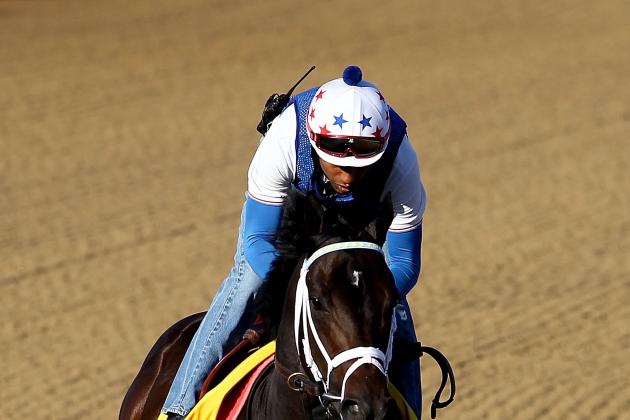 Matthew Stockman/Getty Images

Odds: 50/1
There's some question as to why trainer Mark Casse is even running Prospective in the Kentucky Derby. He's not particularly fast, isn't privy to synthetic tracks and hasn't done much to establish himself against the level of competition that he'll face in the Blue Grass race.
In other words, don't put anything down on Prospective unless you actually want to lose money.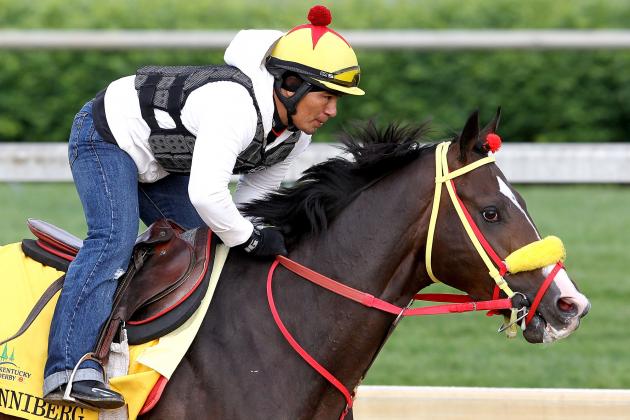 Matthew Stockman/Getty Images

Odds: 45/1
If you're looking for a horse to start fast and fade down the stretch, then Trinniberg might just be the one for you. The three-year-old colt was bred for speed, a trait that served him well at the Grade 3 Swale Stakes and the Grade 3 Bay Shore Stakes this year, but he has never exceeded seven furlongs in any given race.
Don't be surprised, then, if/when Trinniberg lights up the track on the way to an early lead at Churchill Downs before ultimately falling back into the pack.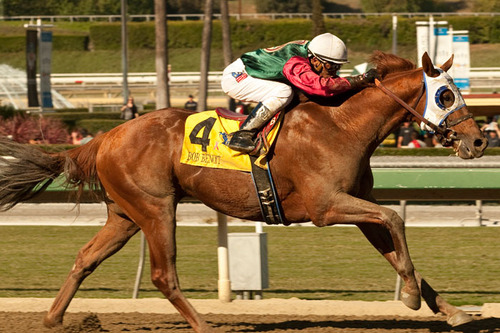 Photo Credit: Benoit & Associates
Odds: 40/1
Rousing Sermon had better heat up quick if he's going to make an impact at the Derby. The California-bred colt has finished no better than third in any of his three races this year, though he did show some signs of life late at the Grade 2 Louisiana Derby.
Jerry Hollendorfer, Rousing Sermon's trainer, has talked him up as a contender for the Belmont Stakes, which doesn't necessarily say much for his chances at Saturday's event.
Matthew Stockman/Getty Images

Odds: 40/1
Liaison has fallen off the map since he first entered the fray as a contender at the Grade 1 CashCall Futurity back in December.
The intervening months have seen this Indian Charlie fail to register a noteworthy finish during any of his three races, stumbling through the Grade 2 Robert B. Lewis and barely registering on the relevance radar at the Grade 2 San Felipe and the Grade 1 Santa Anita Derby.
That sloppiness, combined with the fact that Liaison has never once clocked a triple-digit BRIS Speed rating, suggest that he's not quite cut out for what'll be on offer at Churchill Downs.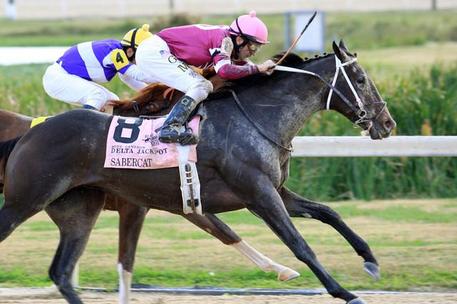 Photo Credit: Paulick Report
Odds: 35/1
If you were to argue that horse racing isn't a "what have you done for me lately?" sport, then Sabercat could very well serve as Exhibit A. The Commonwealth native secured a spot in the Kentucky Derby field when he won the Grade 3 Delta Downs Jackpot in November but hasn't done much in 2012 with Corey Nakatani on his back.
What's more, his career-best speed rating of 94 doesn't leave him in particularly good position in relation to the rest of Saturday's star-studded field.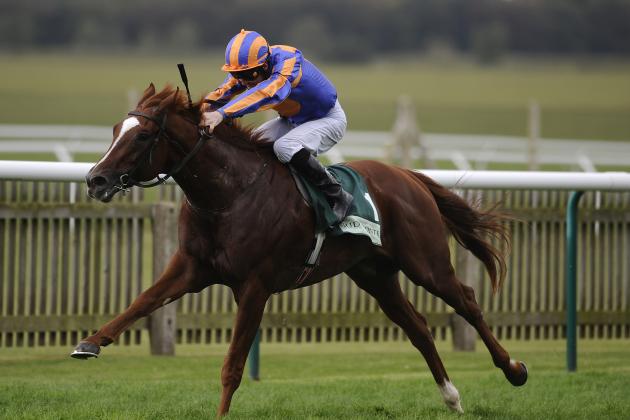 Alan Crowhurst/Getty Images

Odds: 30/1
Good news: Daddy Long Legs has won three of his last five events.
Bad news: Those five events span nearly nine months on the calendar.
More bad news: His worst finish in those five came in the Breeder's Cup Juvenile at Churchill Downs, where came in 12th. He's been bred for the Derby but has long had issues on dirt tracks.
In short, invest in Daddy Long Legs at your own peril.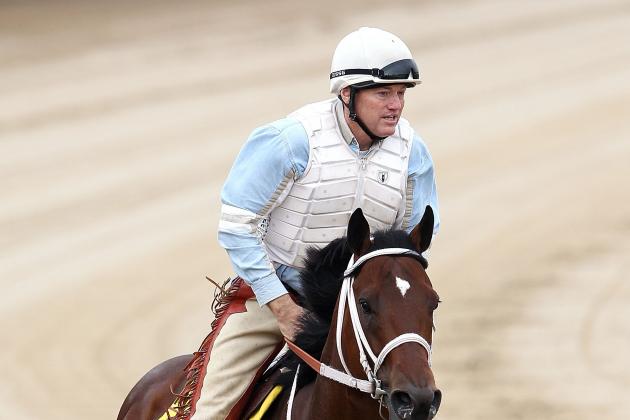 Matthew Stockman/Getty Images

Odds: 23/1
Stamina and health are both of significant concern to Mark Valeski. The Kentucky-bred colt has finished no worse than second in each of his last four events but ran into problems when he attempted to go nine furlongs at the Louisiana Derby.
He came away from that April Fool's Day race with a foot injury that figures to limit his effectiveness at the Derby, at least to some extent.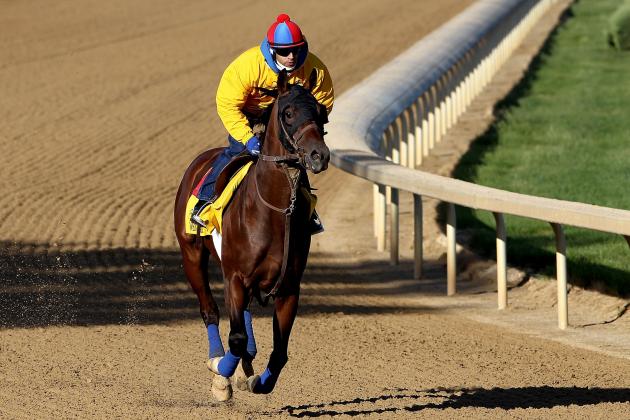 Matthew Stockman/Getty Images

Odds: 18/1
Went the Day Well looks destined for a big break at some point down the line, just not at this year's Derby. He has the same crew behind him that drove Animal Kingdom to victory at Churchill Downs last year and won a pair of races in March.
Problem is, he hasn't looked particularly good on dirt and is still something of a late bloomer compared to the rest of the field.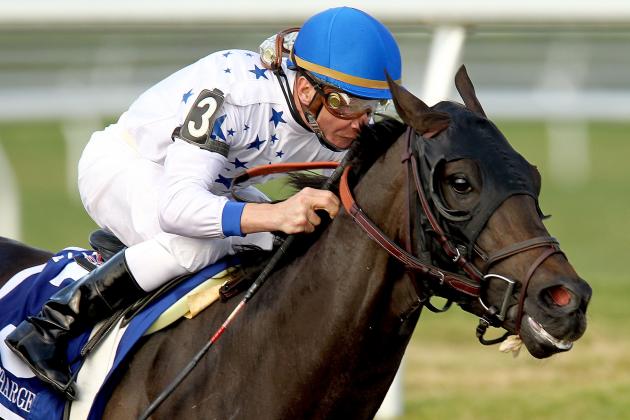 Matthew Stockman/Getty Images

Odds: 16/1
Take Charge Indy has the look of a sneaky pick to make some noise at the Kentucky Derby. He's only gotten better since his fifth-place finish at the Breeder's Cup Juvenile, coming in second at the AlwOC and first at the Florida Derby and notching triple-digit speed ratings in each.
Of course, the Derby is a whole different animal for Take Charge Indy, but with a jockey of Calvin Borel's caliber in charge, this colt could be a threat to come out ahead at Churchill Downs this time around.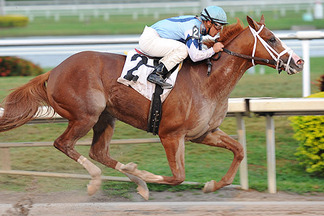 Photo Credit: ESPN
Odds: 16/1
Keep an eye on El Padrino. The Todd Pletcher product boasts a pristine pedigree and is eminently familiar with much of the Derby field, having run against the likes of Take Charge Indy, Union Rags and Mark Valeski in recent races.
He finished a respectably close fourth at the Florida Derby and is a solid bet to bounce back with a big performance at Churchill Downs on Saturday.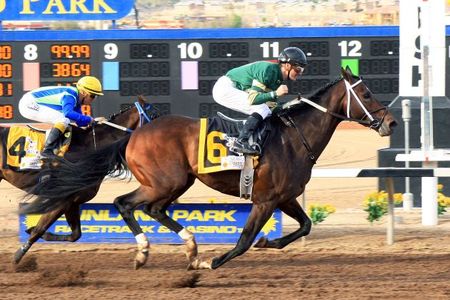 Photo Credit: Coady Photo
Odds: 15/1
There's a lot to like about Daddy Nose Best heading into Saturday's race. He's demonstrated the versatility to succeed on just about any track type and is as hot as any horse in the field, with wins in each of his last two runs.
The Steven Asmussen entry might not fare as well against this particular class of competition but remains a good bet to bring in winnings of some sort, especially given his relatively long odds.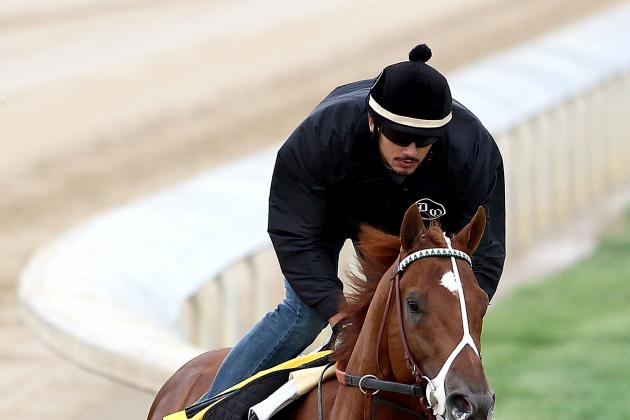 Matthew Stockman/Getty Images

Odds: 15/1
There may not be a contender in the Derby field with more staggering boom/bust potential than I'll Have Another. On the one hand, he has the pedigree to succeed in a one-and-one-quarter mile race and turned in a pair of blistering performances to win the Grade 2 Robert B. Lewis and the Santa Anita Derby after six months away from the track.
On the other, he won't have the same luxury of a long layoff heading into the Kentucky Derby and could fall off considerably as a result.
That being said, if I'll Have Another's odds hold steady or grow longer, he'll be a solid value on which to throw down a few bucks.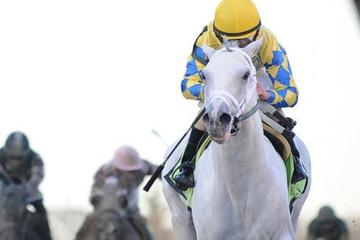 Photo Credit: PhatzRadio/USA Today
Odds: 14/1
Hansen has been mmmboppin' his way to the front of the field since September, with three wins and a pair of runner-up finishes in that span. Most encouraging of all, the ghostly colt led the field at the Grade 1 Breeder's Cup Juvenile, coming in ahead of Union Rags and Creative Cause at Churchill Downs in November.
Still, Hansen appears best suited for medium-length races and wouldn't exactly shock the world if he were in the thick of the things before faltering down the stretch on Saturday.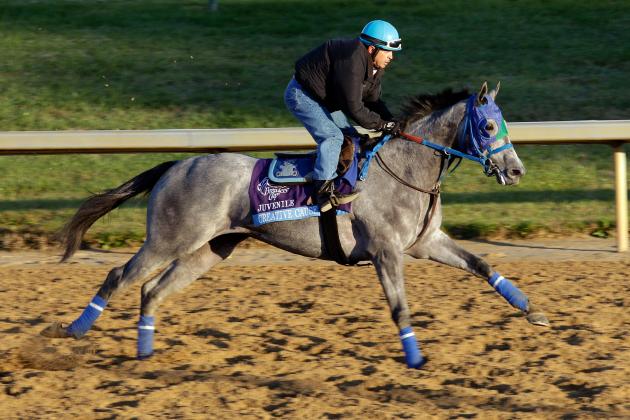 Rob Carr/Getty Images

Odds: 11/1
Maturity continues to be an issue for Creative Cause, but if he's on his game then the field had better watch out. The Mike Harrington product almost always keeps it close, even when he doesn't come out on top and has the ability to make a hard charge from off the pace.
The tools are there for Creative Cause to challenge for the win. The only question is, can jockey Joel Rosario get this moody colt to perform at his best under more challenging circumstances?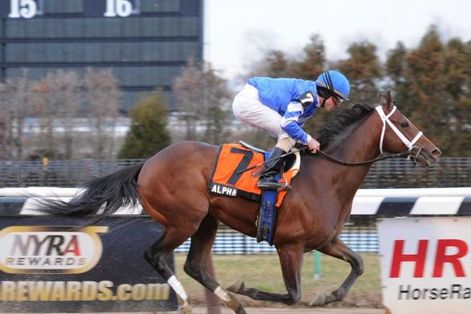 Photo Credit: New York Racing Association/AP
Odds: 11/1
Alpha might be the riskiest pick of all those currently listed with decent odds to win the Derby. He's battled through physical issues since his runner-up finish at the Wood Memorial, his training delayed by an infection stemming from cuts to his legs sustained during the race.
Alpha's handlers are keeping information about his health under wraps, which can hardly be considered a good sign this close to the race.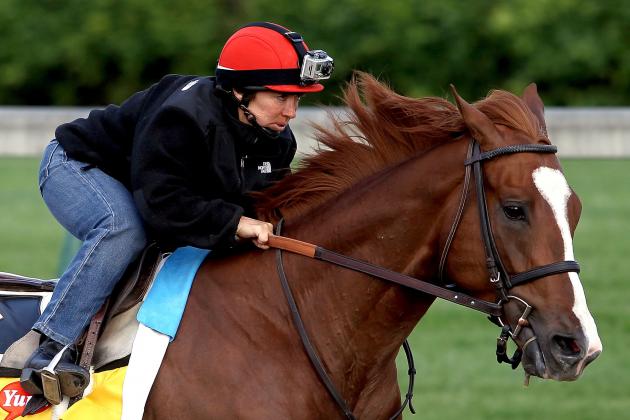 Matthew Stockman/Getty Images

Odds: 8/1
Dullahan has a lot going for him heading into the Derby—a three-time Derby-winning jockey (Kent Desormeaux), a distant bloodline with 2009 winner Mine That Bird, an impressive come-from-behind win at the Grade 1 Blue Grass in mid-April.
But, above all else, what makes Dullahan a good bet to win at Churchill Downs is his ability to close on the lead down the stretch. Don't be surprised if Dullahan pulls out the win if he's anywhere within striking distance down the stretch.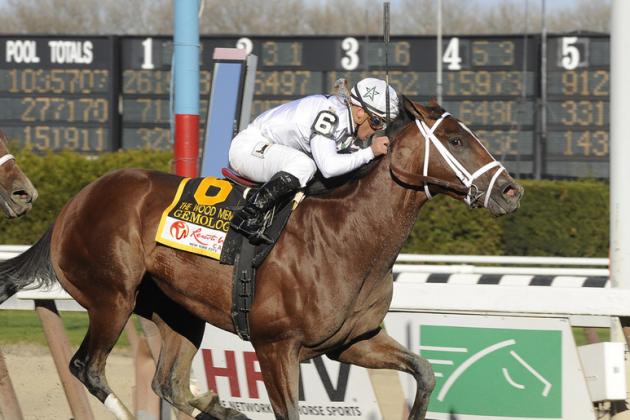 Photo Credit: Harold Roth/Horsephotos.com
Odds: 7/1
Todd Pletcher has to like his chances at the Kentucky Derby with Gemologist, and so should you. He's never lost at the legendary Louisville track.
In fact, Gemologist is unbeaten in his last five events overall and certainly not by accident. He's shown an uncanny ability to dig deep and kick into an extra gear, even at the end of a long race.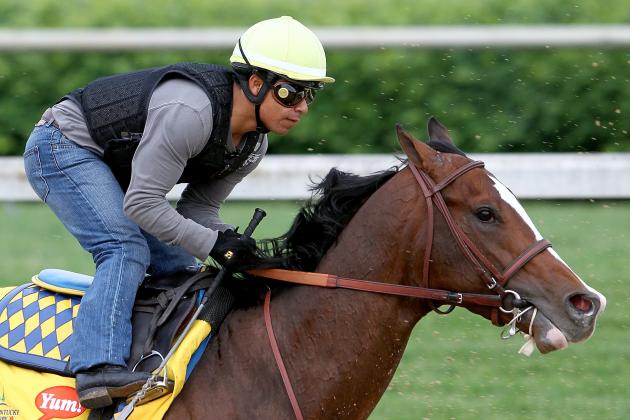 Matthew Stockman/Getty Images

Odds: 9/2
Bodemeister burst onto the scene as the favorite to win the Kentucky Derby with a blistering victory at the Arkansas Derby, in which he registered a 105 BRIS Speed rating.
His lack of seasoning is a significant concern, though with his pedigree (he's the son of Empire Maker), his tremendous talent and Bob Baffert as his trainer, he's too good not to garner consideration for a significant wager...assuming you're into that sort of thing.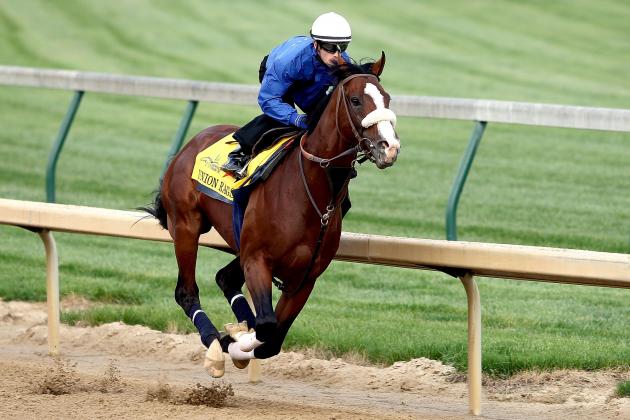 Matthew Stockman/Getty Images

Odds: 9/2
For now, Bodemeister will have to share "favorite" status with Union Rags. Union Rags faltered a bit at the Florida Derby in late March after dominating the Grade 2 Fountain of Youth Stakes back in February.
That might be just as well, though, as it sets him up as a dangerous bounce-back candidate, one who's weathered adversity before and can put that experience to good use in a successful Run for the Roses.