Why Chicago Bulls Can Still Win the Title Without Derrick Rose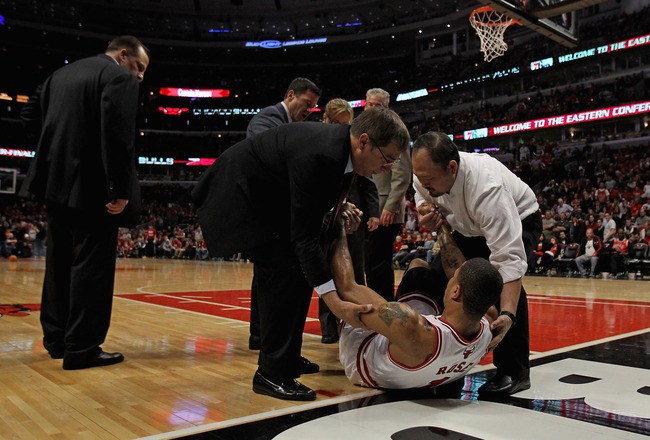 Jonathan Daniel/Getty Images
Derrick Rose is out for the remainder of the season, but the Bulls, as a whole, are still alive.
While Rose's absence does hinder Chicago's pursuit of an NBA title this year, it far from kills it.
After a regular season laden with turmoil and uncertainty, the Bulls finished tied for the league's best record, proving that their as formidable opponent as any.
With or without Rose.
The Facts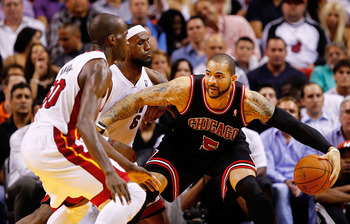 Mike Ehrmann/Getty Images
The Bulls were 18-9 without Derrick Rose over the course of the regular season.
More importantly, Chicago was 11-6 without both Rose and Richard Hamilton in the lineup, a span that included victories over the Heat, Knicks, Magic, Sixers, Celtics and Hawks—all playoff teams.
After a tumultuous regular season that saw the Bulls battle a truncated schedule and inconsistent rotation, there's no reason to count out the now Rose-less squad just yet.
Chicago is no stranger to adversity, and with Hamilton, Joakim Noah, Carlos Boozer and Luol Deng all in good form, the Bulls have plenty of experienced and established players to lean on.
So, while a torn ACL may have gutted Chicago of its MVP, there's no question that the top-seeded Bulls have been preparing for this all season long.
C.J. Watson and John Lucas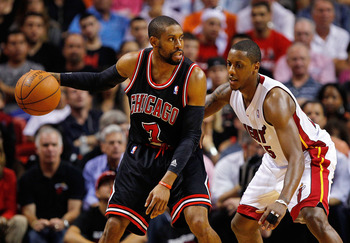 Mike Ehrmann/Getty Images
Even without Derrick Rose, the Bulls have been getting it done at the point guard position.
Both C.J. Watson and John Lucas have stepped up their production totals substantially this season.
In Rose's stead, Watson is averaging an understated 11.5 points and 4.6 assists per game. No, not Rose-like numbers, but the fifth-year man has proven to be a wealth of explosiveness and confidence all year.
And then there's Lucas, the 29-year-old afterthought. Without Rose in the lineup, he is averaging 10.7 points and 3.1 assists per contest.
Rose's understudies have no doubt risen to the occasion, combining for over 21 points and nearly eight assists per night; their combined production nearly matches Rose's average of 21.8 and 7.9, respectively.
It's nothing short of incredible how reliable Watson and Lucas have proven to be.
The Bulls must now go forward without Rose, but can find solace in his replacements, as they've filled in admirably all season long.
Luol Deng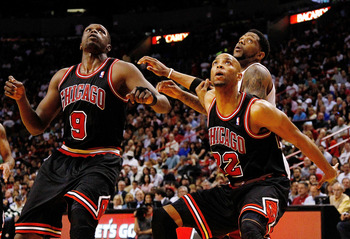 Mike Ehrmann/Getty Images
Chicago is down one perpetual All-Star and reigning MVP in Derrick Rose, but has another All-Star in Luol Deng.
Deng averaged a stellar 15.3 points, 6.5 rebounds and one steal per game over the regular season. He has proven to be a postseason workhorse over his career as well, posting 17.5 points, 6.6 rebounds and 1.2 steals per contest for his career.
The small forward is also one of the best perimeter defenders in the NBA and a candidate for the Defensive Player of the Year award.
Deng is underrated in every facet of the game. Heralded or not, though, he provides Chicago with a dependable first option on offense and perimeter stalwart on defense.
Most notably, though, he leaves the door open for the Bulls to make a championship push without the prolific Rose.
Carlos Boozer and Joakim Noah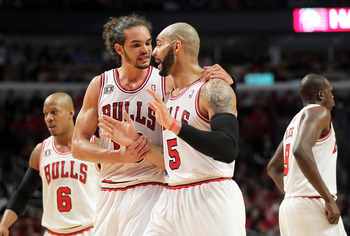 Photo courtesy of bleacherreport.com.
Combined, Carlos Boozer and Joakim Noah only missed two games all season.
Let that sink in. The two most injury-prone players on the Bulls managed to remain healthy amid a compressed schedule.
That's huge, as they give Chicago one of the most feared low-post tandems in the NBA.
Boozer is a scoring and rebounding machine, while Noah is a defensive connoisseur. They are both averaging near double-doubles a night and posting PERs just under 20.
Though Noah has never been considered a franchise player, Boozer is no stranger to the role. He, along with Luol Deng, will ensure Chicago is far from overmatched against powerhouses like the Heat.
And with both Boozer and Noah at full strength, the Bulls are afforded the luxury of holding at least one significant advantage over their potential playoff opponents.
Richard Hamilton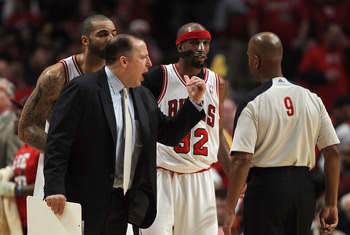 Jonathan Daniel/Getty Images
Richard Hamilton missed most of the regular season, but is already making his presence felt in the playoffs.
Hamilton scored 19 points and dished out four assists against the Sixers in Game 1 on 85.7 percent shooting. He's as efficient a scorer as there is and can sway a game's momentum in just one possession.
The veteran shooting guard is not only coveted for his offensive abilities, though. He has improved his perimeter defense a great deal in limited action this year, providing Chicago with the two-way shooting guard it so desperately needs.
And let's not neglect to mention that Hamilton understands what it takes to win an NBA title from his days with the Pistons.
That's an intangible that will be huge moving forward and ensures the Bulls are not excluded from contention without Derrick Rose.
Depth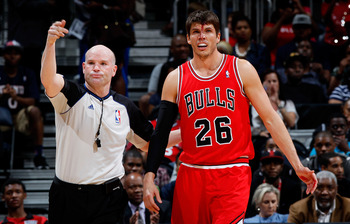 Kevin C. Cox/Getty Images
Even without Derrick Rose, the Bulls are one of the deepest teams in the NBA.
And that spans beyond the aforementioned athletes.
Kyle Korver, Taj Gibson and Omer Asik and are all integral parts of the Bulls rotation.
Korver provides an offensive lift, Gibson boasts a spectacular two-way game, and Asik is an additional low-post anchor who intimidates opposing players with his 7'0" stature.
The Bulls did not win 50 games during the regular season by relying on one, two or even three players to carry them. They played efficient, unselfish basketball, made possible by their overwhelming talent as a collective.
Unlike Miami, star-power is wavering in Chicago. However, unlike the Heat, the Bulls are the poster team for depth.
Tom Thibodeau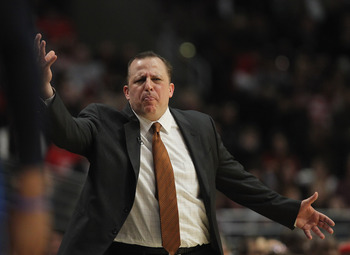 Jonathan Daniel/Getty Images
Credit the Bulls' supporting cast for keeping the team within reach of an NBA title, but credit Tom Thibodeau with instilling the confidence in them to do so.
This season, each and every team had their share of obstacles that impeded progress, but few faced as much adversity as Thibs and the Bulls.
Chicago spent much of the season without Derrick Rose, and Thibodeau is still without a contract extension, two unsettling realities that appear non-existent within the Bulls locker room.
Thibodeau has preached composure, created confidence and demanded perfection. He understands the gravity of Chicago's situation, but also understands his team is talented enough to carry on.
And with Coach Thibs at the helm, there's no reason to believe the Bulls' plans have changed.
Faith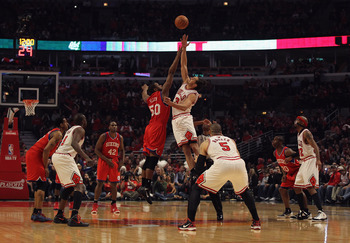 Jonathan Daniel/Getty Images
Derrick Rose is out, but the Bulls still believe.
They believe in their coach, they believe in themselves and they believe in their cause.
Under the current circumstances, that is nothing short of admirable.
At a time when this team could roll over and blame the countless unfortunate hands they have been dealt, they have chosen to persevere.
And as long as the Bulls maintain hope and continue to take it "one quarter, one game, one round at a time," there's no reason to even entertain the notion that this team doesn't have what it takes to win an NBA title.
Rose or no Rose.
Keep Reading

Chicago Bulls: Like this team?