Denver Nuggets vs. LA Lakers, Game 1: Live Scores, Highlights and Analysis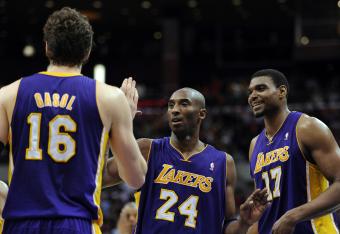 Kobe, Gasol and Bynum look to lead the Lakers to another NBA Finals Appearance.
Harry How/Getty Images
Keep it here for up-to-the-minute scores, highlights and analysis as the Los Angeles Lakers host the Denver Nuggets at Staples Center for Game 1 of their first-round playoff series.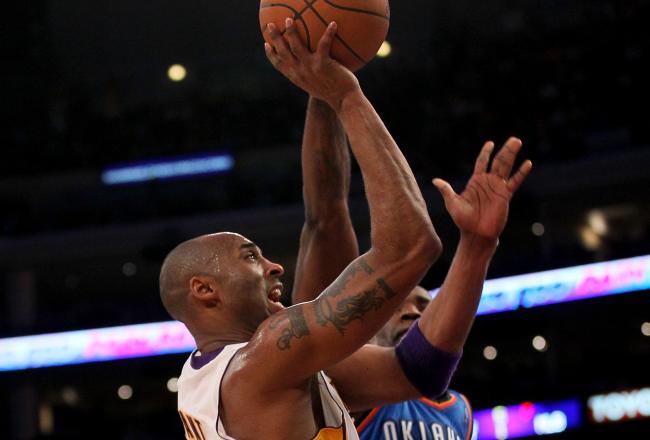 Lakers 103 Nuggets 88 Final Score
This game was the blueprint for how Los Angeles must play to win this series. The Lakers shot the ball well connecting on 43 of 86 shots ( exactly 50 percent). Los Angeles won the battle of the boards by a 52-46 margin. Most importantly Los Angeles controlled the tempo and Denver was not able to adjust.
The Nuggets struggled shooting only 35.6 percent from the field. The two spots where Denver needed to have advantages, fast break points and bench points were not big enough advantages to make up for the Lakers superior shooting and rebounding.
Denver had 19 fast break points to Los Angeles' 11. Denver's bench outscored Los Angeles' by a 43-23 margin but the Denver starters were outscored 80-45 by their Los Angeles counterparts.
Two standout players for Los Angeles. Kobe Bryant struggled to find his rhythm but he still led all scorers with 31 points, 4 assists and 5 rebounds. Andrew Bynum was a dominant defensive presence all afternoon. He finished with 10 points, 10 blocks and 13 rebounds.
Also worth mentioning was Pau Gasol Gasol also nearly had a triple-double. He finished with 13 points, 8 rebounds, and 8 assists.
Denver will look to regroup on Tuesday Night when the two teams take the floor for game 2 of the series. That game is scheduled to tip off at 10:30 pm Eastern Time.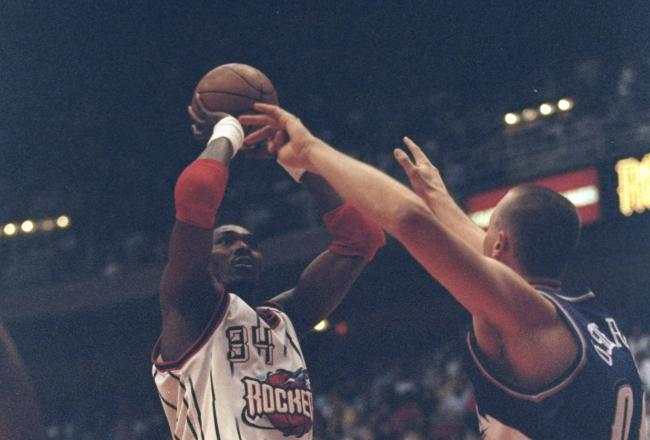 Lakers 99 Nuggets 82: 1:58 4th Quarter
Andrew Bynum's tenth block was an emphatic rejection of Timofey Mozgof with just under three minutes remaining in the game. That tied the single game record. It also gave Bynum a triple-double today.
Lakers fans chant "M-V-P" for Kobe Bryant and he is indeed one of the best to ever play the game but on this day that "M-V-P" chant was more deserved by Andrew Bynum who may be the best big man in the game even when Dwight Howard is healthy.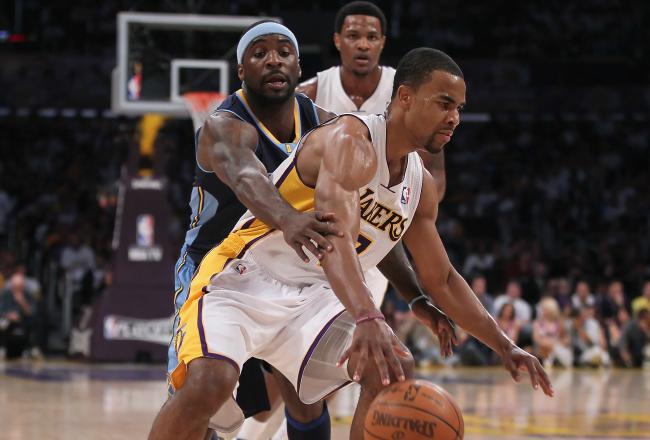 Lakers 91 Nuggets 72: 6:07 4th Quarter
Two of Denver's more promising young players have had very rough starts to the postseason.
JaVale McGee has played hard, it's tough to find fault with the effort but the results have been very slim. He's 0 for 6 from the floor and has just two points and six rebounds in 15 minutes.
Ty Lawson has also struggled. He's got five points and one assist on 2 of 10 shooting in 26 minutes.
Andrew Bynum continues to impress. He just broke Kareem Abdul Jabbar's single game Laker record for blocked shots. Bynum has 10 points, 12 rebounds and 9 blocks, one away from a triple double.
Lakers 85 Nuggets 68: 8:30 4th Quarter
Jeff Van Gundy was just heaping praise on Pau Gasol and it's hard to find too much fault with what he was saying. Gasol's game really is stunningly diverse when you consider that he's a seven foot tall player.
Gasol can pass, rebound, he can create his shot facing the basket, he can put the ball on the floor and he has an impressive array of low post moves. He's not a physically intimidating shot blocker but he does in fact block shots.
The Lakers have a very unique lineup with two players as gifted as Bynum and Gasol playing at the power forward and center positions.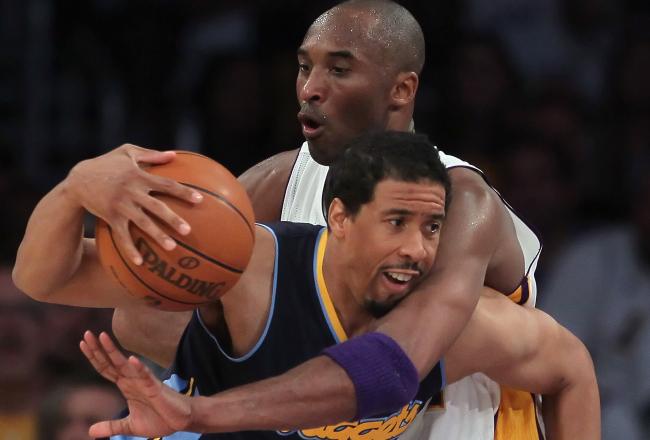 Lakers 77 Nuggets 64: Start of 4th Quarter
Denver has shown a few flashes offensively but it's just not enough. When they get a chance to push the tempo they appear rushed and have made some careless mistakes.
The Lakers are in control of this game and they've done while Kobe Bryant is in the midst of a pretty bad game by his lofty standards.
Bryant has four fouls. He's 5 of 16 from the floor and has 17 points along with four rebounds and four assists. That's a line the Nuggets and George Karl would gladly accept but they're still losing by 13 points as the fourth quarter is set to begin.
One bright spot today has been veteran point guard Andre Miller. The Nuggets few stretches of good offense have come with him running the point. He's got 8 points, 6 assists, and 5 rebounds in just 19 minutes.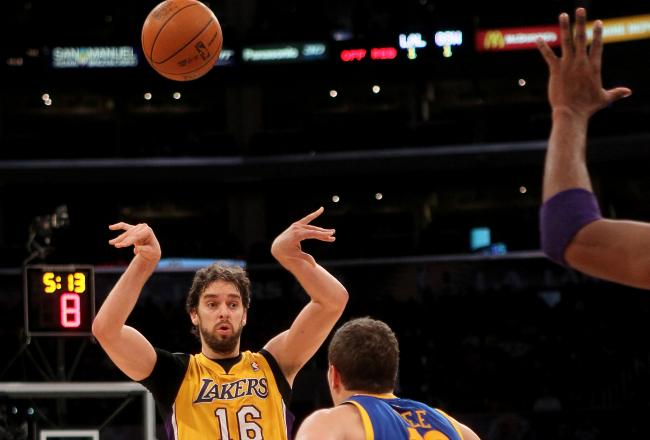 Lakers 75 Nuggets 60: 2:02 3rd Quarter
Pau Gasol's ability to pass the basketball can make for some real pretty post play. Those that watched the 1986 Celtics operate with Bill Walton passing the ball to Robert Parish may have had a few flashbacks when Gasol got the ball on the high post and drew a quick double team. He lobbed a perfect pass to Andrew Bynum for an easy alley-oop.
Gasol has a game high seven assists and Bynum has eight points, ten rebounds and seven blocks.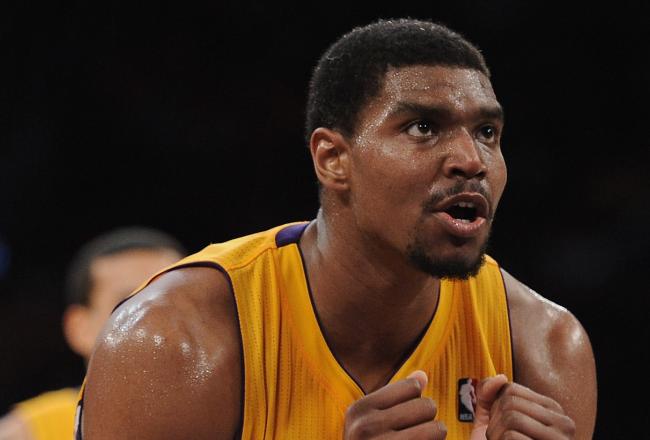 Lakers 71 Nuggets 52: 4:30 3rd Quarter
Fast break basketball is fun but it simply won't work if you're not hitting shots and grabbing rebounds. Denver isn't doing either. The Lakers are shooting 57 percent to Denver's 37 percent and winning on the glass by a 32-27 margin.
It's a 21-12 run since the start of the third quarter and Denver is in danger of being totally blown out in game one.
Lakers 62 Nuggets 47: 7:10 3rd Quarter
It's been a real rough game one for Ty Lawson. The former North Carolina star has had a great season at the point for Denver. This is a new season though. Lawson is 0-6 from the floor with just one assist and two turnovers.
Kobe Bryant continues to place pressure on the Denver defense. He's not hitting a lot of his shots but he's getting to the line and he puts pressure on the Denver defense whenever he has the ball In spite of his 4 of 13 day from the field Kobe has 15 points.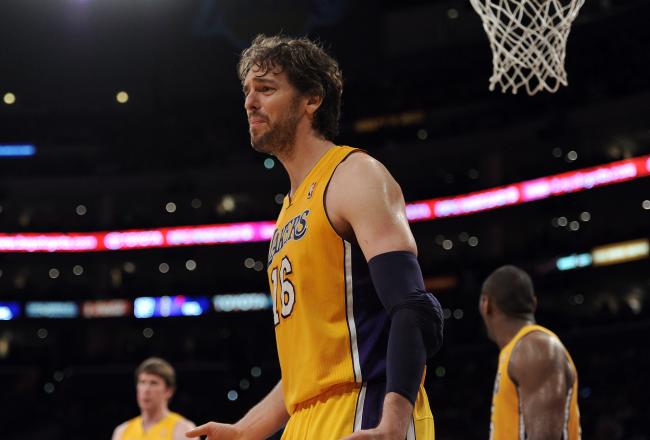 Lakers 50 Nuggets 40: Halftime
How does Denver change the pace of this game in the second half? That's the real question.
You can't coach size. Yet Denver is going to have to figure out a way to neutralize Andrew Bynum without allowing Pau Gasol an opportunity to get hot as well. Foul trouble, frustration, double teams? Those are all possibilities but if Bynum continues on pace for an 18 rebound and 8 block afternoon then Denver is going to have a very hard time coming back.
Adding to Denver's concern is the Lakers have a ten point lead and have controlled the tempo while Pau Gasol and Kobe Bryant are a combined 3 of 14 from the field and have only 10 points. One or more likely both may be in store for solid second halves.
On offense Denver has been led by Dainlo Gallinari who had 13 points on four of seven shooting. The rest of the Nuggets weren't so impressive hitting only 10 of 32 shots.
Denver will probably try and make a real push to assert control of the tempo right off the bat in the second half. Stay tuned.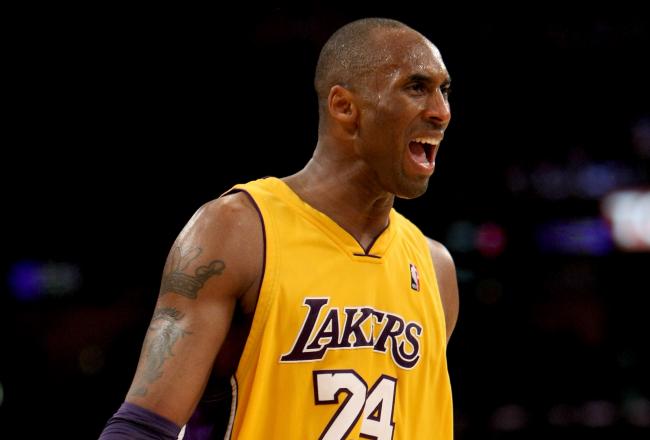 Lakers 50 Nuggets 40: Halftime
Denver's defense has clearly gotten to Kobe Bryant. They've been physical with him and in the postseason there seems to be a tendency to allow more contact. Bryant complained to the refs and drew a technical.
Kobe's offense hasn't been needed though. The Lakers are winning this on the defensive side of the ball. Denver is 14of 39 from the field. The Nuggets averaged 104 points per game but is on pace to score just 80. There simply is not a path for Denver to win this series if they're scoring anywhere near 80 points per game.
Los Angeles is shooting 20 of 43 from the floor while winning the battle of the boards 28-20.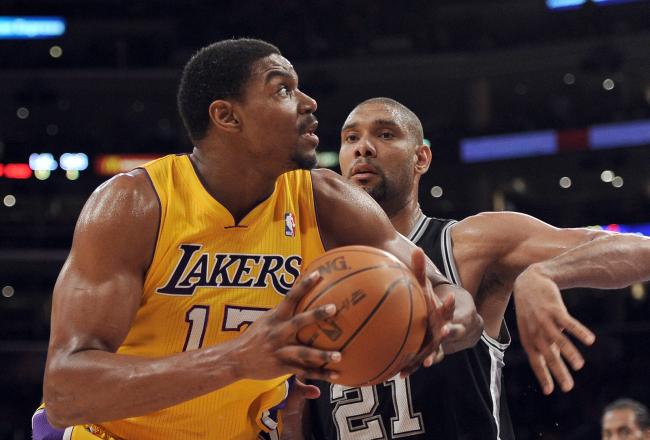 Lakers 43 Nuggets 34: 2:55 2nd Quarter
Andrew Bynum is the rare talent that can have a big impact on a game without taking a ton of shots. He's only taken two shots but he's nailed both of them. He's been a monster on the glass with a game high eight rebounds. Bynum also has four blocks and one steal.
Denver has really focused their defense on negating Bryant and Bynum but Devin Ebanks has stepped up. He's five of six from the field for a game high 12 points.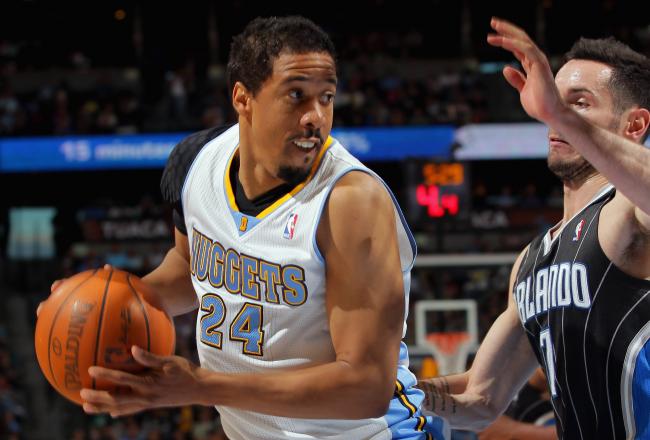 Lakers 37 Nuggets 31: 5:43 2nd Quarter
It's clear that the Lakers bench doesn't score a ton. They have to rebound though, especially on the offensive end. If they don't then Denver easily gets into their transition game. Andre Miller is a great point guard to have off the bench and he's been able to dish out four assists in just 11 minutes today.
The Nuggets have to take advantage of the time that Bryant and Bynum spend on the bench. Denver looked out matched when both those players were on the floor in the first quarter.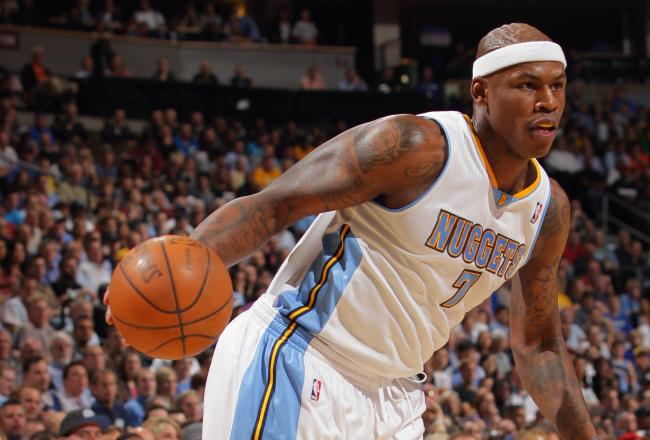 Lakers 31 Nuggets 27: 8:07 2nd Quarter
As the two benches are now really going head-to-head there are signs of life from Denver. Corey Brewer connected on a three and drew a foul for a four point play. Steve Black has cooled off and Al Harrington has also started to heat up.
It's 14-4 run to start the second quarter and Denver is right back in the game.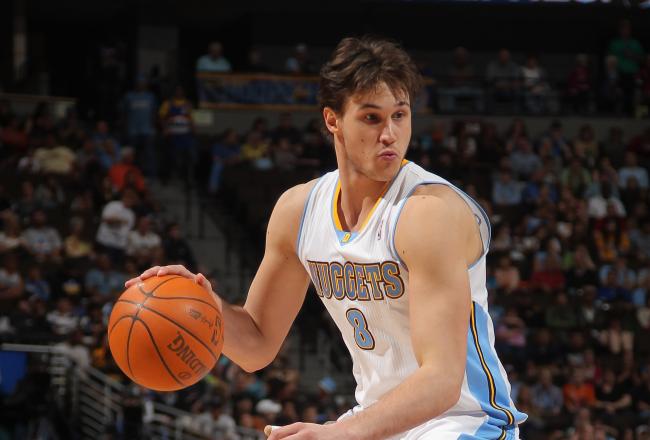 Lakers 27 Nuggets 13: Start of 2nd Quarter
The bright spot for Denver? Danilo Gallinari. Gallinari has nine of Denver's14 points. He's three of six from the field while his teammates are an anemic two of 14.
For a team that prides itself of balanced scoring and depth their going to need another player or two to step up and hit some shots in the second quarter. Al Harrington or Aaron Afflalo could provide that lift.
Lakers 27 Nuggets 14: End of 1st Quarter
Denver's strategy seems to be to drive the ball to the rim in hopes that they can get Bynum and Gasol into foul trouble. Gasol is a smart defender and Bynum is one of the most physically gifted centers in the league. Bynum has really improved his defense this season with regards to footwork and discipline as well.
The Lakers have been hitting shots and rebounding. That combination has slowed Denver's fast break. Steve Blake has come off the bench and hit three of four from downtown. Not the start Denver wanted as their own bench has been outscored by Steve Blake and the tempo and shooting are all working in the Lakers' favor.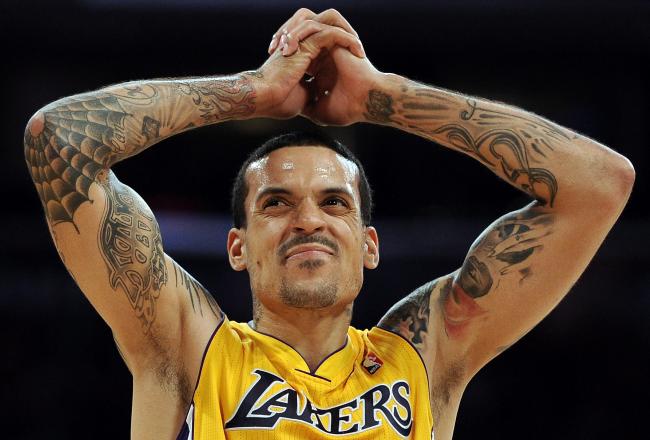 Lakers 15 Nuggets 9: 2:59 1st Quarter
Laker Matt Barnes is on the court. He's been hurt but he's a better defensive option at small forward than Ebanks.
As bench players enter the game the pressure will be on Denver to take advantage of what should be their biggest mismatch. Denver's bench is deeper and has a lot more scoring ability.
So far that hasn't happened. The Lakers are winning in spite of their turnovers.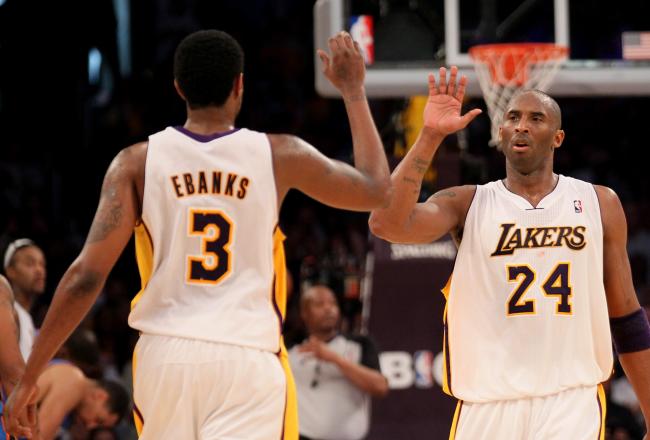 Lakers 8 Nuggets 6: 6:01 left in 1st Quarter
As with most veteran teams playing at home the Lakers would love to be able to take advantage of the home court and their experience in the post season. In the early going the execution has been there but the shots haven't been falling.
Denver's players might not have experience but their coach does. George Karl is a basketball lifer. A former University of North Carolina basketball players and a disciple of Dean Smith. Karl took the Seattle Sonics to the NBA Finals in June of 1996 where they lost to the Michael Jordan led Chicago Bulls.
Karl should be an advantage to this very young Nuggets team.
In the early going both teams have been cold from the floor. The Lakers have gotten some decent looks and missed. They've also turned the ball over four times. Denver has faced very good defense from the Lakers in the half court.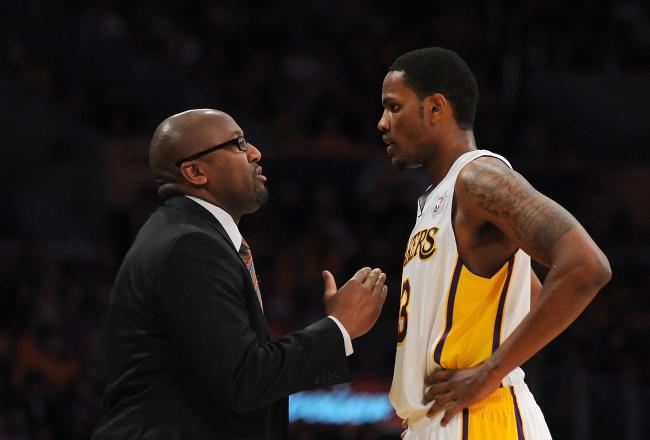 Starting Lineups for Today's Game.
Denver Nuggets ( 38-28, 18-15 away)
PG: Ty Lawson
SG: Aaron Afflalo
SF: Danilo Gallinari
PF: Kenneth Faried
C: Kosta Koufos
Los Angeles Lakers ( 41-25, 26-7 home)
PG: Ramon Sessions
SG: Kobe Bryant
SF: Devin Ebanks
PF: Pau Gasol
C: Andrew Bynum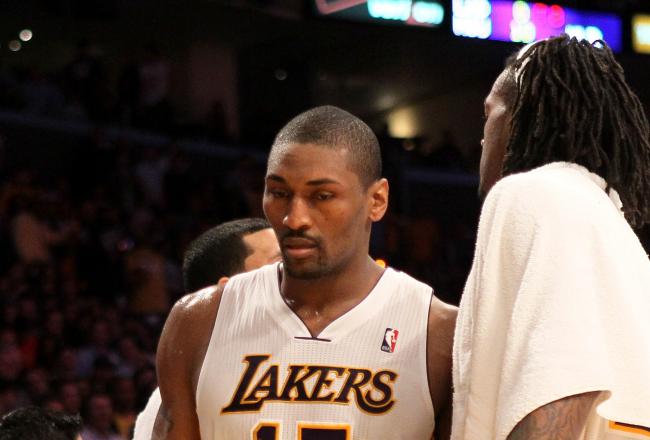 There are new cars and there are classic cars. The opening round playoff series between the Los Angeles Lakers and the Denver Nuggets has the aura of a "new car-classic car" showdown.
The Nuggets are the new team. They've been to the playoffs before but their players are young. Denver's style is uptempo and the team scores tons of points. No team in the NBA averaged more than Denver's 104.1 points per game this season.
The Lakers haven't just made the playoffs. They've won the whole thing. The Lakers have been to three of the last four NBA Finals and have won two of them.
Los Angeles finished 15th in the league in scoring this season. The team isn't over-the-hill but they don't have the type of depth that Denver does and that lack of depth will be further exposed with Metta World Peace suspended as a result of his elbow to the head of James Harden last Sunday.
Denver needs this game to be uptempo. The Nuggets can go ten deep and will look to exploit age and a lack of depth by tiring out the Lakers and getting them into foul trouble.
For the Lakers to control the tempo they must rebound the basketball and hit shots. Rebounding is a huge strength of the Lakers. The twin towers of Andrew Bynum and Pau Gasol made Los Angeles the second leading rebounding team in the NBA this season and first in the Western Conference.
This game tips off just after 3:30 Eastern Time.
This article is
What is the duplicate article?
Why is this article offensive?
Where is this article plagiarized from?
Why is this article poorly edited?