NBA Free Agents 2012: Stars That Should Sacrifice to Sign with Miami Heat
April 29, 2012

Christian Petersen/Getty Images
Everyone thinks they're the missing puzzle piece.
NBA veterans have been flocking to the Miami Heat since the Big Three united. Each one signed on the dotted line with the belief that South Beach provided them with the best shot to win a title. The following big-name players would be ideal mid-level exception or even vet-minimum additions for the league's free-agent hot spot this summer.
4. Marcus Camby
Miami's largest hole is without a doubt at the center position. Camby would by an incredible upgrade over Joel Anthony and Udonis Haslem. If you're impressed with the Heat's defense now, just imagine them with the four-time NBA shot-block leader protecting the rim.
3. Chauncey Billups
LeBron James' only weakness is his inability to perform in crunch time. Dwyane Wade is clutch, but like Kobe Bryant needed Derek Fisher on the Lakers, Miami would love another last-second option. Mr. Big Shot himself would not only provide them with just that, but he'd be an instant upgrade at the point.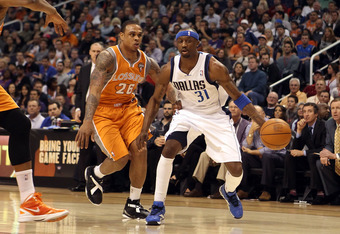 Christian Petersen/Getty Images
2. Jason Terry
Since joining the Heat, Mike Miller has been a major disappointment. Terry is capable of doing what Miami expected of Miller as instant offense off the bench—except multiply that tenfold. The Jet torched the Heat in the 2011 NBA Finals, and FoxSports' Chris Tomasson reported that Terry would embrace signing on with the team he helped knock out this summer.
1. Steve Nash
Forget the Los Angeles Clippers—Miami would boast the nickname Lob City with Steve Nash running the break side-by-side with Wade and LeBron. If Nash were to sign on with the Heat, they would truly be unstoppable. And Nash's defensive liability would be masked by his Miami teammates' elite athleticism.
It's no wonder that ESPN's Tom Haberstroh reported that Nash is interested in signing with the red and black to acquire that elusive championship ring.
David Daniels is a featured columnist at Bleacher Report and a syndicated writer.