Kansas City Chiefs: Scott Pioli's Draft Approach Was Unusual, but Not Surprising
April 29, 2012

Al Bello/Getty Images
Kansas City Chiefs general manager Scott Pioli has concluded his fourth draft as a member of the franchise this past weekend. As always, fans learned to expect the unexpected from Pioli when it comes to drafting players.
Since the first round, Pioli has made a move that got fans questioning his credibility. When NFL commissioner Roger Goodell stepped in front of the podium at Radio City Music Hall to announce Kansas City's pick at No. 11, it was thought that he would announce David DeCastro's name. Instead, it was Memphis nose tackle Dontari Poe.
When the selection was announced, Chiefs fans held nothing back and heavily booed the pick.
Although there was a glaring need at nose tackle, it is fair to criticize the pick when DeCastro is an upgrade over Ryan Lilja at guard.
One thing for sure is, Chiefs head coach and defensive coordinator Romeo Crennel has his pieces on defense. The national media may not concur, but the Chiefs should be held to high expectations on defense this season.
Pioli went on to surprise fans in the second and third rounds of the draft by selecting offensive linemen in each round. Jeff Allen and Donald Stephenson will come to Kansas City for depth support and it is doubtful that they will see much action this year.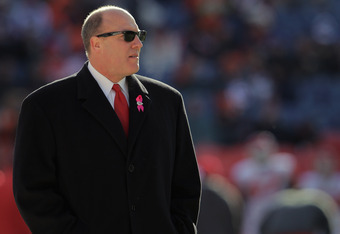 Doug Pensinger/Getty Images

Branden Albert and Jon Asamoah started in all 16 games in 2011 while Lilja missed only one start. Rodney Hudson will play at center, replacing Casey Wiegmann. Eric Winston will be Kansas City's new right tackle and has not missed a start since November 19, 2006.
Therefore, that is proof that Allen and Stephenson are not going to play much this season.
Although the two linemen are good for depth purposes, it makes fans wonder why Pioli went after depth in the second and third rounds when teams can find a rookie early in the second round who could start in Week 1.
Perhaps this has to do with Albert's contract as he enters the final year of his rookie contract. If Albert is not re-signed next offseason, that opens the door for Allen and Stephenson.
On the third day of the draft, the Chiefs added depth at running back, wide receiver, nose tackle and cornerback.
With the 2012 draft in the book, are the Chiefs only going to enter the season with one rookie starting? That could very well be the case. It is unusual for the Chiefs to approach a draft that way when you have the No. 11 pick and a high pick in Round 2 and Round 3.
The Kansas City Chiefs appear to like their roster for the most part and had no interest in finding new starters. Therefore, their primary goal in this year's draft was to find players who could help construct depth. Let's see if that pays off in 2012.