Boston Red Sox: 8 Predictions for May After Late-April Spurt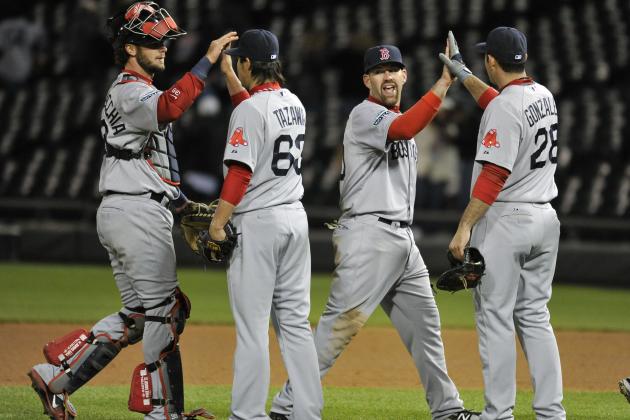 Brian Kersey/Getty Images

It has been an interesting first month for the Boston Red Sox for sure.
Boston started the season terribly, losing five out of their first six games. Winning three of their next four against the Tampa Bay Rays, we were given false hope of getting back on track.
The Red Sox then lost four straight games to the Texas Rangers and the New York Yankees before catching some late-month heat. They swept three games from the Minnesota Twins and then took three of four from the Chicago White Sox to bring them within a game of .500.
There are still questions within the pitching staff, the bullpen, and especially the outfield as Jacoby Ellsbury and Carl Crawford won't be starting for quite some time due to injuries.
Boston still sits at the bottom of the AL East but does have a great chance at rebounding as they are set to play several underachieving teams in the upcoming month before taking on the Tampa Bay Rays and the Philadelphia Phillies.
With all that said, here are eight predictions for the Red Sox for May.
*All statistics are up to date through Sunday's game at the Chicago White Sox*
Begin Slideshow

»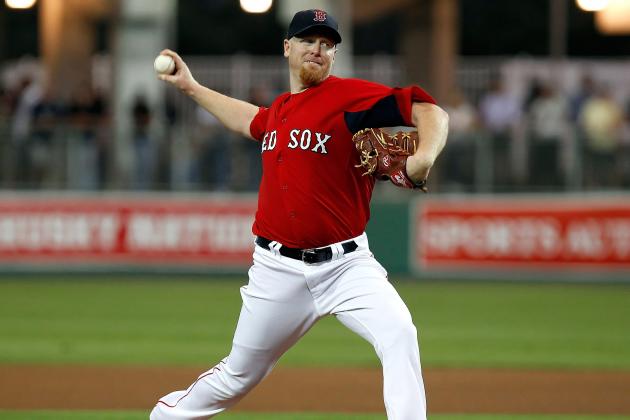 J. Meric/Getty Images

The first order of business that the Red Sox will encounter in May is whether or not Aaron Cook decides to opt out of his minor league deal.
Cook has been dominant in Triple-A Pawtucket in five starts this season, going 3-0 with a 1.89 ERA in 33.1 innings of work.
It seems as if general manager Ben Cherington and manager Bobby Valentine are content with the current starting rotation and unless they decide to go with a six-man crew, it seems unlikely that Cook will have a job in the majors.
That being said, Aaron Cook will opt out of his minor league and enter free agency.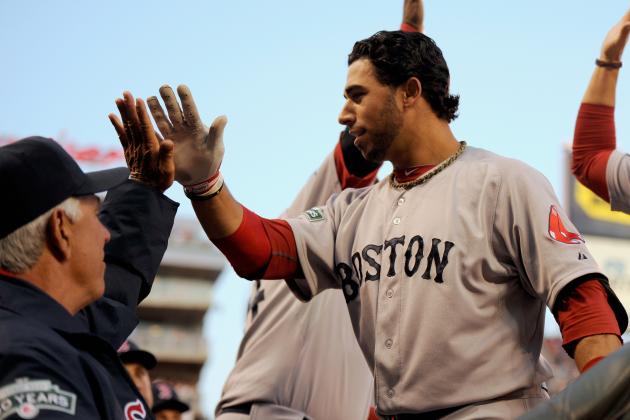 Hannah Foslien/Getty Images

With the strong spring training that Mike Aviles had to win the starting shortstop job and then the injury to Jacoby Ellsbury, Aviles has earned to the leadoff spot in the Boston lineup.
He's been impressive both at the plate and in the field, hitting .295/.329/.526 with four home runs and 13 RBI. In the leadoff spot he's hitting .321/.356/.625 and has locked up that spot for now.
With an easy schedule ahead, Mike Aviles should have no problem staying hot atop the Red Sox lineup and continue to play a solid shortstop.
Trading away Marco Scutaro and Jed Lowrie doesn't seem so crazy now, does it?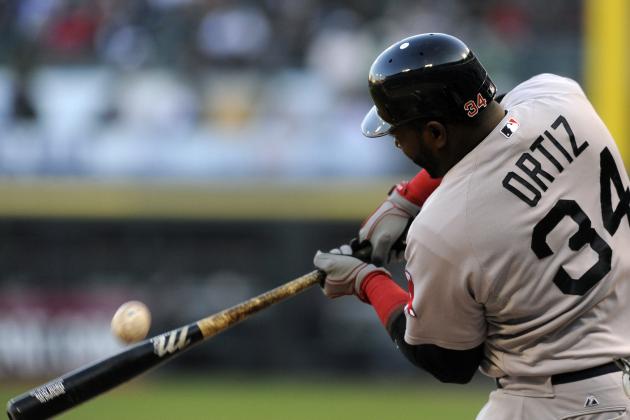 David Banks/Getty Images

No doubt that David Ortiz has had the best start of any Red Sox player this year, hitting a league-leading .407 with four home runs, 18 RBI, 14 runs and already eight doubles.
Bobby Valentine has shifted Ortiz around in the lineup a little bit; usually hitting him in the cleanup spot but also putting him in the No. 5 hole as well sometimes against left-handed pitching.
Teams are still playing the shift against Ortiz but he's been able to break it on several occasions which is a very good sign.
He's hitting the ball hard and often thus far and will continue to do this through May. In his career, he's been an okay hitter in May compared to other months, but could turn into an early MVP candidate with a solid month this year.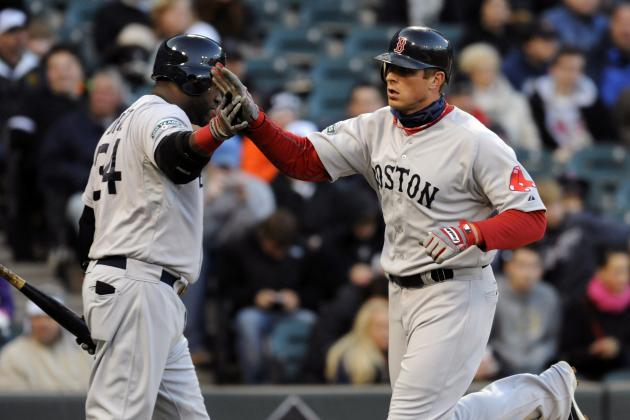 David Banks/Getty Images

It didn't look good after the Red Sox traded for Andrew Bailey and then he went down with a thumb injury that will keep him out for most of the first half of the season. What people seemed to forget was that Boston didn't give up a lot in that deal and also got Ryan Sweeney in return.
Sweeney was never a big name player in the past but has made a nice name for himself with the Red Sox this year, despite a pretty ugly spring training.
He'd been hitting towards the lower half of the lineup until Ellsbury went down and was then promoted to the No. 2 spot where he's really succeeded, hitting .355/.344/.548 with four runs and six doubles.
As long as Sweeney stays hot in the No. 2 spot and continues to play a solid right field, people might start to forget that Bailey is injured and start giving Sweeney the credit he's earned.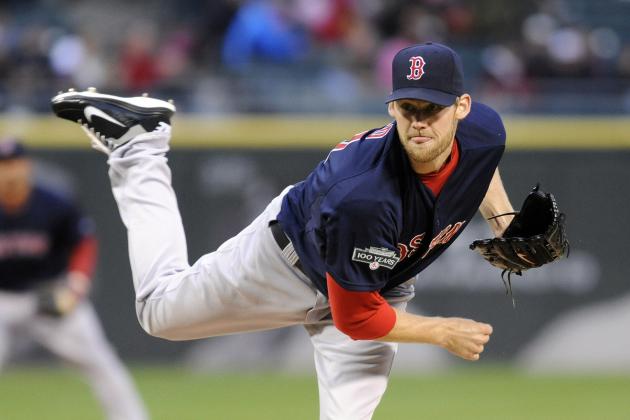 David Banks/Getty Images

Definitely the biggest question going into spring training and the regular season was if Daniel Bard would pan out as a starter. As of now, there isn't a definite answer to that question but after May passes, Bard will have locked up the rotation spot.
Bard picked up a win in a relief appearance but as a starter he's 1-2 with a 3.86 ERA, 19 strikeouts and nine walks.
I'm going out on a limb and projecting four wins in May for Bard. His first matchup is against the Oakland Athletics, an easy opponent, this upcoming Wednesday. If all else goes accordingly, he should also make starts in May against Kansas City, Cleveland, Philadelphia, Baltimore and Detroit.
Starts against the Phillies and the Tigers are no piece of cake but each of the other games are very winnable. Look for Bard to make a great impression in May.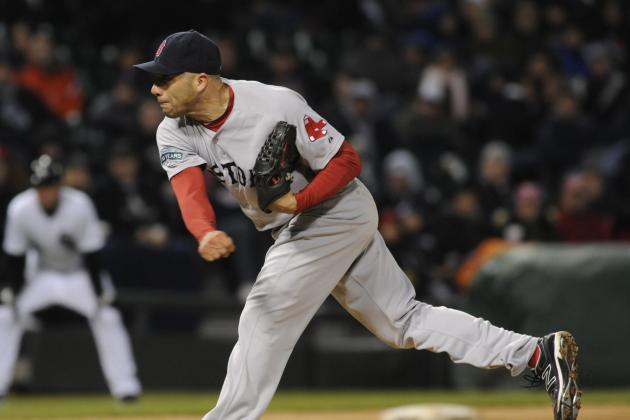 David Banks/Getty Images

Alfredo Aceves has had his fair share of shaky moments to start the season but has seemed to settle down over the last few weeks.
He saved five games for what was a poor month for the Red Sox. Imagine what he could when the Red Sox have a really good month?
To save ten games in a month might a lot to accomplish but as I've mentioned in previous slides, Boston faces some easy upcoming opponents and should be able to win a lot of those games. If the offense can keep up their recent power surge, that could translate into double-digit saves for Aceves.
The most saves this month is Craig Kimbrel for the Atlanta Braves with eight while several others have seven for very good teams. These predictions can be bold right?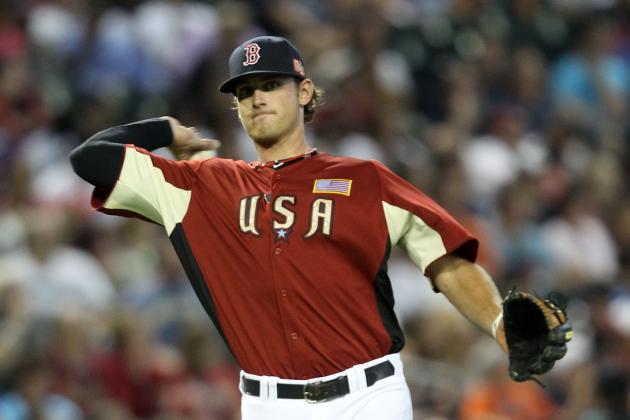 Christian Petersen/Getty Images

Here's the most serious prediction that I'm going to make. Will Middlebrooks needs to--and deserves--a major league call-up.
To be frank, Kevin Youkilis has been absolutely horrendous to start the season; both offensively and defensively.
Middlebrooks has torn up the ball in Triple-A, with nine home runs and 27 RBI in 22 games for the Pawtucket Red Sox. Don't forget that he's also hitting .365/.413/.741 with only three strikeouts in 85 at-bats.
Those are the types of numbers that the Red Sox could possibly be getting at a major league level. Those are the types of numbers that Youkilis is no longer going to put up. Call up Middlebrooks and find some nice new place for Youkilis to go.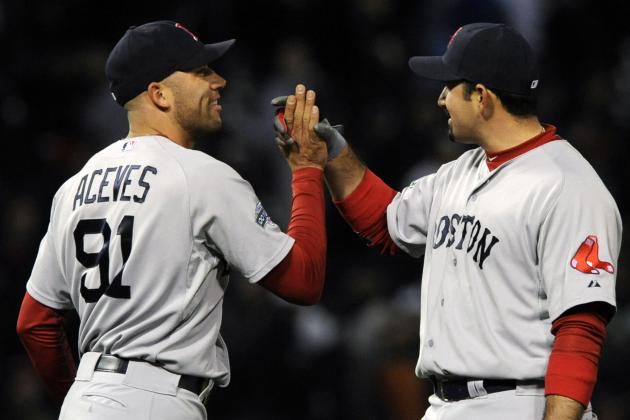 David Banks/Getty Images

The theme throughout this entire slideshow is that Boston is going to take advantage of their opponents over the next four weeks.
They face a very easy schedule with only a few tough opponents in Philadelphia and Tampa Bay. None of the other AL East teams have been that good through the first month of play and Boston could easily take over with a few series wins.
After the way Boston has played during April and to be within a few games of first place, there's no doubt that the Red Sox make a run for first place during May.
Count on that.