Miami Dolphins 2012 NFL Draft: Jeff Ireland, You Did It
April 29, 2012

Al Messerschmidt/Getty Images
Jeff my boy, until this draft you've had a knack for hitting solid picks for your first rounders, striking out during the middle rounds, and hitting homers in the later rounds. 
This year, you finally had a spectacular draft from start to finish.   I have to admit I was getting a little worried there towards the end of the fifth round with no receivers in sight—but not too worried, I assure you. 
Unlike the Dolphins' previous drafts, the picks made sense.  They were best players available, for the most part, and you were able to create major steals.  Most importantly, for a hopeless, deeply distraught fanbase craving for some kind of spark, you were able to craft one that was exciting, inspiring hope for the future.
Rounds 1-4
Ryan Tannehill is a raw player, but he has enough tape to prove that he's a future franchise quarterback.  I didn't initially agree with the pick, but that's because I was afraid that the Miami Dolphins would, in turn, lose out on play-makers.
The very next pick was spent on Jonathan Martin—an incredible steal in the second round.  He's athletic and was, at one point, a top ten pick in the draft.  He was supposed to fall into the late teens or early twenties of the first round. 
I don't know how he fell all the way to the second round, but now the Dolphins have a great lineman who could easily switch to LT if Jake Long gets hurt or asks for a monumental contract next season.
You addressed the need for a pass-rusher with the first University of Miami pick in several years: Olivier Vernon.  This continued the trend of value picks: he has second-round ability and fulfilled a huge need. 
His biggest knock is that he's a bit undersized, but he's explosive and jumps quick off the snap.  Remember that Jason Taylor was also undersized, but explosive.  He might not be from Akron, but maybe he can turn out to be the next great third-round pass-rushing specialist for the Miami Dolphins.
The next two picks were spent on playmakers, and one of those could prove to be the biggest steal in the draft. 
Michael Egnew reminds me a lot of Jermichael Finley—one of head coach Joe Philbin's favorite targets in Green Bay.  He's big, athletic, and has great body control.  He can also create separation and runs incredible routes.  He can't block, but the Dolphins already have Anthony Fasano, one of the best blocking tight ends in the league.
Your best pick by far, though, has to be Lamar Miller.  He was supposed to go late in the first, yet he made it all the way to the fourth round.  Unbelievable. 
He runs a 4.3 40 and easily shrugs off tacklers.  At 5'11" and 212 pounds, his combination of speed and size is extraordinary.  He needs a little work with blocking and pass-catching, but this kid is a complete stud.  Reggie Bush is in his contract year and you found an excellent replacement with fresh legs.
Rounds 5-7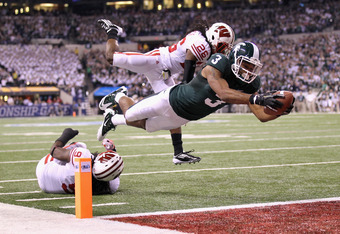 Andy Lyons/Getty Images
Josh Kaddu brings some badly needed depth as an extra pass-rusher.  He works great as a cover linebacker and he will most likely contribute when the Dolphins are defending obvious passing downs.
B.J. Cunningham lacks speed to stretch the field, but he is an excellent Z-receiver and performs great after the catch.  The Dolphins were looking for a polished receiver who could run great routes and they grabbed one of the best slant receivers in the draft in the sixth round.
Kheeston Randall was another great steal for the Dolphins.  Originally projected to go in the fourth round, he fell all the way to the seventh.  He's not a great pass-rusher, but he has a good amount of upside and performs well against the run.  He will most likely rotate with Paul Soliai.
Rishard Matthews is another Z-receiver with pretty good hands.  He is strong and athletic and will most likely battle it out with Cunningham in training camp.  He has good value in the seventh round and helped address one of the biggest needs for the Dolphins.
After seven rounds all I can say is thank you, Ireland.  This was one of the most entertaining and expertly-crafted drafts I've seen the Dolphins do in years.  It had a sense of direction and was littered with great value picks.  It also gave us Dolfans a little hope.
Of course, this is my opinion.  I'd like to hear yours, Dolfans.