Can Nate Diaz Step out of His Brother's Shadow and Capture UFC Gold?
April 29, 2012

For a while now, Nate Diaz has been stepping out of his big brother's shadow, slowly but surely.
While Nick Diaz is still in many of the water cooler conversations, Nate is getting very close to a title shot for the UFC lightweight title belt.
The real question is: Can he do it?
Yes, he most certainly can.
Right now, Nate Diaz matches up well with any of the top five fighters in the division. Yes, he is good where they are great, but he is also great where they are good.
Diaz brings three tools to the table that he can claim are the sharpest in the division: striking, submissions and a love for brutal fights.
Much like his big brother, Nate Diaz never met a fight he didn't like. He's got some losses on his record, but they were never really one-sided, even when you consider his loss to Rory MacDonald.
Right now, he has to eat what's on his plate, and that will be no easy task. Jim Miller is going to go after him, bell to bell, and unlike many in the division, Miller is not going to be intimidated by Diaz.
Should Diaz be able to utilize his reach and superior striking game, he will probably walk away with a decision victory, putting the title square in his sights.
He'll either be facing Ben Henderson or Frankie Edgar—two incredible fighters who are polished beyond the rest of the pack.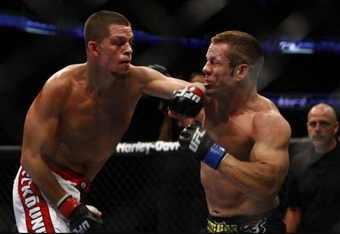 And I think Diaz can beat them both.
Of course, it won't be easy. Far from it, in fact.
Both Henderson and Edgar are better wrestlers than Diaz. Both have his same kind of cardio and both have proven they won't wilt under the pressure.
They both also enjoy a very high fight I.Q., and that is normally what makes a champion. They know when to maintain a position, when to go for broke, and most importantly, how to exploit the weaknesses of their given opponent.
It's going to be hard for Diaz to handle the constant angular movement of Edgar just like it will be hard for him to handle the strength of Henderson.
And, of course, both Edgar and Henderson are faster than Diaz as well, which is another daunting problem.
But still, even considering all of this, I think Nate Diaz can win.
Diaz will have a significant advantage in striking. He put the blocks to Donald Cerrone, who is a great fighter in his own right, and he made Takanori Gomi look almost childish.
On the floor, Diaz can submit anyone in the division. His jiu-jitsu has such a firm base that he can build a submission opportunity seemingly from out of nowhere, and he doesn't make many of the common mistakes that allow an opponent to slip out.
But, if there is anything about his game that really shines, it's his style of fighting.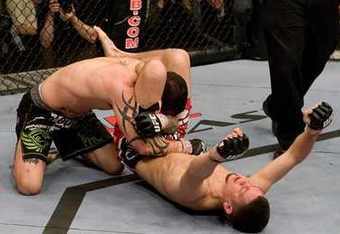 Diaz would be in the face of both Edgar and Henderson. He's gotten to be very good at controlling the distance and dictating the pace and any moment of contemplation on their feet would see Diaz winging hard hooks and straight punches, both of which he can do with a surprising degree of accuracy.
Nate Diaz is a hard opponent to prepare for, simply because he doesn't shy away from punches. When a Diaz brother gets punched in the face, they come alive and press the action even further.
Obviously, in a UFC title fight, all the cards are on the table, face up. Men as good as Henderson and Edgar aren't going to bring anything less than their best, and for Diaz, that means fighting hard to keep from being controlled on the ground by superior wrestling.
Still, I think Diaz can do it. He's a fast starter who has the courage of his convictions, and I believe we would see him raise his game to a new level come the night of a title fight.
And, let's be honest, a title fight between Nate Diaz vs. either Benson Henderson or Frankie Edgar would be spectacular.