Justice and Decency Dictate 2012 Wisden
April 29, 2012

You have to be impressed that reviews of a book 1552 pages long appear in most national newspapers a day after its publication. Either these people are sent the Almanack way before Joe Public or else reviewers just browse the Editor's Notes and the contents page!
Yet it's mining the detail that highlights Wisden as an excellent chronicle of cricket's social history.
Editor Lawrence Booth paints a disquieting picture in his "Notes." The sport, he argues, stands at a precipice, and this is down to the impact of Twenty20. There was no four-day cricket in Australia for most of December and all of January to allow for the shortest-format whilst the Champions Trophy in India clashed with the Irani Trophy, the season's traditional five-day curtain-raiser.
The IPL and the Champions League now account for almost 20 percent of the year.
Of the 19 Test-series which took place either wholly or partly in 2011, six contained two Tests and a further three just a single contest. England, in which the appetite for Test cricket remains strong, have dropped a Test match against South Africa this summer for five lucrative ODIs against Australia.
Yet this is all part of a wider tendency to excess. England's series against India included the 2,000th Test match. Rob Smyth notes that it took almost as long to get from 100 to 200 Tests (23 years) as it did to get from 1,000 to 2,000 (27).
The Almanack is a celebration of the calendar year, and it has been a long time since England enjoyed one better than 2011. Cricket can be a collection of its parts, and no one contributed more to the cause than Alastair Cook.
Let's recall that his place was under threat in the summer of 2010. His 6,027 Test runs stand less than 3,000 behind the English record, whilst he is only three centuries behind Hammond, Cowdrey and Sir Geoffrey.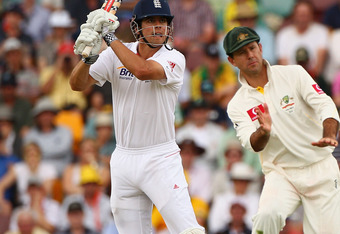 Ryan Pierse/Getty Images
Simon Hughes runs his analyst's eye over the reasons for English success and looks to science and technology for explanations.
The English backroom staff, which can outnumber the players, can draw on a number of innovations to help improve the player. The ProBatter bowling machine, for example, can replicate opposition bowlers, though maybe not Saeed Ajmal!
Such technologies create an advantage for the more financially lucrative sides. However, English success is also attributed to outstanding fielding and, according to its captain, "A team working together."
England's County Championship remains a mainstay for the aficionado. Veterans Glen Chapple and Alan Richardson are included amongst Wisden's "Five Cricketers of the Year", solely for their efforts in the four-day format.
Yet, the premier domestic competition suffers from the lack of top players as central contracts, the international treadmill or offer of better-paid opportunities make demands on the finest thereby depriving the public of the treasures they enjoyed in the 1970s and 80s.
Tim Bresnan, another of Wisden's lauded five played only three times for relegated Yorkshire, whilst James Anderson appeared just twice for the champion county. And no team had a Clive Lloyd, the type of overseas-player associated by loyal longevity from who "the world suddenly turned upside down."
As always, politics and issues of inequity feature between the covers.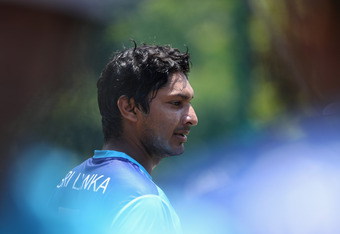 Tom Shaw/Getty Images
No county today employs amateur cricketers, as the distinction between gentleman and player was abolished fifty years ago.
No more would cricketers from the same side dress in separate changing rooms, travel to matches in different compartments, be addressed by surname or title, or be compensated a greater amount than those who plied their trade for a living.
As Colin Shindler notes, "The era of social deference was over."
Deference was something to which SF Barnes refused to succumb. He saw that his father's 63 years servitude in the metal-bashing industry went unrecognised by the bosses and so refused to bow or scrape a living from the sport. When there was an opportunity to make more money, Barnes took it. This meant a career in the leagues and minor counties for a bowler who would feature in most all-time England XIs.
Kumar Sangakkara used his Spirit of Cricket Lecture to note that no Sri Lankan national team can be fielded without the final approval of the sports minister. He called on the ICC to outlaw such direct political interference and suspend sides who continued to allow political elements to corrupt the sport.
Sangakara's nomination of Cricketer of the Year seems to owe as much to his politics as his efforts on tour to England. Yet we are reminded that as The Leading Cricketer in the World, he was 382 runs ahead of his nearest rival when tallying all three formats.
Cricket's first trial by jury ended with three Pakistani cricketers given prison sentences. This wasn't a game, argued RDJ Edwards, "it was a business."
His conclusion left no one in any doubt as to the magnitude of this business: "A nation shamed, a game damaged, four men jailed, and a father lost to his new-born son. Surely now Salman Butt realised this was how fixing can destroy both the game, and people's lives."
These undercurrents lead Andy Bull to question the spirit of the game and to conclude it being "an aspiration rather than an expectation."
Failure to meet expectation features in the three articles that deal with the issue of depression.
Ex-England captain Mike Brearley notes that depression is seen as a weakness—"a badge of shame"—in the manly world of sport. That a number of players have opened up about depression has helped to alleviate the taboo.
Still, what is it about cricket that leads so many of its participants to depression?
Having been told by his captain, Nick Knight, that he would be tenth-seamer if he stayed at Warwickshire, leading division one wicket-taker Alan Richardson confessed to some "dark days."
Brearley contrasts the pressures of contemporary society and its instant gratification alongside the slow movement of the four- or five-day cricket match. For the batter a mistake can lead to failure and a sense of loss played out in a public arena.
Surrey wicket-keeper Steven Davies took to the public arena to confide that he was gay. The reaction of his fellow cricketers was such indifference that "said much for cricket's fundamental decency."
It is such decency that will help keep us gripped to the greatest of sports and guide those who mine for evidence in its greatest publication. Now to tackle the other 1400 pages!