2012 NBA Playoffs: Ranking the 3 Best Performances from Day 1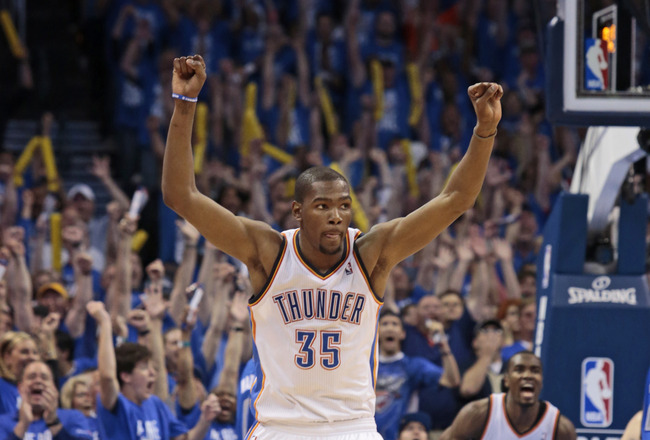 Kevin Durant celebrates his game-winning shot against the Mavericks.
Brett Deering/Getty Images
Basketball is a team sport. But sometimes, individuals just have to steal the spotlight.
That proved to be the case on day one of the NBA playoffs.
While nobody had an outstanding performance, players were clutch (none more so than Kevin Durant) and others racked up a good amount of points, boards and dimes. Others played great defense, and helped their team hold the opponent to less than 70 points.
And two players tore their ACL, one of which was just shy of a triple-double.
Here are the three best performances from day one of the 2012 NBA Playoffs.
3. Kevin Durant, 25 Points, 6 Rebounds, 4 Assists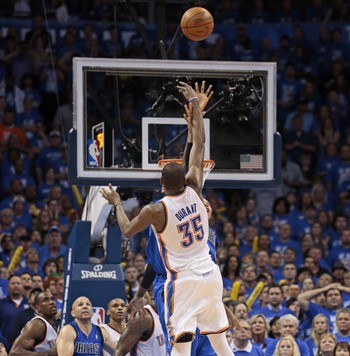 Kevin Durant makes the game-winning shot in Oklahoma City's 99-98 triumph over Dallas.
Brett Deering/Getty Images
Durant's performance likely wouldn't have been in my top three if it weren't for the final shot he made.
It was kind of ugly, and it hit the rim and backboard before going in. But the shot went in, and the Thunder won. That's all that matters.
Dallas led for almost the entire game, but Oklahoma City came back. The Mavs led 94-87 with under three minutes to go, but the Thunder would not be denied. Durant's dunk tied the game at 94, and after a few points were exchanged, he got another chance.
Shawn Marion was all over Durant, but Durant jumped, stretched his arm high above his head, and just barely got the ball over Marion's outstretched arm. The ball was short, but thanks to a bounce off the rim and a bounce off the backboard, Durant's shot fell cleanly into the hoop.
And the Thunder won a crucial Game 1.
The Mavericks are a great team, and they won't go away. Oklahoma City has a tough test, but winning Game 1 was huge. Durant's last-second magic beat the Mavericks again.
Durant may have been the most clutch, but two other guys had better performances than Durantula.
2. Derrick Rose: 23 Points, 9 Rebounds, 9 Assists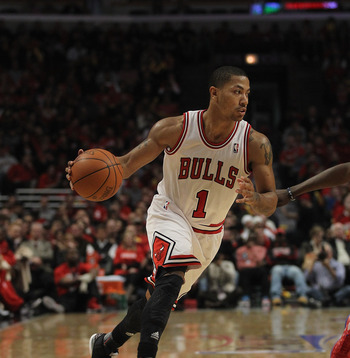 Derrick Rose dribbles during Chicago's 103-91 win over Philadelphia, in which he got hurt.
Jonathan Daniel/Getty Images
We won't get to see any more of Derrick Rose until next season, so we have to savor his performance in Game 1 against the 76ers.
Rose played well, coming up just shy of a triple-double. However, with 1:10 left, he was helped off the court due to an ACL tear. Rose's knee buckled awkwardly as he landed on the ground, and doctors confirmed that it was an ACL tear.
D-Rose made three triples, and he passed the ball around well. Rose drove to the hoop and kicked the ball out for jump shots, like he always does, and it worked well. Chicago shot 51.3 percent, while Philly shot just 39.8 percent.
The game went back-and-forth in the first half, with several Bulls scoring points. In the second half, when the Bulls pulled away for good, Rose drained his shots (three of them triples). Chicago was too much for Philadelphia, and they held on to win without Rose (although they were up 12 with 1:10 left).
Chicago needed Rose in Game 1, and he delivered, playing like the MVP he is. Now, the bench will have to deliver for Rose if the Bulls want to continue to play in the playoffs.
1. LeBron James: 32 Points, 4 Rebounds, 3 Assists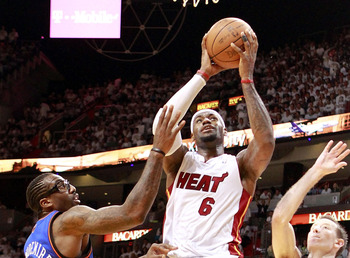 LeBron James takes a shot in Miami's 100-67 win over New York.
Marc Serota/Getty Images
James may not have racked up huge amounts of assists and rebounds, but his point-scoring and defense elevated him to the top spot.
This game was close midway through the second quarter, with Miami up 30-29. Then, the Heat went on a 32-2 run, and New York had no chance.
The Heat started off with a 13-0 run, which LeBron didn't do much in. After both teams traded buckets, LeBron was fouled hard and went to the free-throw line. He made both free throws, then banked in a spectacular 20-footer to put Miami up by 18. The free throw made the game 50-31.
James hit another jumper, then he drove to the hoop and made a layup with three seconds left. LeBron's nine-point rampage helped the Heat take a 23-point halftime lead, which was more than enough for a Heat win.
The Heat played great defense, getting up into the face of the Knicks' offense and forcing them to take bad shots. LeBron was a part of that, and he didn't let anyone make an easy shot. This was key in forcing Carmelo Anthony to shoot 3 for 15 and finish with just 11 points.
New York finished with a 35.7 field goal percentage, while James finished 10 for 14 (71.4 percent). Miami shot 48.6 percent total.
If the series is played like this game was, there's no way New York will win. Miami's back, and LeBron James is ready to take over and lead the Heat to a championship.
Keep Reading

Miami Heat: Like this team?