2013 NFL Mock Draft: Looking Ahead to Next Year's Can't-Miss Prospects
April 29, 2012

Stephen Dunn/Getty Images
The 2012 NFL draft is in the books, three days and seven rounds later all 32 teams head into the second half of the offseason looking to improve upon—or, in some cases, replicate—last season.
Though it may be a bit premature, let us take a look at some of the can't-miss players looking to make an impact in 2013.
1. St. Louis Rams: Matt Barkley, QB, USC
Sorry, Sam Bradford, but Matt Barkley is arguably the most worthy can't-miss prospect of going No. 1 overall in 2013.
2. Indianapolis Colts: Seantrel Henderson, OT, Miami
Indy waited until the seventh round to address its offensive line, which suggests that it will provide QB Andrew Luck with Henderson.
3. Jacksonville Jaguars: Devin Taylor, DE, South Carolina
Considering Clemson's Andre Branch is somewhat of a wild card, the Jags may be inclined to take a big-time defensive end like South Carolina's Devin Taylor next spring.
4. Minnesota Vikings: Robert Woods, WR, USC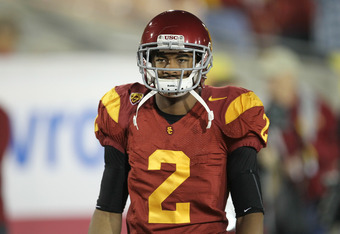 Stephen Dunn/Getty Images
Minnesota took care of the offensive line in 2012, but it will need to pick up scoring threats in order to give Christian Ponder a realistic chance of success.
5. Miami Dolphins: Marcus Lattimore, RB, South Carolina
Marcus Lattimore suffered a brutal injury in 2011, but his hard running style and size make him a coveted running back at the next level.
6. Arizona Cardinals: Tyler Wilson, QB, Arkansas
Drafting San Diego State's Ryan Lindley in the sixth round will do little to help the Arizona Cardinals' iffy quarterback situation. Arkansas' Tyler Wilson has everything coaches and scouts love in an NFL quarterback.
7. Cleveland Browns: D.J. Fluker, OT, Alabama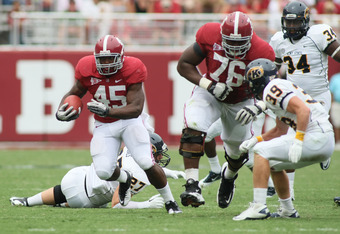 Greg McWilliams/Getty Images
If the Browns are going to contend in the AFC North, where all three other teams made the playoffs in 2011, they will need to establish depth at defensive tackle, and Alabama's D.J. Fluker means business.
8. Oakland Raiders: Landry Jones, QB, Oklahoma
At the rate Carson Palmer is throwing interceptions in Oakland, the Raiders may have to draft for the future.
9. St. Louis Rams (from Washington Redskins): Kenny Stills, WR, Oklahoma 
The Rams need to pick up some offensive weapons, and first-round weapons with supreme talent would be an added bonus.
10. Seattle Seahawks: Keenan Allen, WR, California
Keenan Allen was one of the nation's top wide receivers last season, and much like Michael Floyd in 2012, he could easily raise his stock with another year of college football and on-field success.
11. Tampa Bay Buccaneers: Johnny Adams, CB, Michigan State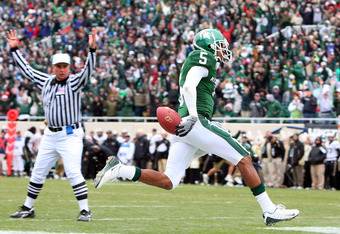 Jim McIsaac/Getty Images
The Bucs took a safety in the first round and a corner in the sixth round in 2012, but there is still a need on Tampa Bay's roster for a playmaker in the secondary. Alabama's Mark Barron is skilled but can go unnoticed from time to time.
12. Buffalo Bills: Brandon Jenkins, OLB, Florida State
The Bills took two outside linebackers in 2012, one in the fourth round and another in the fifth. Florida State's Brandon Jenkins is an entirely different style player, though, with much more potential.
13. Tennessee Titans: Tyrann Mathieu, CB, LSU
Tennessee took a defensive back in the fourth round, but we are talking about an opportunity to claim the Honey Badger.
14. Carolina Panthers: Kawann Short, DT, Purdue
Carolina failed to address its questionable defensive line in 2012, drafting only defensive end Frank Alexander in the fourth round. Purdue's Kawann Short plays big and can help shut down running lanes for the Panthers, who were dreadful at doing so a season ago.
15. Denver Broncos: David Amerson, CB, NC State
Streeter Lecka/Getty Images
Arizona State's Omar Bolden was a decent fourth-round pick up in the secondary for Denver, but NC State's David Amerson shows real promise as a lethal defensive back at the next level.
16. Kansas City Chiefs: Manti Te'o, ILB, Notre Dame
The Chiefs were projected to be looking at Luke Kuechly in the first round in 2012, but he went early to Carolina and Kansas City ended up with no new linebackers. Notre Dame's Manti Te'o is a superb player at the position.
17. Chicago Bears: Dee Milliner, CB, Alabama
The Bears doubled up on cornerbacks on day three of the 2012 NFL draft, taking one in the sixth and another in the seventh round, but there is a significant difference between first-round talent and that which teams will find on day three.
18. Cincinnati Bengals: Jarvis Jones, OLB, Georgia
Cincy went 10 picks without drafting a linebacker in 2012, which means it will be in the running for a middle defender in 2013.
19. San Francisco 49ers: Barrett Jones, G/C, Alabama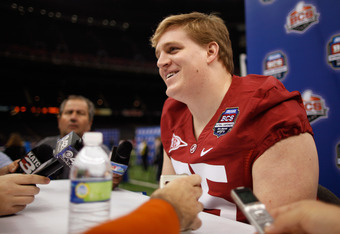 Chris Graythen/Getty Images
Barrett Jones is a versatile offensive lineman who can step in right away for the Niners, who have the blueprint for Super Bowl success already laid out.
20. Dallas Cowboys: Sharrif Floyd, DT, Florida
Dallas added some talent on the defensive edge with Boise State's Tyrone Crawford in the third round, but it can add a legitimate game-changer in Florida's Sharrif Floyd next year.
21. New York Jets: Michael Dyer, RB, Arkansas State
The Jets were projected to take a running back early in 2012 but instead went with Quinton Coples, a defensive end with motivation issues. In 2013 they can pick up a lethal back in the mid-first round.
22. Philadelphia Eagles: Alex Hurst, OT, LSU
Michael Vick took a beating last season in Philly, and teams usually do more good than bad when taking an offensive lineman in the first round.
23. New Orleans Saints: Sam Montgomery, DE, LSU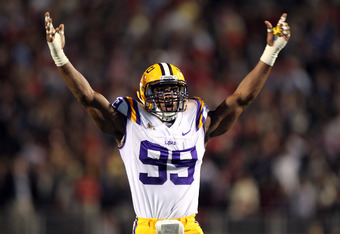 Joe Murphy/Getty Images
Forget about all the scandal in the Big Easy, the Saints will need to add to their defense if they are to get back to the title game. LSU's Sam Montgomery is a stud who can come in and play right away.
24: San Diego Chargers: T.J. McDonald, S, USC
The Chargers took LSU's Brandon Taylor in the third round, but if he doesn't pan out like San Diego hopes, look out for USC's next great safety prospect.
25. Atlanta Falcons: Alex Okafor, DE, Texas
The Falcons went for a defensive end in the fifth round in 2012, acquiring Troy's Jonathan Massaquoi, but they have the opportunity to pick up a real game-changer in Texas' Alex Okafor next spring. Okafor can give Atlanta some added intimidation as a fearless pass-rusher and run-stopper.
26. Baltimore Ravens: Xavier Nixon, OT, Florida State
Baltimore definitely attended to its offensive line in 2012, picking up two guards in the second and fourth round, but still it can't go wrong picking up a big body to protect Joe Flacco on the edge.
27. New York Giants: Ricky Wagner, OT, Wisconsin
New York can keep its Super Bowl chances looking good by building a wall in front of Eli Manning, who is turning into a clutch playoff quarterback. 
28. Pittsburgh Steelers: Kwame Geathers, DT, Georgia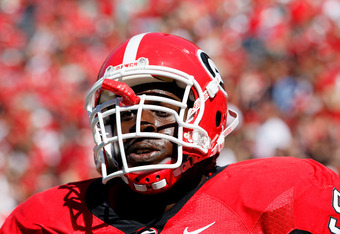 Kevin C. Cox/Getty Images
The Steelers may have gotten their man in 2012, a big defensive tackle out of Washington in the fourth round, but still there is always the benefit of adding depth on defense. 
29. Detroit Lions: Johnthan Banks, CB, Mississippi State
The Lions are set on retooling their secondary based on how they approached the 2012 NFL draft, in which they called up three defensive backs. That trend will continue in 2013 as they look to slow the likes of Calvin Johnson and Greg Jennings in the NFC North.
30. Houston Texans: C.J. Mosley, ILB, Alabama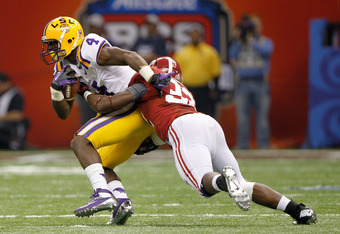 Chris Graythen/Getty Images
No linebackers for the Houston Texans in the 2012 NFL draft, and that means they could take one early next spring. Alabama's C.J. Mosley can help elevate the Texans' defense to a Super Bowl-winning one.
31. New England Patriots: Larry Warford, OG, Kentucky
The Patriots went big on defense in the first round in 2012, and perhaps they go offense early in 2013, taking a big blocker in Kentucky's Larry Warford. 
32. Green Bay Packers: Eric Reid, S, LSU
The injury to Nick Collins in 2011 was scary and may have the Packers eyeing a long-term playmaker at safety. LSU's Eric Reid has first-round potential and SEC toughness.
Follow Patrick Clarke on Twitter for more on the NFL.