Roma vs. Napoli: Does Anybody Want Third Place in Serie A?
April 29, 2012

Paolo Bruno/Getty Images
Roma and Napoli faced off yesterday in a game both teams desperately wanted to win to get further ahead in the race for third place and Champions League qualification in Serie A.
Unfortunately, after 90 minutes, neither team was able to maintain their lead, and the game ended all square at 2-2, giving neither team the advantage or the three full points they were looking for heading into this game.
At the Stadio Olimpico, Marquinho had put Roma ahead at half-time, but Napoli overturned their deficit thanks to goals from Camilo Zuniga and Edinson Cavani.
Unfortunately for Napoli, Walter Mazzari, Napoli's coach, foolishly took off Edinson Cavani in the 73rd minute, thinking his team would be able to hold onto their lead, and paid the price when Fabio Simplicio converted a last-ditch equalizer in the 88th minute to claim a point for Roma.
Both teams put in bad overall performances, failing to protect their lead once they went ahead. Both managers made tactical mistakes, picking strange starting lineups and substituting players off at the wrong time.
But the question that we all want answered is this: Does anybody actually want third place? Because right now, it sure like the answer to that question is no.
Though Luis Enrique has been praised for his project with Roma at various stages of the season, there's little doubt that this season will end in failure for the ex-Barcelona B manager.
His team have claimed four out of their last 15 available points, and though the last three games of the season for Roma are all winnable, Roma's poor away record this season will likely ensure that more points are dropped in the team's last two away games of the season.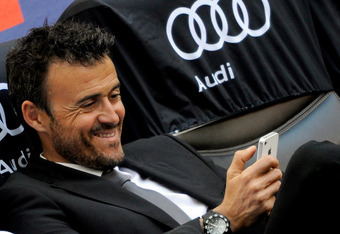 Claudio Villa/Getty Images
So Roma can effectively be ruled out. But what about Napoli, Lazio, Udinese and Inter Milan?
In truth, neither Napoli nor Inter Milan would've been in the race for third place if Lazio and Udinese had maintained the form they showed at the start and in the middle of the season. Unfortunately, both teams have undergone massive meltdowns in the crucial stretch of the season.
Lazio have not secured back-to-back victories since March 11th, and their record in their last eight games includes two wins, one draw and five losses. That's seven out of 24 possible points.
Udinese's form is even more miserable. The team hasn't recorded back-to-back victories since December 11th, 2011, and since February 5th, the team has posted a record of two wins, five draws and six losses. That's 11 out of 39 possible points, or 28 dropped points over the stretch of 13 games.
In most leagues, the kind of form Lazio and Udinese have shown would get you relegated. Yet somehow the two teams sit fourth and fifith, zero and three points behind Napoli, respectively.
The pair will play against each other tomorrow in a battle to show which team is less futile than the other. With Udinese at home, I'm backing them to win, but since they've secured only one victory in their last 10 games, anything is possible.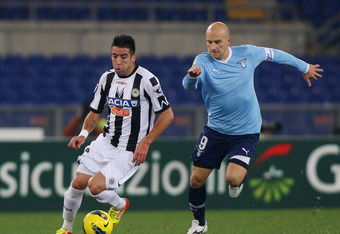 Paolo Bruno/Getty Images
That leaves Napoli and Inter Milan, the only two teams who've shown any semblance of good form in recent games.
Napoli went through a stretch from mid-March to mid-April where they picked up only two points out of 15, but they have since bounced back with two wins and a draw.
As for Inter Milan, their revival under new coach Andrea Stramaccioni has been highly impressive. Appointed after Inter's loss to Juventus knocked them down to eighth place, Stramaccioni has guided Inter to three wins and two draws in his first five games.
Napoli's draw with Roma lifted them up to third place on goal difference, while Inter Milan will face bottom-feeders Cesena at home in a game they should win with ease.
I predict that by the end of Sunday, all four of Lazio, Udinese, Napoli and Inter Milan will be level on points with each other, all at 55 points.
From there, the real race to the finish line will begin. I predict that Inter Milan and Lazio will fall short. Inter Milan face two very difficult games vs. Parma away and Milan at home before they take on Lazio away on the final day of the season.
Even with their resurgence under Stramaccioni, I can't see Inter Milan taking more than three points from their games against Parma and Milan, and in such a tight race, that should be enough to end Inter's charge for third place.
I expect that Inter will secure at least a draw, though, vs. Lazio, and in the process bring an end to Lazio's rocky push for third place.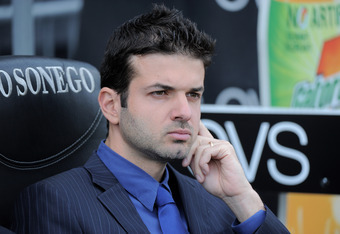 Dino Panato/Getty Images
That leaves Udinese and Napoli. With two away games still left to play after their game vs. Lazio, Udinese are almost sure to drop more points in their last three games.
My prediction is that Napoli will straighten things out and win their final three games of the season, two of which are home games, to make another appearance in the Champions League next season.
Of course, Lazio could upset Udinese tommorrow and take a massive edge in the race for third place while all but ending Udinese's push for Champions League action next season. 
On the other hand, Stramaccioni could pull a Roberto Di Matteo and overcome the odds to push his team all the way to third place, overcoming Parma, Milan and Lazio in the process.
But on the basis of form, easier scheduling and superior player quality, I'm backing Napoli to qualify for next season's Champions League.