NBA D-League Finals: Why L.A. Will Not Win a Pro Basketball Championship in 2012
April 29, 2012

Home-court advantage be damned! What is that hideous phrase? There is no such thing as home-court advantage. Any team can defeat any team on any given day at any level.
Such is the case with the city of Los Angeles, who are essentially out of luck when it comes to winning a basketball championship this year. That's right, I am making this bold prediction right now: Los Angeles will not win a professional basketball championship this year.
The Los Angeles D-Fenders were L.A.'s only chance to win something meaningful. (No, the Pacific Division title won by the Los Angeles Lakers, the parent organization, does not count. Sorry to break this to you.) They had a chance to make it happen...twice.
And they failed.
The D-Fenders failed miserably, at a venue that is no different than your local high school gym, in the Toyota Sports Center in El Segundo, Calif. (except that the Lakers train here, the Los Angeles Sparks train here, and a certain ice hockey team trains at the rink next door; more on that in a bit).
Not only did the D-Fenders lose Game 2 of the D-League finals 113-94, they also lost the decider, 122-110.
To me, a 38-12 regular season record, which L.A. had coming into the postseason, is meaningless. It does not win you anything.
Case in point: the Vancouver Canucks, who had the National Hockey League's best regular-season record, but lost to the Los Angeles Kings (who also train at the Toyota Sports Center's rink).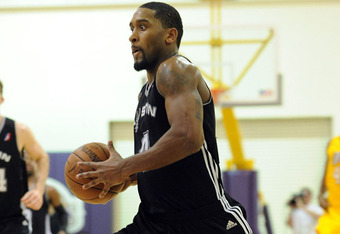 This was a complete disaster of a performance by L.A.'s only real hope to win some semblance of respectability in pro basketball for the 2011-12 season.
When players like Otis George (seven points) and Orien Greene (eight points) fail to hit double digits and your leading scorer is a bench player (Mardy Collins, 31 points), it's a recipe designed for choke artists.
I don't expect the Los Angeles Lakers to win another NBA title. I have said this to many people that I know: It's a rebuilding year for L.A. Some players, like Derek Fisher, are on their way out. I won't be surprised if the team gets a bit younger next year.
And don't get me started on the L.A. Clippers.
As an ardent follower of the Lake Show, I am still wondering how the Clippers, the puppets of Donald Sterling, were able to actually gain some sort of relevance—although, to their credit, they crashed into the regular-season finish line like good Clippers should.
But the D-Fenders had two opportunities to give L.A. a title in pro basketball, be it major or minor.
In their own house, at that.
When you fail to back up your home-court advantage, you have deprived a sports-proud city a title that they rightfully deserved. Who knows when the D-Fenders will have a sniff of a chance to rectify those mistakes that condemned their campaign on Apr. 28.