San Jose Sharks: GM Doug Wilson Should Not Be Fired
April 29, 2012

Due to the San Jose Sharks' rather inconsistent and disappointing 2011-2012 season which resulted in a first-round playoff exit, there have been rumors surrounding the job security of GM Doug Wilson and head coach Todd McClellan. 
Now, I don't know about Todd McClellan. The Sharks fired Ron Wilson (and hired McClellan) in 2008 after failing to win the Stanley Cup despite a dynamic roster. Now, with that dynamic roster still intact, McClellan has yet to produce that championship in his time as head coach. 
Whether or not Todd McClellan should be fired is still up in the air. But one thing seems certain to me: despite all the rumors and speculation, GM Doug Wilson's job is safe. 
Let me explain.
I would compare Doug Wilson to Billy Beane, the GM of the Oakland Athletics who was portrayed by Brad Pitt in the movie Moneyball. 
They are similar in that Wilson and Beane are two of the best GMs in their respective leagues to not win a championship.  
Beane had his best shot in the early 2000s. As portrayed in the book and movie Moneyball, he methodically filled out his roster using sabermetrics to find players. Due to his efforts, the small-market Oakland A's were perennial playoff contenders, hanging tough with the big-market teams such as the New York Yankees and Boston Red Sox.  
His roster consisted of stars Barry Zito, Miguel Tejada, Eric Chavez, Jason Giambi and Tim Hudson, yet the A's never reached the World Series.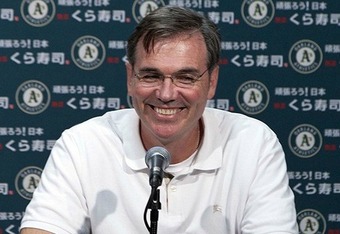 Wilson's story, although not as grand, is similar.
He took over the Sharks in 2003, and instantly turned the franchise around. 
The season before Wilson took over, the Sharks went 28-37-6 (74 points), one of their worst seasons in franchise history. Enter Doug Wilson, and before you knew it, the Sharks finished the 2003-2004 season with 104 points.
San Jose has made the playoffs every year since the 2003-2004 season, thanks to the maneuvers of Doug Wilson.
How does he do it? His bio on the Sharks website describes it as "strong drafting, shrewd trades and timely free agent signings."
That is exactly correct. It was Wilson who went out and acquired, drafted or signed the right players at the right time. You can thank him for Jonathon Cheechoo, Joe Thornton, Logan Couture, Evgeni Nabokov, Joe Pavelski and Ryane Clowe. 
Unfortunately, like Billy Beane, Doug Wilson has yet to achieve that ultimate goal of the Stanley Cup.
The Oakland Athletics extended Billy Beane's contract until the 2019 season, and I believe the Sharks should do the same for Doug Wilson.
Why? Because if they let him go, there is no doubt that several teams will be on their knees, begging Wilson to be their GM. You don't achieve success by changing what's right, and what's right for the Sharks is Doug Wilson. 
Have there been flops? Sure, there have been. Mark Bell, Bill Guerin, Brian Campbell were all acquired by Wilson, and they all left the Sharks on bad terms.
But that's just part of business. As fans, we tend to expect too much. We expect that every single move that the GM makes will be a success. We expect every draft pick, every trade and every free-agent signing to work in our favor. 
And if it isn't, we all whine and cry out, " [fill in the blank] should be fired!"
The point is, being a GM in professional sports isn't so easy. Any fan can say, "trade this guy," or "let's go and sign this free agent," but I bet that they don't know the first thing about being a GM.
Doug Wilson has done a terrific job, turning San Jose from a mediocre team to a big-market, perennial playoff contender. The success that the team has achieved in the past nine years has been due to his hard work.
And for those out there who believe that the reason the team has not yet won a Stanley Cup is Doug Wilson, you couldn't be more wrong. He has made the moves to put together an outstanding roster that is more than capable of winning the Cup for the past several years. 
I don't want to lay the blame on anyone, but I will say that the coaching staff makes the decisions on what goes on during the games.
You can put together the best lineup in the league, but if the players are not used correctly, you will not win games.
Let me clarify: The GM's job is to build and strengthen the roster through trades, signings, etc. It is the coaching staff's job to put the pieces together and figure out the roles of each player.
So, the only the way that Doug Wilson can be judged as GM is by the talent that he has built on his team. And, as already mentioned, his teams have always been stockpiled with talented players.
Being a GM is not easy, and Doug Wilson has done a fine job putting together a team in San Jose. 
Which is why I say that Doug Wilson definitely deserves to keep his job as Sharks GM. 
Because if he doesn't, Wilson will be the GM of another team, stealing away potential superstars from franchises like the San Jose Sharks. And you wouldn't want that, would you?