Matt Kemp Ruins Bryce Harper's Great MLB Debut and Stephen Strasburg's 9 Ks
April 29, 2012

Harry How/Getty Images
Bryce Harper did it all but save the game in his MLB debut for the Washington Nationals against the Los Angeles Dodgers.
Matt Kemp sent fans home on Saturday night with a walk-bomb in the bottom of 10th at Dodger Stadium.
The season that Kemp is having is something that we may never see again. He is putting up video-game numbers and is not showing any signs of stopping.
Lost in the Kemp walk-off is Harper's impressive first game in The Show.
Harper's night began when he stepped up to the plate amidst a shower of boo's and grounded out to Chad Billingsley. 
He recorded his first hit in the seventh inning, an inning that was all about Harper.
On the seventh pitch of the at-bat, Harper sent a booming double over Matt Kemp's head and to the base of the wall in center field. It appeared that Harper was going to stretch out a triple, but thought better of it. 
In the bottom half of the inning, Harper made a perfect throw from left field which would have been an out at the plate if not for Nats catcher Wilson Ramos dropping the ball on the tag.
In the ninth inning of a 1-1 game and with runners on the corners, Harper took a first pitch fastball the opposite way, driving it deep enough for Rick Ankiel to score from third base and earning his first RBI in the majors.
Harper was more than impressive on the night. He handled the pressure perfectly and did his best to prove to the Nats that they made the right decision by calling up the 19-year-old mega-prospect.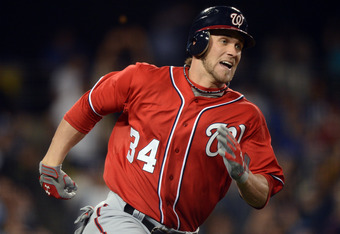 Harry How/Getty Images
Davey Johnson's Nats, however, could not hold the lead as closer Henry Rodriguez blew a two-run lead in the ninth, and Kemp finished the Nats off in the 10th.
Stephen Strasburg also had a great game for Washington, striking out nine batters in seven innings.
Despite the Nationals' efforts, they were unable to keep Kemp from stealing the headlines from Harper and Strasburg on this night.