2012 NFL Draft Results: 10 Picks Nobody Ever Saw Coming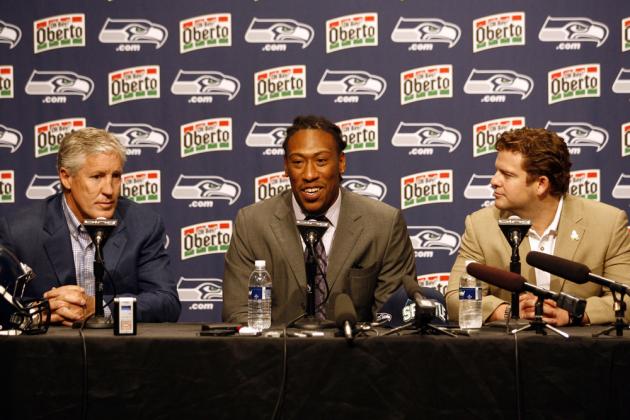 Courtesy of Joe Nicholson/ US Presswire
Yet another NFL draft is in the books and, unsurprisingly enough, there was no shortage of unpredictable picks in 2012.
Andrew Luck to the Indianapolis Colts and Robert Griffin III to the Washington Redskins were already set in stone before the draft even opened, but the real drama started when the Minnesota Vikings were on the clock with pick No. 3. Trade after trade was announced by commissioner Roger Goodell on the very first night of the draft as teams scrambled to make sure their player was still available.
Now that the clock has stopped, it's time to examine which teams really reached for a player and which teams drafted a player they really didn't need. 10 picks made us scratch our heads, and nobody would have ever guessed they were coming.
Begin Slideshow

»
The Chicago Bears were looking to give defensive end Julius Peppers some help in the pass rush with their first-round pick, but nobody saw Boise State's Shea McClellin being that guy.
McClellin was a first-round talent but he was more likely to be taken later in the first round. Some of the names still available to the Bears at No. 19 included Syracuse DE Chandler Jones, Alabama LB Dont'a Hightower and USC DE Nick Perry.
The Minnesota Vikings were so scared of missing out on Notre Dame safety Harrison Smith that they traded back into the first round just to get him.
Smith is an intriguing prospect to help beef up Minnesota's secondary, but I saw him fitting somewhere in the second round. Seeing him sneak into the first round was a bit of a surprise.
We knew the Cleveland Browns had their eye on a quarterback in the draft, but I would have never guessed they'd take 28-year-old Brandon Weeden.
Weeden is as mature a quarterback to ever come out of the first round, and in a sense, you're basically telling Colt McCoy he's done in Cleveland. In my opinion, McCoy deserves at least one more season to get it together.
With Weeden, the timetable on his career is extremely short. He's ready to come into camp and contribute early. You're looking at six years max from Weeden, and if he doesn't pick things up right away, then the risk was never worth it.
"If it ain't broke, then don't fix it."
That must have been the saying the Indianapolis Colts were thinking of when they selected Stanford tight end Coby Fleener in the second round. With Stanford QB Andrew Luck already in their possession the night before, the Colts decided their biggest concern in the draft was to give Luck some weapons on offense.
I'm all for the Colts trying to make their franchise QB as comfortable as possible with this pick, but I would have figured they'd address other needs on the roster. This team is in for a long rebuilding process, and I was expecting them to balance things out with a defensive player here.
The San Francisco 49ers definitely addressed their need at receiver with A.J. Jenkins, but was he the best receiver on the board? Maybe, maybe not. But there were still some bigger names available at pick No. 30.
Stephen Hill was still available when the 49ers went on the clock, and his draft stock had been rising ever since his combine performance. I won't say the 49ers made the wrong choice drafting Jenkins, but it was a bit of shock seeing them ignore Hill.
Arizona State QB Brock Osweiler is a very intriguing prospect with his 6'7" stature, but I just don't think this was the right pick for the Denver Broncos in the second round. I get that executive vice president John Elway is preparing for the future when Peyton Manning's career is over, but I would have liked to see Denver get Manning some weapons on offense or another piece on defense.
Osweiler will learn a lot watching Manning every day, but he does nothing for Denver next season.
Didn't the Washington Redskins already draft a quarterback? Oh yeah, that's right, they took Heisman trophy winner and future face of the franchise Robert Griffin III. So why exactly did they feel the need to take Kirk Cousins in the fourth round?
I'm not saying Cousins is going to give Griffin a run for his money, but I feel like he could have really benefited developing with another team in need of a future quarterback.
Did Washington take the best available player on the board? Yes. Is it a wasted pick? It sure seems that way.
I had absolutely no problem with Russell Wilson being taken in the third round, as he was among some of the better quarterbacks in this draft, but I have no clue why the Seattle Seahawks decided they needed another quarterback.
The Seahawks just recently signed Matt Flynn to a three-year, $26 million contract in free agency, and last time I checked, Tarvaris Jackson was still on the roster trying to prove himself.
We can already expect a pretty competitive battle for the starting job between Flynn and Jackson, but with Wilson in the mix, head coach Pete Carroll's decision will be a bit tougher.
Can you say, "quarterback controversy"?
When the Seattle Seahawks selected West Virginia linebacker Bruce Irvin, not only was the crowd at Radio City Music Hall stunned, but the ESPN crew was a little dumbfounded as well.
Even the great Mel Kiper Jr. was shocked to hear Irvin's name in the first round.
Seattle made a few surprising picks during draft week, but Irvin in the first round had experts buzzing. While I won't deny Irvin's NFL potential, I was a little surprised to hear his name so early.
Pass-rushers Melvin Ingram and Quinton Coples were still on the board at pick 15.
I think it's a safe bet to say that a lot of people are still trying to figure out why the Jacksonville Jaguars selected a punter with their third-round pick.
The Jaguars are going to need all the help they can get next season, and unless their plan of attack is punting, then I really doubt this pick makes them a better football team. Bryan Anger may have a great leg in the NFL, but that won't be enough to justify his worth as a third-round pick.
Go ahead and let Anger's highlights above amaze you, but don't let his awesomeness blind you.