Magic vs. Pacers: Stats, Grades and Reaction to Game 1
April 29, 2012

Gregory Shamus/Getty Images
The Orlando Magic, despite the absence of Dwight Howard, have shocked the NBA world and upset the third-seeded Indiana Pacers in Game 1 on Saturday night with a 81-77 victory.
Sure, it is only the first game, but the Orlando Magic have proved with this emphatic win that this disrespected roster is capable of contending with the league's elite. After being ruled out by nearly everyone across the Association, the Magic show that there is, and was, a legitimate squad around Howard this entire season.
Orlando's Jameer Nelson led the Magic with 17 points off 7-of-15 from the field and nine assists. Streaky shooting guard Jason Richardson and bruiser Glen Davis contributed 17 and 16 points, respectively.
Indiana, on the other hand, struggled to find a go-to guy the entire night. Starters David West and Danny Granger put up high point totals, but their 36-point combined effort was quite inefficient. Hibbert, though, was a consistent defensive presence throughout the night, as he blocked nine shots and grabbed 13 boards. 
Let's recap Game 1 from Indiana.
Reaction
ESPN columnist J.A. Adande honors Van Gundy by enjoying his favorite soft drink:
Orlando wins.*sips can of diet Pepsi in Stan Van Gundy's honor*

— J.A. Adande (@jadande) April 29, 2012
Former NBA star Jalen Rose brings up a valid and fantastic point:
Character road playoff win for the Magic playing without Howard at Indiana #NBA

— JALEN ROSE (@jalenrose) April 29, 2012
Alex Kennedy from Hoopsworld shows what is driving the Magic:
The Magic win. The team just huddled up and shouted, "We All We Got." That's the motto they've adopted for the postseason.

— Alex Kennedy (@AlexKennedyNBA) April 29, 2012
Grades for Magic
Jameer Nelson: A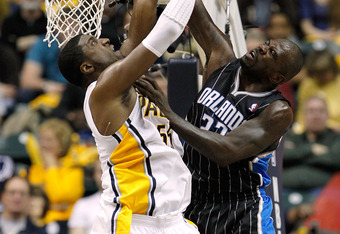 Gregory Shamus/Getty Images
Nelson was exceptional in Saturday night's action, as the crafty veteran not only led his team to victory but put up gaudy stats. His 17 points and nine assists propelled the Magic to their Game 1 win against the Pacers.
But Nelson's most valuable contribution was his hustle and intensity. If there was a free ball, you could bet that "Mighty Mouse" was on the floor diving for the ball.
Glen Davis: B+
Glen Davis had his hands full tonight, as he went up against the tallest center in this year's playoffs in Roy Hibbert. The 6'8" Davis, however, did not shy away from contact against the 7'2" Hibbert and contained the Pacers big man to only eight points.
While Hibbert doesn't possess the most refined offensive game in the league, this is still quite an accomplishment for Davis.
Grades for Pacers
Danny Granger: B-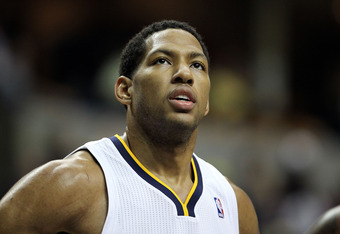 Andy Lyons/Getty Images
Danny Granger, despite putting up nearly 20 points, had an off night in Indiana's playoff premiere. The former All-Star shot an inefficient 7-of-20 from the field and seemed to disappear at crucial parts of the game.
When he wasn't pulling a "Houdini," however, he was turning the ball over, as the swingman lost five possessions in the game.
Roy Hibbert: B+
On defense, Roy Hibbert deserves an A+, as the massive behemoth swatted nine shots and racked up 13 balls off the glass.
His production on offense was dismal, as the big man definitely did not take advantage of the absence of Howard. Hibbert had eight points and was 3-of-11 from the field. 
Game MVP: Jameer Nelson
Nelson led his team to a Game 1 win with solid stats, fantastic hustle and leadership. There is very little Jameer Nelson could have improved on.
What's Next?
The Magic will again battle the Pacers in Indiana on Monday, April 30th at 7:30 p.m. ET.