NHL Playoffs 2012: Top 5 Things the Devils Must Do to Beat the Flyers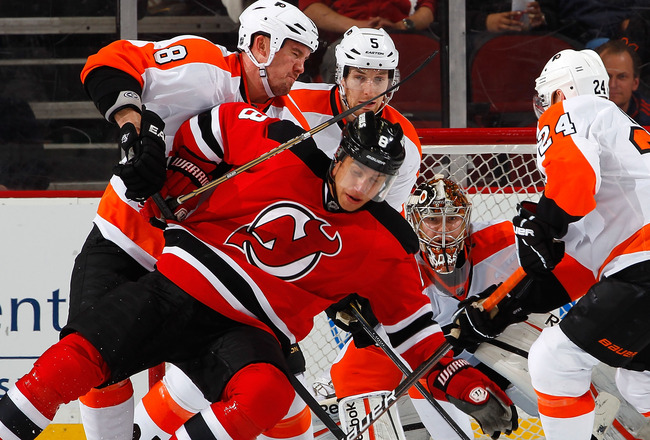 Paul Bereswill/Getty Images
The New Jersey Devils begin their second-round NHL playoff matchup against the Philadelphia Flyers at 3:00 PM ET Sunday.
The two rivals split their season series three games apiece; however, many view the Flyers as the clear favorite to advance to the Eastern Conference finals after their dismantling of the star-studded Pittsburgh Penguins in the quarterfinals.
There are several key aspects of this series that the Devils must control in order to prevail past the Flyers in their conference semifinal.
The 4th Line Must Continue to Produce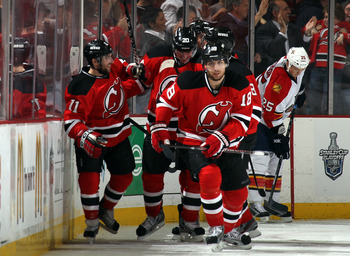 Bruce Bennett/Getty Images
The Devils' fourth line of Stephen Gionta, Steve Bernier and Ryan Carter accounted for five goals and nine points in the seven-game series against the Florida Panthers.
This type of production must continue in order for the Devils to contend with the offensive depth of the Flyers.
Find a Way to Score on Bryzgalov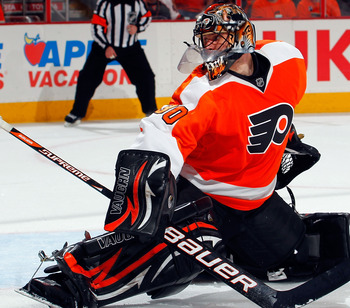 Paul Bereswill/Getty Images
During the regular season, Flyers' goalie Ilya Bryzgalov put up outstanding numbers against New Jersey. The Russian netminder posted a 3-0 record against the Devils with a 0.29 GAA and a .987 save percentage.
However, during Philadelphia's first-round matchup with the Penguins, Bryzgalov looked very beatable.
He was 4-2 with a 3.89 GAA and a very pedestrian .871 save percentage. If New Jersey can find a way to exploit Bryzgalov consistently they will greatly increase their chance of advancing.
Brodeur Must Be Consistent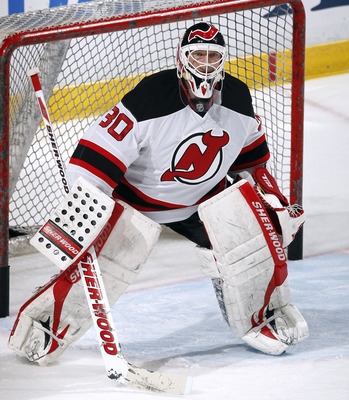 Joel Auerbach/Getty Images
The 39-year-old goaltender has shown that he still has the ability to lead his team to victory in the playoffs. Brodeur posted a 4-2 record against Florida in Round 1 with a GAA of 2.06 and a save percentage of .922.
His performance in Game 7, stopping 43 of 45 shots, gave many Devils fans flashbacks of the early 2000s. However, Brodeur also had several moments of futility in Round 1, most notably being pulled by coach Peter DeBoer after allowing three goals on 12 shots in a Game 3 loss.
Brodeur must consistently play at high level in order for New Jersey to have any chance against Philadelphia's high-powered offense.
Avoid Being Manipulated by Philadelphia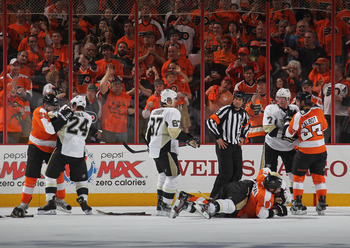 Bruce Bennett/Getty Images
The Flyers were able to get to the Pittsburgh Penguins both physically and mentally in Round 1. The physical and scrappy playing style of Philadelphia forced Pittsburgh to scrap its game plan and attempt to compete with the Flyers in a way they did not anticipate.
In order to have success, the Devils cannot fall into this same trap. New Jersey must remain somewhat disciplined since they will not beat the Flyers at their own game.
Penalty Kill Must Be Elite Once Again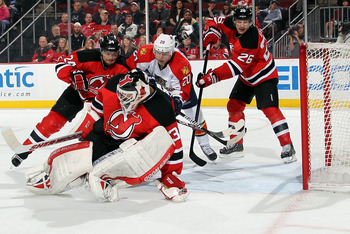 Bruce Bennett/Getty Images
New Jersey's penalty kill was one of record-breaking efficiency in the regular season. The Devils killed off 89.6 percent of the penalties they were called for.
This has not been the case at all in the postseason.
The Florida Panthers converted on nine of their 27 power-play chances against New Jersey, appearing at points to be scoring at will. On the other hand, Philadelphia scored 12 goals on 23 power-play chances against Pittsburgh.
If the Devils' penalty-killing squad does not return to the elite status it was at during the regular season, the Devils will be ousted from the playoffs sooner rather than later.
Keep Reading

New Jersey Devils: Like this team?