Buffalo Bills 2012 Draft: Grading Every Selection
April 29, 2012

Al Bello/Getty Images
Round 1, Pick 10: Stephon Gilmore, CB, South Carolina
It's difficult to argue that one of the Buffalo Bills' biggest needs in this draft was adding help to the secondary.
After Matt Kalil failed to fall past the Minnesota Vikings at No. 4 and the Carolina Panthers selected stud linebacker Luke Kuechly one choice before the Bills at No. 9, I think this choice came down to two options.
At No. 10, the Bills could have gone offense with wide receiver Michael Floyd of Notre Dame, or defense with cornerback Stephon Gilmore of South Carolina. As they say, defense wins championships.
Floyd would have given the Bills another threat in the passing game, but Gilmore's stock was rising steadily before the draft and was mocked as high as No. 7 to the Jacksonville Jaguars.
Gilmore has the opportunity to become a lock-down corner for the Bills from Day 1. With the enhancements made to the Bills' pass rush, he will have every opportunity to succeed in 2012.
The swagger from Bills players has already reached the Twitter-verse. Mario Williams tweeted at the Bills' first-round draft choice:
@BumpNrunGilm0re congrats bro big things this yr. You'll have lots of hurried throws your way with us up front #believethat

— Mario Williams (@bbwolf90) April 27, 2012
Followed closely by this one:
@BumpNrunGilm0re if I don't get em down first that is #BillsMafia

— Mario Williams (@bbwolf90) April 27, 2012
Gilmore responded to his new teammate by keeping it simple:
@bbwolf90 thanks bro and ready for it

— Stephon Gilmore (@BumpNrunGilm0re) April 27, 2012
If you're a fan, you've got to love that exchange.
Excitement surrounding #BillsMafia is growing with every passing day. Gilmore filled a big need and was arguably the second-best corner in the draft behind Morris Claiborne.
Grade: A
Round 2, Pick 41: Cordy Glenn, OT/OG, Georgia
The Bills needed to improve their offensive line in this draft and they did that by adding tremendous value with Cordy Glenn in Round 2.
It appears that Glenn is coming in to play left tackle at the NFL level.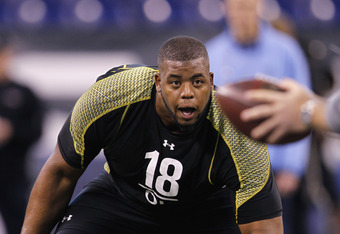 Joe Robbins/Getty Images
At 6'5", 345 pounds, Glenn may need to drop some pounds to be more agile, but his versatility is a huge asset.
Glenn can play effectively all over the offensive line, which may prove invaluable next season as the Bills' offensive line struggled with injuries a season ago.
With Jonathan Martin and Mike Adams both still on the board, the Bills decided to go with the versatile Glenn, who they have coveted for a long time. The Bills should be thrilled to see him fall to them in Round 2.
Grade: A
Round 3, Pick 69: T.J. Graham, WR, N.C. State
This pick is a bit of an enigma. The Bills actually traded up in the draft two spots to grab Graham in the third round, giving up a seventh-round pick to do so.
Trading up for a guy like Graham seems like an extremely odd move, especially after the great choices the organization made in Rounds 1 and 2.
According to CBS Sports, Graham was projected to be drafted in the seventh round (if he was selected at all).
NFL Network draft analyst Mike Mayock echoed that projection, saying, "I had him going in the seventh round. He can fly, though."
Graham certainly can fly. Along with being a football player, Graham was a talented member of the N.C. State track team. He also ran track in high school.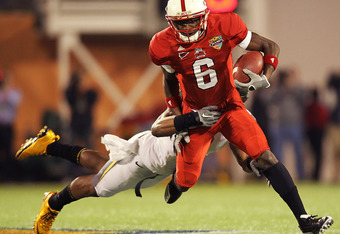 Mike Ehrmann/Getty Images
His 6.77-second three-cone drill at the combine was among his impressive numbers.
Graham is also a dynamic kick and punt returner. In his career at N.C. State, the speedy receiver returned two kickoffs and two punts for touchdowns.
There's no doubt about Graham's speed and returning prowess, but trading up for a guy in the third round who was projected to be drafted in the seventh round (if he was drafted at all) is questionable.
Grade: C-
Round 4, Pick 105: Nigel Bradham, OLB, Florida State
In the fourth round, the Bills addressed another need by adding a linebacker.
At 6'3", 240 pounds, Bradham is a physical beast. In 2010, Bradham led the Seminoles with 98 tackles as an outside linebacker.
Against Notre Dame in the Champs Sports Bowl this past season, Bradham showed up in the biggest game of the season. He recorded nine tackles, a pass deflection and nabbed an interception (his second of the season), which he returned for 17 yards.
He certainly needs to be coached up. He's raw in terms of recognizing plays, but you've got to love a beastly linebacker named Nigel.
Grade: B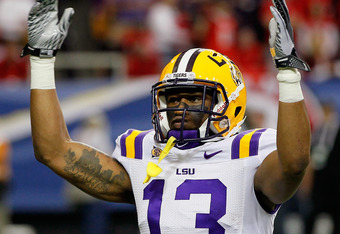 Kevin C. Cox/Getty Images
Round 4, pick 124: Ron Brooks, CB, LSU
Ron Brooks did not have the opportunity to start on defense with a loaded LSU team. However, you can't exactly count that against him since he was playing behind Morris Claiborne (the sixth overall pick in this year's draft) and Tyrann "Honey Badger" Mathieu.
Although Brooks may not pan out as a starting cornerback at the NFL level due to his lack of starting experience at the collegiate level, he will still be a great addition in nickel packages.
LSU head coach Les Miles certainly had nothing but praise for the Bills fourth-round draft choice.
Despite being a bit undersized at 5'10", Brooks makes up for it with his blinding speed; he ran a 4.37 second 40-yard dash at the combine.
Brooks is underrated, having played behind two of the best corners in the nation at LSU.
His great speed and athleticism will allow him to cover speedy slot receivers, and if he is told to blitz the quarterback, his explosive speed off the edge will be scary for opponents to face.
Grade: B+
Round 5, Pick 144: Zebrie Sanders, OT, Florida State
According to NFL.com's overview, "He is a smart player who rarely gets out of position and projects to be a reliable option for teams at the next level, with the potential to creep into the first round."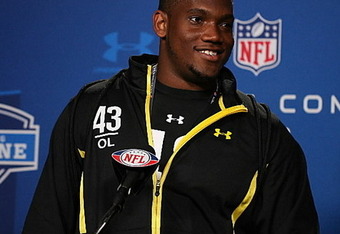 Wait a second. "Potential to creep into the first round" and Buffalo nabbed him in Round 5? I love this pick.
Sanders was also named to the ACC's All-Academic Team. Basically, he's the opposite of a guy with off-field issues.
The only real knock on Sanders is his strength and how he'll be able to match up with players at the NFL level. Nevertheless, the Bills got tremendous value here in Round 5 and continue to bolster their offensive line depth.
Ryan Fitzpatrick has to be giddy with excitement.
Grade: A
Round 5, Pick 147: Tank Carder, ILB, TCU
One of the leaders of the gritty TCU defense, Tank Carder has been on the Buffalo Bills' radar for a long time.
They'll be happy to say they got their man and did so with another value pick in the fifth round.
You would be hard-pressed to find a player with a more inspirational story than Carder.
This New York Times feature story about Carder's journey is a must-read (for everyone, not just Bills fans). He had been through more ups and downs by his teenage years than most people face in their lifetimes.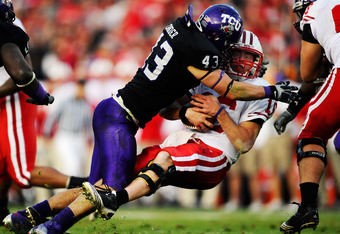 Kevork Djansezian/Getty Images
Carder is an inspiration and a hard worker who will come in and do whatever is asked of him to help the team win.
The Bills also continue to bolster their depth on defense with another capable linebacker.
Grade: B+
Round 6, Pick 178: Mark Asper, OG, Oregon
At 6'6", 320 pounds, Mark Asper is another strong and physical body added to the Bills' offensive line.
Asper becomes the third offensive lineman taken by the Bills in this year's draft. It may be safe to say that even if the O-line suffers injuries in 2012, the Bills will have plenty of bodies to step up and contribute.
According to NFL.com, "(Asper) missed school for two years while on a religious mission," and is now 27 years old.
Depending on your viewpoint, Asper's advanced age can be seen as a sign of maturity and worldly experience or a sign that he'll have less time to develop and will have fewer years in his prime.
Regardless of how you look at it, the Bills have been content in this draft to shore up the offensive line. They now have plenty of options to protect their quarterback and run-block into the future.
Grade: C+
Round 7, Pick 251: John Potter, K, Western Michigan
Due to the trade in which Buffalo moved up two spots in the third round to grab T.J. Graham, the Bills had one seventh-round pick instead of two. They used the remaining choice to take kicker John Potter.
Potter holds the school record for most consecutive PAT kicks made with 117.
The Bills did sign long-time kicker Rian Lindell to four-year, $11 million contract, but he missed games last year after sustaining a shoulder injury. Potter can be seen as a security blanket should Lindell get hurt again in 2012.
Potter was great with PATs, but went 16-for-22 in field goal attempts.
The Bills could have tried to nab another sleeper wide receiver in the seventh round, like what happened with Stevie Johnson in 2008. But maybe Potter can be Lindell's replacement in the future.
Grade: C
Overall Draft Grade: A-
The Bills organization did a lot of things right in the 2012 draft. Gilmore is a tremendous cornerback prospect to pick up in the first round, Cordy Glenn unexpectedly fell to them in Round 2 and they grabbed linebackers and offensive line help.
We'll have to take a wait-and-see approach with T.J. Graham. It's unusual to trade up for a guy who was projected to be around well after the third round, where the Bills took him.
Other than that one minor head-scratcher, Buddy Nix and Chan Gailey did an admirable job this year.
For those of you who think the Bills should have taken a chance on Vontaze Burfict in the seventh round, think again. Trent Dilfer said on ESPN that he talked with people at Arizona State who said of Burfict, "He sucks the life out of your football team." Yikes.
The Bills have a good thing going right now on defense. They would have been foolish to draft a troubled young man in Burfict.