No Judges: The Top 10 Consistent Finishers Currently in the UFC Via Sherdog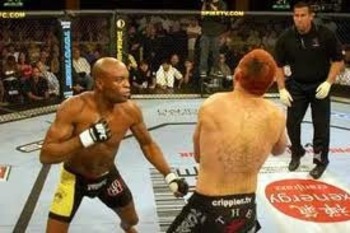 When it comes to combat sports, fans want to see all-out wars. Whether it's in the boxing ring or inside a cage, fans never want to see a fight go to the judges' scorecards. Now there are those rare examples where fans are entertained by a decision, like Edgar/Maynard 2 and Henderson/Rua, but that was because those were packed full of excitement from beginning to end.
What fans really want is a finish, whether it is a knockout, TKO, submission, or even the occasional referee or doctor stoppage. They want that rush of excitement that comes with seeing a tapout or a strike that levels a person. They don't want a controversial decision or a fight decided by lay and pray.
This list is designed to honor those who work towards giving the fans what they want. These finishers don't want their fate decided by three people at cageside. Their careers are in their hands and they show it almost every fight.
Rankings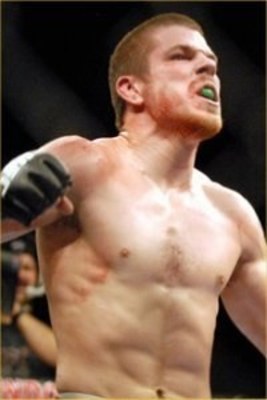 In order to decide who went into the list I narrowed my search to fighters from the most recent rankings from Sherdog.com, then from there the ranked fighters in the UFC had to have at least ten cumulative fights in the promotion during their career. From the rankings, only 22 made the cut.
From there the order was decided by the following rules.
Percentage of finishes in the UFC compared to wins. For example a fighter with a UFC record of 12-4 with 5 finishes would have a percentage of 41.67%.
If there is a tie between two or more fighters then person with more finishes gets bumped up in order.
If there is still a tie then the person with more wins moves up.
If still a tie then the person with the most UFC matches moves up.
Missed the Cut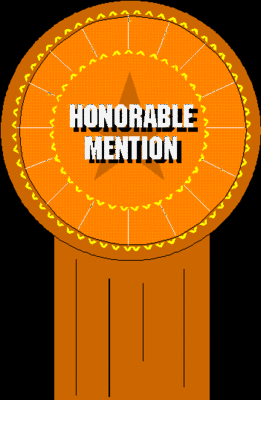 Name/Record/(UFC Record)/Finish/percentage
Jim Miller 21-3 (10-2) 6 finishes 60.00%
Rampage Jackson 32-10 (7-4) 4 finishes 57.14%
Clay Guida 29-12 (9-6) 5 finishes 55.56%
Dennis Siver 20-8 (9-5) 5 finishes 55.56%
Demian Maia 15-4 (9-4) 5 finishes 55.56%
Lyoto Machida 17-3 (9-3) 4 finishes 44.44%
Rashad Evans 17-2-1 (12-2-1) 5 finishes 41.67%
Georges St. Pierre 22-2 (17-2) 7 finishes 41.18%
Frankie Edgar 14-2-1 (9-2-1) 3 finishes 33.33%
Jon Fitch 23-4-1 1NC (13-2-1) 4 finishes 30.77%
Chael Sonnen 27-11-1 (6-4) 1 finish 16.67%
Gray Maynard 10-1-1 1 NC (8-1-1 1 NC) 1 finish 12.50%
10. Martin Kampmann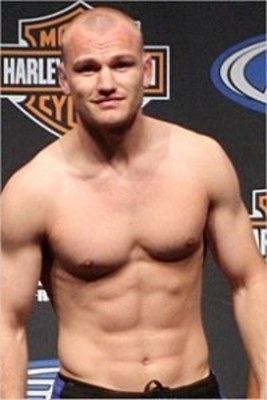 Record: 19-5
UFC Record: 10-4
Sherdog Ranking: Welterweight No. 9
Finishes: 6
Percentage: 60.00%
Starting off the list is Danish fighter Martin Kampmann with a 60 percent finish rating. Since coming to the UFC in 2006, Kampmann has made a name for himself with finishes over Jorge Rivera, Thiago Alves, and Drew McFedries. If he is able to to pull off a strong win over Jake Ellenberger at The Ultimate Fighter 15 finale, expect him to be a fight or two away from earning a Welterweight Title fight.
9. Josh Koscheck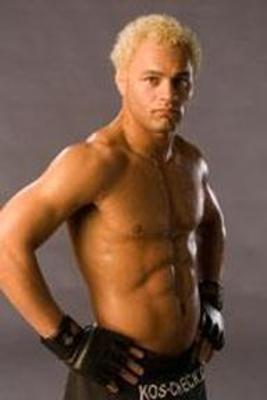 Record: 17-5
UFC Record: 15-5
Sherdog Ranking: Welterweight No. 7
Finishes: 9
Percentage: 60.00%
Although he has become one of the most hated fighters in the UFC, Josh Koscheck has been able to back up his trash talk more often than not. With nine finishes out of 15 victories, Kos holds notable wins over Matt Hughes, Frank Trigg, and Anthony Johnson. He has a chance for to earn a second Welterweight Title shot if he is able to get a decisive victory over Johnny Hendricks at next Saturday's UFC on Fox 3.
8. Michael Bisping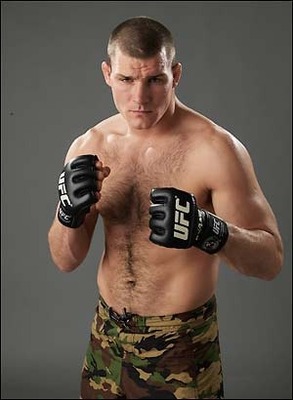 Record: 22-4
UFC Record: 12-4
Sherdog Ranking: Middleweight #4
Finishes: 8
Percentage: 66.67%
One of the biggest names in British MMA, Michael Bisping has made quite a name for himself in the UFC. With two-thirds of his victories coming by some form of finish, including notable wins over Jorge Rivera and Mayhem Miller. His next fight against Tim Boetsch could be the deciding factor in him earning his first UFC title match.
7. Jon Jones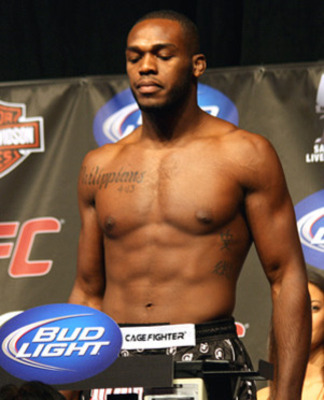 Record: 16-1
UFC Record: 10-1
Sherdog Ranking: Lightheavyweight No. 1
Finishes: 7
Percentage: 70.00%
Current Lightheavyweight Champion Jon Jones is next on the list with an impressive record of finishes, currently standing at 70 percent. He holds notable finishes over Rampage Jackson, Lyoto Machida, and Shogun Rua. His only decision victories were over Rashad Evans, Andre Gusmao, and his famous destruction of Stephan Bonnar. Since it is pretty early in his career, it's easy to expect Jones to move up with some more finishes.
6. Frank Mir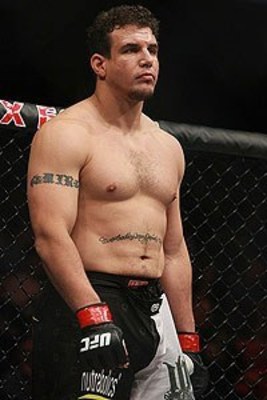 Record: 16-5
UFC Record:14-5
Sherdog Ranking: Heavyweight No. 6
Finishes: 11
Percentage: 78.57%
Next in the sixth position is the Heavyweight mainstay and former champion, Frank Mir. With eleven finishes in fourteen victories, Mir has certainly made sure the fans went home happy. He holds notable finishes over Brock Lesnar, Tim Sylvia, and twice over Minotauro Nogueira. His only UFC victories that weren't finishes were decisions over Dan Christison and Roy Nelson and a DQ win over Wes Sims.
5. Nate Diaz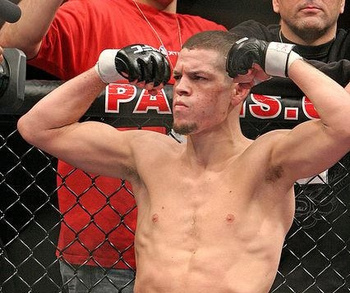 Record: 15-7
UFC Record: 10-5
Sherdog Ranking: Lightweight No.9
Finishes: 8
Percentage: 80.00%
Breaking into the top five is the younger Diaz brother. Nate has an incredible UFC resume with 80 percent of his wins being finishes. His only decision victories are from when he beat Josh Neer and in his most recent victory over Donald Cerrone. Some of his notable finishes include a submission victory over Takanori Gomi and his infamous submission over Kurt Pellegrino where Nate flipped off the crowd as he had the triangle choke locked in. If he is able to pick up a victory in his next match against Jim Miller, Nate could see himself facing off against the winner of Edgar/Henderson 2 for the Lightweight Championship.
4. Kenny Florian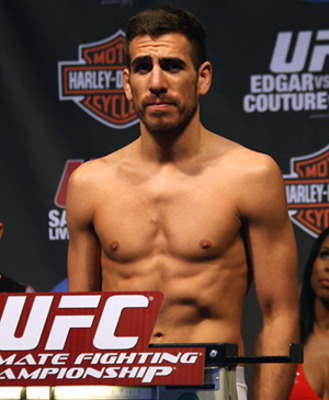 Record: 14-6
UFC Record: 12-5
Sherdog Ranking: Featherweight No.6
Finishes: 10
Percentage: 83.33%
In the middle of the pack is former Lightweight and Featherweight title contender Kenny Florian.Throughout his long UFC career, he has racked up numerous wins, nearly all by some finish. The only times he went to a decision victory in the UFC was against Roger Huerta and Diego Nunes. He holds notable finishes over Clay Guida and Takanori Gomi via submission and Joe Lauzon by TKO.
3. Nick Diaz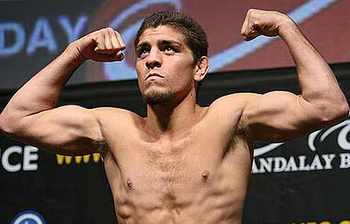 Record: 26-8 1NC
UFC Record: 7-5
Sherdog Ranking: Welterweight No.3
Finishes: 6
Percentage: 85.71%
Next up is the former Strikeforce Welterweight Champion, Nick Diaz. Out of his seven wins in the UFC, only one went to the judges which was his most recent win against BJ Penn. Notable finishes include a knockout win over Robbie Lawler and a submission win over Josh Neer.
2. Anderson Silva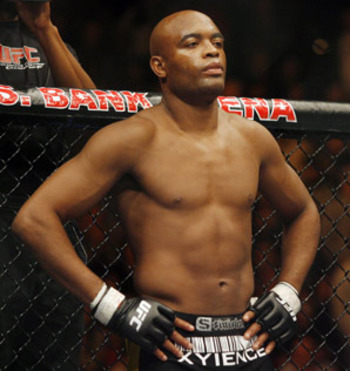 Record: 31-4
UFC Record: 14--0
Sherdog Ranking: Middleweight No.1
Finishes: 12
Percentage: 85.71%
In the number two spot is the current P4P king, Anderson Silva. Since making his debut back in 2006, Silva has been kicking ass and taking names, so much so that he may be running out of names. With knockouts over Chris Leben and Forrest Griffin along with submission victories over Chael Sonnen and Dan Henderson, Silva has definitely earned his spot atop the P4P rankings. His only two decisions in the UFC were against Thales Leites and Demian Maia, which have been said to be two of the worst matches in UFC history. Thankfully, Silva has returned to his finishing ways.
1. Vitor Belfort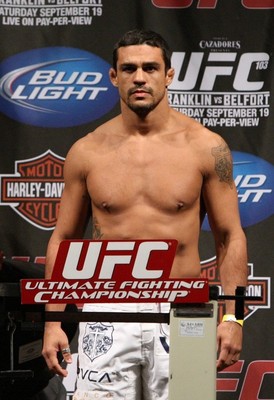 Record: 21-9
UFC Record: 10-5
Sherdog Ranking: Middleweight No.5
Finishes: 10
Percentage: 100%
There's a reason that they call him "The Phenom." Former UFC Lightheavyweight Champion Vitor Belfort tops the list with a perfect 100% finish rate. These finishes include wins over Randy Couture, Wanderlei Silva, and recently Rich Franklin. Belfort has only twice gone to a decision in the UFC, both were losses against Chuck Liddell and Tito Ortiz respectively.
Keep Reading