Green Bay Packers Draft Grades: Grading the Packers' 7th-Round Selections
April 28, 2012

Joel Auerbach/Getty Images
Finally.
After five rounds of purely defensive selections and a sixth round without a selection at all, the Packers took two offensive players in the seventh round.
This is probably good news for them, as it bolsters their chances of making the final 53 man roster a little, especially Andrew Datko's chances.
Not much is expected of seventh-round picks, but you have to check them out before you make judgement.
Andrew Datko, OT, Florida State
This could be a major get for the Green Bay Packers.
Datko only played in four games this season after injuring his shoulder, coming back and injuring it again.
However, before this season he was projected as an early second-round pick and possible fringe first-round pick due to his dominant play.
He has mammoth size at 6'6", 315 pounds and has the skill set. We'll just have to see if he can stay healthy.
Datko isn't overly powerful but is a solid athlete who can dominate in the run game if at full strength and engaged.
He has starting-caliber potential.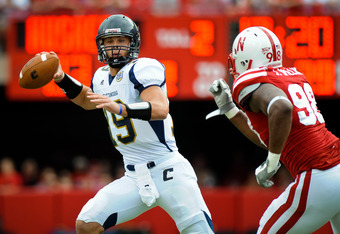 Eric Francis/Getty Images
Even if they bust with this pick, it was a seventh-round compensatory selection. It's not really a waste at all if he fails.
Grade: A+
B.J. Coleman, QB, Tennessee-Chattanooga
It was widely predicted that Ted Thompson would go for a quarterback with one of the Packers' seventh-round picks because they like to draft and develop.
This was a great pick at quarterback as Coleman is a player many thought would be picked rounds higher than this.
To start off, he possesses nice size for a quarterback at 6'3", 233 pounds.
Most importantly, though, Coleman has a big arm and in general the physical tools to succeed as a backup in this league.
He'll compete with recently signed Nick Hill for the Packers' third-string job and should win out despite a deficiency in decision-making and need to improve on accuracy. 
Coleman was among the more impressive players at the East-West Shrine game a few months ago.
I really wanted to see Chris Polk here, but he went undrafted and the Packers will have a chance to pick him up as a free agent.
Grade: A-