2012 NFL Draft Grades: Grading Each NFC East Team's Draft
April 28, 2012

Al Bello/Getty Images
All four NFC East teams did themselves a favor by making numerous quality picks in the 2012 NFL draft.
The Washington Redskins found their new franchise quarterback.
The New York Giants picked up a running back and a potential steal of a wide receiver.
The Dallas Cowboys traded up for star cornerback Morris Claiborne.
And the Philadelphia Eagles solidified their defensive line by drafting Fletcher Cox.
Here are the draft grades for each NFC team.
Picks
Robert Griffin III, Baylor, QB, Round 1
Josh LeRibeus, SMU, G, Round 3
Kirk Cousins, MSU, QB, Round 4
Keenan Robinson, Texas, ILB, Round 4
Adam Gettis, Iowa, G, Round 5
Alfred Morris, FAU, RB, Round 6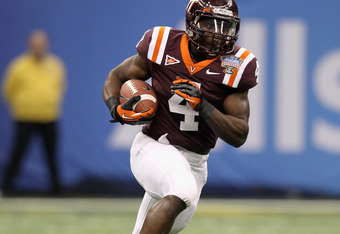 Matthew Stockman/Getty Images
Tom Compton, South Dakota, T, Round 6
Richard Crawford, SMU, DB, Round 7
Jordan Bernstine, Iowa, CB
The Redskins got the consensus second-best quarterback in the draft in RGIII. They'll have a two-tight end set for him to work with in his rookie year, with Fred Davis and Chris Cooley. He's got legs, a rocket arm and the leadership qualities necessary to turn the 'Skins franchise around.
They addressed another one of their needs when they picked LeRibeus in Round 3, but made a perplexing pick in Cousins in Round 4. Maybe they just wanted to bring in some competition so Griffin doesn't begin to suffer from the Mark Sanchez effect (when there's no threat to lose the job, there's no playing like the job is in jeopardy). Either way, the Cousins pick should have been used to draft a defensive back.
Washington got an OLB in Robinson to serve as a backup to Ryan Kerrigan and Brian Orakpo. They'll start rotating him in if he can prove himself in the next few months leading up to their opener against the New York Giants.
There's pretty much no choice but to give Washington an A for the 2012 NFL draft, but the Cousins pick knocks them down to an A-.
Draft Grade: A-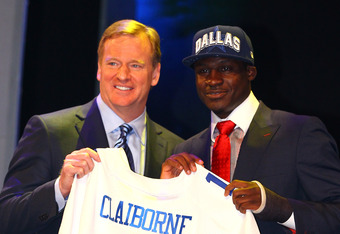 Al Bello/Getty Images
New York Giants
Picks
David Wilson, VT, RB, Round 1
Rueben Randle, LSU, WR, Round 2
Jayron Hosley, VT, CB, Round 3
Adrien Robinson, Cincy, TE, Round 4
Brandon Mosley, Auburn, OT, Round 4
Matt McCants, UAB, OT, Round 6
Markus Kuhn, NC State, DT, Round 7
Giants GM Jerry Reese is notorious for drafting the best players on the board, no matter what position.
David Wilson was probably the second-best running back in this draft behind Trent Richardson. It's a great pick for the G-Men, now that Brandon Jacobs left for greener pastures, but could it come back to bite them? 
Wilson is known for his speed, laterally and up the field. Tom Coughlin could have just picked up another Ahmad Bradshaw, although it would have been good to pick up an offensive lineman.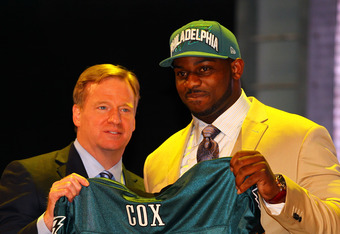 Al Bello/Getty Images
You have to love the Rueben Randle pick. He's 6'4" and is more than capable of getting separation from defenders. He's not a good route-runner, but a few OTAs with Eli Manning should change that. A receiving corps of Hakeem Nicks, Victor Cruz, Ramses Barden and Rueben Randle should scare teams.
Hosley ran a 4.47 40-yard dash, and he can lay the wood on guys if they don't expect it. He has a knack for making impact plays. He should develop into a good coverage corner to put opposite of Corey Webster.
Robinson and Mosley will be backups for the early part of their careers, with Robinson having the best chance to see significant playing time thanks to the Super Bowl ACL injuries to Jake Ballard and Travis Beckum. 
Draft Grade: B+
Picks
Morris Claiborne, LSU, CB, Round 1
Tyrone Crawford, Boise State, DE, Round 3
Kyle Wilber, Wake Forest, OLB, Round 4
Matt Johnson, Eastern Washington, SS, Round 4
Danny Coale, Virginia Tech, WR, Round 5
James Hanna, OU, TE, Round 6
Caleb McSurdy, Montana, ILB, Round 7
Cowboys fans have to be happy with the trade up to grab Morris Claiborne with the No. 6 overall pick. The Dallas secondary has been getting roasted for the last five years, so they're hoping this pick will take the team to the next level.
It was a good idea to draft Crawford to give DeMarcus Ware some help on the edge. He can't do it all by himself and Anthony Spencer only shows up sporadically.
Wilber does the same thing for them, except he's better against the run than the pass. 
Johnson and Coale will be playing mainly as special teams guys at the beginning of their careers.
Draft Grade: B+
Picks
Fletcher Cox, Miss. State, DT, Round 1
Mychal Kendricks, Cal, ILB, Round 2
Vinny Curry, Marshall, DE, Round 2
Nick Foles, Arizona, QB, Round 3
Brandon Boykin, Georgia, CB, Round 4
Dennis Kelly, Purdue, OT, Round 5
Marvin McNutt, Iowa, WR, Round 6
Brandon Washington, Miami, OG, Round 6
Bryce Brown, Kansas State, RB, Round 7
The Eagles really helped themselves in Round 1 by drafting defensive tackle Fletcher Cox. Cox is a 6'4", 298-pound behemoth who will be an effective run-stopper for Philly in the years to come.
However, the Kendricks pick is confusing, seeing as the team just picked up DeMeco Ryans for pretty much nothing. Kendricks provides insurance at the inside linebacker spot if it turns out that the Houston Texans knew something about Ryans that the Eagles didn't.
They grabbed one of the best guys on the board by picking up Curry with their second pick in Round 2, but failed to address one of their huge needs by not drafting an offensive lineman until Round 5.
Foles has a long way to go to become a quality NFL quarterback, but with some help from the Eagles coaching staff, he'll be a serviceable backup to Michael Vick
Draft Grade: B