2012 NFL Draft Grades: How Did the Tennessee Titans Fare?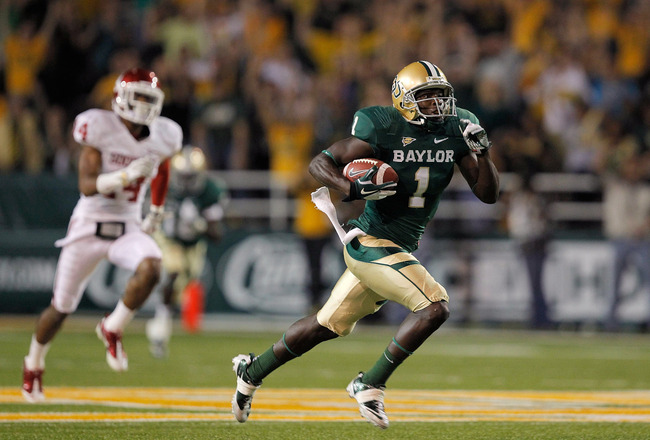 Sarah Glenn/Getty Images
The 2012 NFL draft is over and the Tennessee Titans, as well as the rest of the NFL, have seven new players who hope to make it in the NFL. The Titans had some holes to fill as they entered, some of the biggest being along the offensive and defensive lines.
Fans watched as the Titans passed on some of the best talent at those positions, including Stanford's David DeCastro and Wisconsin's Peter Konz. The Titans even went as far as to ignore the offensive line completely in the draft.
It's hard to say how many of the players will pan out and be contributors for the team, but let's take a shot at it anyway. Here's how the Tennessee Titans' 2012 NFL draft picks grade out.
WR Kendall Wright, Baylor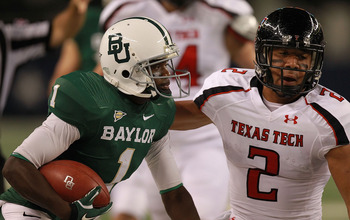 Ronald Martinez/Getty Images
Kendall Wright was one of the best receivers in this year's draft. The Tennessee Titans didn't necessarily have a need for a WR, but with Kenny Britt's history of injuries and the Titans having a lack of playmakers at the position, the Titans jumped at the option of taking him with the 20th pick of the 2012 NFL draft.
Wright will provide the Titans with a fast receiver who can stretch defenses as well as turn small plays into big gains. He has big value to the Titans.
It's still hard not to question why they passed on David DeCastro with this pick. They could use some upgrades on the O-line and DeCastro could have been the anchor to start rebuilding a young line on.
Grade: B+
OLB Zach Brown, North Carolina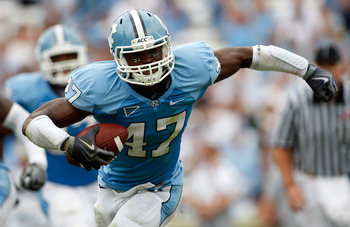 Streeter Lecka/Getty Images
This one was a shock to me. The Tennessee Titans brought in a couple big-name veteran centers this offseason but failed to sign them. The best center in the draft, Peter Konz, was available at this pick and I was certain the Titans would take him.
They didn't.
Instead, they took OLB Zach Brown of North Carolina. While it was a need, it wasn't nearly as big of a need as the Titans still have Will Witherspoon who has been a solid player for them. They addressed this position about two rounds before I expected them to.
Brown has the potential to be a star but has some character issues and needs to learn to control his body better. I expect him to be starting for the Titans in 2012, though he could be pushing Witherspoon for playing time this year.
Grade: B
DT Mike Martin, Michigan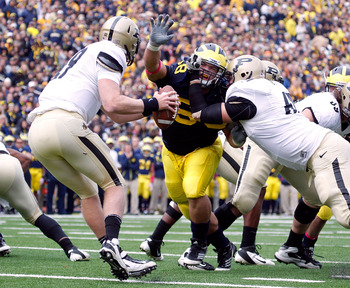 Gregory Shamus/Getty Images
Mike Martin was the Tennessee Titans' third-round pick and probably my favorite. Martin is a 306-lb. defensive tackle made out of pure muscle. He's a force against the run and should help the Titans shore up a run defense ranked 28th in the NFL this last year.
Martin is a great player to pair with Jurrell Casey. He does a great job of breaking into the backfield but can get a little lost once he does. He needs to coaching with his pass-rushing instincts but should solidify the defensive tackle position for the Titans for the first time since Albert Haynesworth's departure.
Grade: A
CB Coty Sensabaugh, Clemson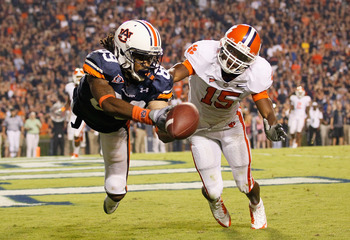 Kevin C. Cox/Getty Images
The Tennessee Titans took Clemson CB Coty Sensabaugh with their fourth-round pick and addressed another need created by the loss of veteran CB Cortland Finnegan in free agency. Sensabaugh is one of the projected sleepers from this class.
Sensabaugh wasn't a starter until his senior year—some say he's a late bloomer. He led the Clemson defense with seven deflected passes and turned in one of the fastest times at the NFL combine. Sensabaugh also impressed scouts in his performance against South Carolina's Alshon Jeffery, holding him to only two catches.
He's good in man coverage but definitely will need some fine tuning to be a good corner in the NFL. I trust the Titans have found the right guy with their habit of finding gems later in the draft (Alterraun Verner, Jason McCourty, Cortland Finnegan).
Grade: A-
TE Taylor Thompson, SMU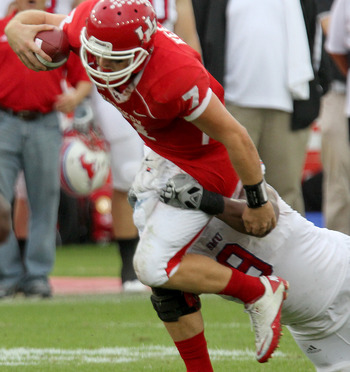 Thomas B. Shea/Getty Images
This is my least favorite pick of the Tennessee Titans. In the fifth round the Titans traded their seventh-round pick to move up 10 spots and pick SMU's TE/DE Taylor Thompson. Thompson was a DE for SMU for four years and forced six fumbles his senior year.
Apparently he'll be playing TE in the NFL.
Thompson played TE in high school, but as SMU's offense didn't use TE's he played DE. He's a raw talent and will be a project for the Titans to work on. Some compare him to the Patriots' Rob Gronkowski and the Saints' Jimmy Graham. We'll just have to wait and see if that pans out.
The Titans already have a great group of talent at the position with Jared Cook and Craig Stevens. I don't really understand the pick, especially with the fact that the Titans still had not addressed the O-line or the defensive end position.
Grade: C
S Markelle Martin, Oklahoma State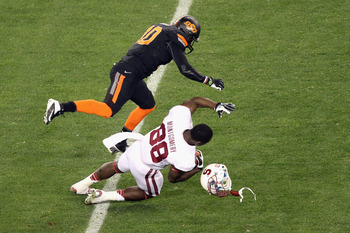 Christian Petersen/Getty Images
The Tennessee Titans filled a major need with a great pick in the sixth round when they got Markelle Martin. Martin had third- to fourth-round talent and the Titans were able to snag him in the sixth, likely due to injuries that held him out of the NFL combine.
My biggest problem with Martin is his tackling. He does have the occasional highlight hit, but all too often he waits for the receiver to come to him instead of going to meet him. I'd like to see more aggressiveness in him and worry how that's going to translate to the next level.
Many others have high hopes for him, saying he may take Michael Griffin's starting spot at FS in the 2013 season when Griffin's contract expires.
Either way he adds depth to an almost vacant position and is a great value in the sixth round.
Grade: B
DE Scott Solomon, Rice

Couldn't find a picture.

The Tennessee Titans felt strong enough about DE Scott Solomon that they traded their sixth-round pick in the 2013 NFL draft to get back into the seventh round of this one.
I am a big fan of this pick. I think he's comparable to current Titans DT Karl Klug: same size, nonstop motor and leadership qualities you can't teach a player.
Solomon may not ever be able to be a star at the next level, but he has the drive to be a solid rotational player for the Titans.
Grade: A
Overall Grade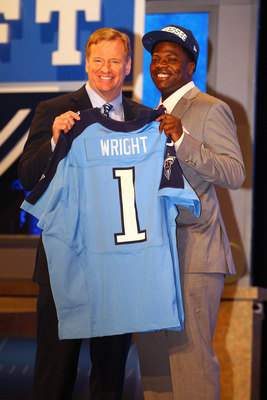 Al Bello/Getty Images
Overall grade: B
First and foremost, I'm a tough grader. It would be almost impossible to get an A from me, so a B is a pretty solid grade.
The Titans passed on some high-quality offensive line talent and that's one of the biggest dings in this grade. They needed some new young blood on the line and they didn't add any. They also waited to address the DE position until the seventh round, leaving the Titans with some very unproven DE's starting for them.
Overall, I feel it was a pretty successful draft and we can expect some decent things from these players—just be sure to temper your expectations from last year. It's not so often drafts work out as well as the Titans' 2011 draft class.
You can find me on Twitter @JustinLStewart.
Keep Reading

Tennessee Titans: Like this team?