Drew Smyly Gets First MLB Win, Detroit Tigers End Skid, Beat Yankees 7-5
April 28, 2012

Christopher Pasatieri/Getty Images
Drew Smyly has done everything that the Detroit Tigers could ask in his rookie season—all he's been waiting for in return was his first big-league victory.
Another late-afternoon cliffhanger in the Bronx courtesy of Tigers closer Jose Valverde, who nearly blew Smyly's third straight quality start, proved enough to secure a 7-5 Tigers victory.
With the support of some big knocks by teammates Miguel Cabrera and Andy Dirks, Smyly could finally feel what its like to go home a winner. Smyly also helped his club stop an ugly streak of bad baseball, a streak that has seen them lose seven of their last eight, including five straight.
Smyly's opportunity for celebration almost came to a screeching halt, as Valverde was in shambles and struggled to finish a game the Tigers had well in hand entering the bottom of the ninth.
Valverde started the ninth by rendering a leadoff home run by Nick Swisher. The 34-year-old righty then discarded Robinson Cano via a routine fly ball to Austin Jackson, but followed that with a walk to Alex Rodriguez. A wobbly foul-ball catch by Prince Fielder off Mark Teixeira gave Valverde his second out of the inning, but the Bronx Bombers weren't done yet.
Curtis Granderson ripped a Valverde hanger to left, scoring Rodriguez from second and making it 7-4. The Yankees opted to pinch-hit Raul Ibanez for Andruw Jones. The substitution paid off.
Following Granderson's advance to second, Ibanez smoked another ball left, scoring Granderson and making things all the more nerve-racking on Tigers manager Jim Leyland, who paced about the dugout watching his closer struggle to finish his rookie's great start. 
The Yankees again chose to pinch-hit, this time Eric Chavez stepping in for Russell Martin. Valverde finally stopped the bleeding by forcing a Chavez fly-out to clinch a much needed team victory.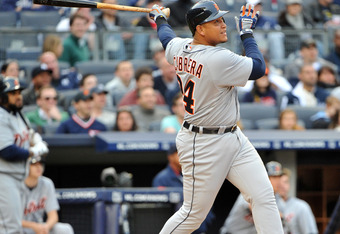 Christopher Pasatieri/Getty Images
Before all the late-inning dramatics, Smyly cruised through one of the most prolific lineups in all of baseball. A wicked breaking ball allowed strikeouts of sluggers Cano, Granderson and A-Rod—twice.
Smyly's two-hit, six-strikeout performance pulled his ERA down to an AL-best 1.23. Smyly also provided the Tigers six innings for his third straight start which allowed Leyland to rest a much maligned bullpen.
The 22-year-old Smyly, the Tigers' second-round pick in 2010, was calm and collected in a ballpark where the home team regularly dominates some of baseball's best. He struck out seven on 97 pitches, walking only two while controlling a good mix of off-speed and hard stuff.
The Tigers offense built on Friday's improved performance at the plate and chipped in seven hits to bolster Smyly's strong outing, including Andy Dirks' two on, two out three-run shot off starter Freddy Garcia in the first.
Cabrera also hit a solo shot in the eighth and finished the game with three RBI, pushing his season total to 19 and also knocking in the 1,000th of his career. Outfielder Austin Jackson continued to be a spark for Detroit, scoring two runs on one hit and a walk.
After a week filled with distraction as the result of the losing streak, the release of long-time Tiger Brandon Inge, and Thursday night's debacle involving Delmon Young the Tigers were desperate for a win if for no other reason than to slow the downward spiral that was starting to engulf a team that was expected to be the class of the American League. 
Young was placed on the league's restricted list late Friday night according to Tigers GM Dave Dombrowski. As a result of Young's incident and agreed upon review by the league and players association, the Tigers called up multi-position infielder Danny Worth from Triple-A Toledo. 
Max Scherzer will work for the Tigers Sunday afternoon against Yankees ace CC Sabathia, as Detroit will try to win its first series in almost a week-and-a-half. The Tigers will then head home to Comerica Park and face the Royals and White Sox in their third homestand of the season.
Bleacher Report Featured Columnist J. Cook is a member of B/R's MLB Coverage Team and contributes to B/R's MLB content and Detroit Tigers page. He also covers key sport interest stories for all of Detroit's major sports teams.
Follow J. Cook on Twitter Follow @JCookBR