2013 NFL Mock Draft: Teams That Will Look to Next Year for Franchise QB
April 29, 2012

Sam Greenwood/Getty Images
There were only two real franchise QBs in the 2012 NFL draft. Most teams chose not to try to create one like the Miami Dolphins did with Ryan Tannehill.
At this very early juncture, there appears to be a much better class of signal-callers awaiting teams in the 2013 NFL draft.
That said, at this time last year, not many people expected Robert Griffin III to be looked at as highly as he ultimately was.
While the crop of top-notch QB prospects could shrink, grow or flip-flop, there are teams that will find their QB of the future in 2013.
Here are the teams and the QB that could become the most coveted of the 2013 draft.
(The spotlighted teams and players have been italicized.)
1. Cleveland Browns: Marquess Wilson, WR, Washington State
With the Browns taking NFL-ready and 28-year-old Brandon Weeden in the 2012 draft, it isn't likely they select another one here.
Instead, a true No. 1 receiver like Wilson makes more sense. 
Needs: WR, ROT, OLB, DE, DT, G/C
2. Indianapolis Colts: D.J. Fluker, OT, Alabama
With the Colts selecting Andrew Luck they will want to find him a personal protector. Fluker looks to be the premier protector of a right-handed QB's blind side.
Needs: NT, CB, WR, TE, G, DE, LB, LT
3. Jacksonville Jaguars: Matt Barkley, QB, USC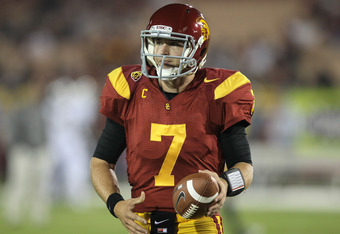 Stephen Dunn/Getty Images
This could very well end up being the top overall selection.
If it sounds like I don't believe in Blaine Gabbert, that's because I don't. He has been given a premier young WR in Justin Blackmon, and he already had a top-notch running game.
If the Jags don't make significant strides, they will look elsewhere for a QB.
In my opinion, Gabbert's failure could make them one of the league's worse teams and a candidate for the top selection in the draft.
That would mean a healthy shot at Barkley, who appears to be the top prospect.
Needs: QB, C, ROT, CB, OLB, RB, DT
4. Minnesota Vikings: Robert Woods, WR, USC
The Vikings addressed their O-line and secondary in the 2012 draft. In 2013, they need to find a big-time WR.
Needs: WR, S, CB, MLB, DT, OLB, DE
5. Miami Dolphins: Sam Montgomery, DE/OLB, LSU
Montgomery has big-time pass-rusher written all over him, and he meshes well with the Dolphins' scheme.
Needs: WR, ROT, S, DE, CB, TE, OLB
6. Arizona Cardinals: Tyler Bray, QB, Tennessee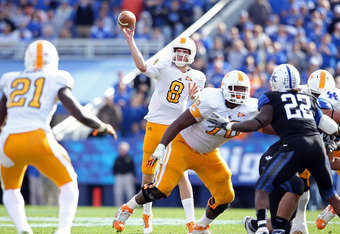 Andy Lyons/Getty Images
The Cardinals didn't find their franchise QB in the 2012 NFL draft, but they still need one. If the Cardinals take Bray here, he may be coming into the best situation a rookie QB has seen since Ben Roethlisberger walked into a Super Bowl. 
The Cards already had Larry Fitzgerald, but they took Michael Floyd in the first round of the 2012 draft.
Now they have two big-time WRs, and that has to be exciting for a young QB.
Bray is only a sophomore; were he eligible this year, he would have been a top-10 pick. I wouldn't be surprised if he surpasses Barkley by the time the 2013 draft rolls around.
Needs: ROT, WR, 3-4 OLB, QB, DE, DB, C/G, ILB
7. St. Louis Rams: Jake Matthews, OT, Texas A&M
The Rams are setting themselves up nicely under Jeff Fisher. This is a solid pick to protect Sam Bradford and it would continue their solid draft work.
Needs: OT, DT, CB, RB, LB, S
8. Oakland Raiders: Tyler Wilson, QB, Arkansas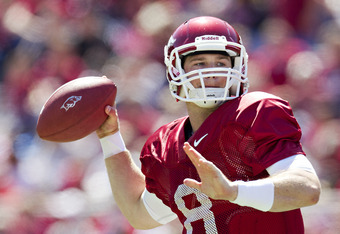 Wesley Hitt/Getty Images
I don't believe in Carson Palmer, and Terrelle Pryor will not be ready to be the starting QB by next year—if ever.
Because of that, the Raiders have to take a long look at the QB spot in 2012. Wilson, from Arkansas, could be an excellent choice for the Raiders.
He has shown great leadership, and impressive passing abilities. For once, the Raiders need a QB with strong intangibles. Wilson could be that guy.
Needs: QB, WR, LB
9. St. Louis Rams (from Washington Redskins): David Amerson, CB, N.C. State
The Rams moved around quite a bit leading up to and during this draft. This pick is one of the benefits. They did select potential stud CB Janoris Jenkins, but Amerson is a great prospect as well.
Needs: OT, DT, CB, RB, LB, S
10. Seattle Seahawks: Keenan Allen, WR, Cal
Allen could add a much-needed speed threat for Matt Flynn and the Seahawks. 
Needs: LB, G/ROT, WR, RB, CB, TE, QB
11. Tampa Bay Buccaneers: Kawann Short, DT, Purdue
The Bucs are addressing the defense, as they should, but Gerald McCoy has been less than dominant. Kawann Short could be a solid pick to control the line of scrimmage. 
Needs: RB, OLB, SS, G, TE, ILB, WR
12. Buffalo Bills: Jelani Jenkins, OLB, Florida
The Bills can't have too many pass-rushers, especially not in their scheme. Jenkins and Mario Williams could be a superb combination. They did take Tank Carder from TCU and Nigel Bradham from Florida State, but neither figure to be what Jenkins is. 
Needs: WR, OLB, CB, QB, TE, ILB, G
13. Tennessee Titans: Johnathan Hankins, DT, Ohio State
Hankins would improve the Titans' run defense. It was ranked 24th in the NFL against the run in 2011.
Needs: LB, S. OT, DE, RB, WR, DT
14. Carolina Panthers: Tyrann Mathieu, CB, LSU
The Honey Badger would add a much-needed playmaker on the defensive side of the ball for the Panthers. 
Needs: CB, OLB, WR, OT, G, DE
15. Denver Broncos: Landry Jones, QB, Oklahoma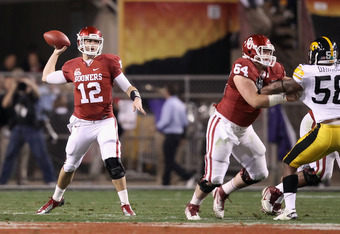 Christian Petersen/Getty Images
The Broncos have Peyton Manning now, but he isn't a long-term solution.
They need to bring in his successor. Manning the teacher is almost as valuable as Manning the franchise QB. When Jones is ready to take the reins, he could have already completed an apprenticeship under the master.
This would be a near-ideal situation for the Broncos. Jones would sit until Manning walks away. Wait a minute, didn't this just happen to Manning?
Needs: CB, G/C, RB, WR, QB
16. Kansas City Chiefs: Terrance Williams, WR, Baylor
The Chiefs need weapons for Matt Cassel, besides Dwayne Bowe. Williams could be an excellent speed option on the outside.
Needs: NT, G, OLB, RB, DE, WR
17. Chicago Bears: DeMarcus Milliner, CB, Alabama
By 2013, it'll be time to get younger at CB for the Bears. Charles Tillman is getting long in the tooth, and the Bears need to think about turning the page.
Needs: CB, DE, LB, TE, DT, G, LT
18. Cincinnati Bengals: Barkevious Mingo, DE/OLB, LSU
Mingo could easily become a solid DE if he gains about 10 pounds of muscle, which is very feasible. He would improve and allow the Bengals' D-line to get younger.
Needs: G, SS, DE, RB, OLB, DT
19. San Francisco 49ers: Barrett Jones, G/C, Alabama
Jones is a big and nasty O-lineman who fits in nicely with the Niners' power-running style.
Needs: G, DE, CB, OLB, TE S, ILB
20. Dallas Cowboys: Marcus Lattimore, RB, South Carolina
Teams must have more than one RB. The Cowboys saw that when DeMarco Murray went down in 2011. Adding Lattimore is adding one of the best RB prospects in the past few years.
Needs: S, CB, WR, G, RB, OLB
21. New York Jets: Michael Dyer, RB, Arkansas State
The Jets need a young RB badly. There figures to be a good amount of turnover at the position for the Jets in the next two years. 
Needs: WR, RT, DE, S, RB, ILB
22. Philadelphia Eagles: Ricky Wagner, OT, Wisconsin
If Jason Peters' injury lingers, the Eagles must address the T position.
Needs: LT, OLB, DT, QB, RB
23. New Orleans Saints: Jarvis Jones, DE/OLB, Georgia
Jones looks like a terror as a pass-rusher, I wonder about his abilities against the run though.
Needs: Best available
24: San Diego Chargers: T.J. McDonald, S, USC
The Chargers took Brandon Taylor in the 2012 draft, but the position still needs depth and options. McDonald could be a special player at the position.
Needs: OL, OLB, S
25. Atlanta Falcons: Sharrif Floyd, DT, Florida
The Falcons need to return to a power style on offense and defense. Floyd could help bring that on the defensive side of the ball.
Needs: Best available
26. Baltimore Ravens: Chris Faulk, OT, LSU
The Ravens' O-line is aging, so they began remaking the inside of it in 2013. Faulk would give them a young stud at T.
Needs: G, OLB, LOT, DE, RB
27. New York Giants: Montee Ball, RB, Wisconsin
The G-Men took David Wilson in the first round of the 2012 draft, but the team will need a second RB. Ball would give them a nice one-two punch.
Needs: OT, RB, LB, DT, DE, S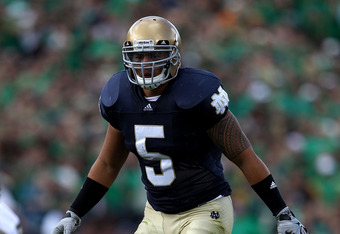 Jonathan Daniel/Getty Images
28. Pittsburgh Steelers: Manti Te'o, ILB, Notre Dame
The Steelers need to address their ILB position. Te'o has the look of a potential star and 10-year starter.
Needs: OT/G, CB, NT, ILB, RB, S
29. Detroit Lions: Alex Okafor, DE, Texas
The Lions may not retain Cliff Avril after this year, he has been franchise-tagged. Okafor would give them depth or a replacement.
Needs: CB, LOT, LB, DE, RB, S
30. Houston Texans: C.J. Mosley, ILB, Alabama
The Texans need a physical tackler in the middle of their 3-4 defense. Mosley could be that guy.
Needs: ROT, ILB, G, CB, OLB
31. New England Patriots: Khaled Holmes, G/C, USC
The Pats' O-line is aging as well. They need to make sure they keep fresh and capable bodies in front of Tom Brady.
Needs: S, G/C, OLB, CB, RB
32. Green Bay Packers: Tony Jefferson, S, Oklahoma
The Pack went almost exclusively defense in the 2012 draft. They still figure to need depth and talent to their secondary in 2013.
Needs: S, RB, DE, CB, TE