2012 NBA Playoffs: Knicks-Heat Instant Reaction; Analyzing the Awful Officiating
April 28, 2012

April 28th, 2012. Remember that date, because if you watched Game 1 of the Knicks vs. Heat first round series you just witnessed history.
You just witnessed the single worst officiated game in NBA history. 
I'm at a loss for words after watching the first half of that game. At one point I was legitimately afraid to put on a Knicks jersey while watching at home because I was worried I would somehow get called for a flagrant-2 foul. 
At halftime "and the Oscar goes to" was trending on twitter because so many fans were making jokes about LeBron's flopping. ESPN's Bill Simmons tweeted "28 FT's to 5. I don't watch rigged NBA games, I'm switching to hockey." 
The Heat shot 28 free throws in the first half to New York's five. The final margin was 33 to 11. The Knicks were called for five charges in the first half (when was the last time you saw that?) and Tyson Chandler was called for two separate illegal screens, one of which was called a flagrant. Both "fouls" led to confusion from the announcers. 
Anthony was called for a technical foul just for a slightly harder than average bounce pass to a referee. Mike Woodson was called for another because he was so appalled by these calls. 
An offensive foul called on Carmelo Anthony early in the third quarter led to Jeff Van Gundy saying "I'm just not gonna say anything anymore. You couldn't knock LeBron James over with that much force if you tried."
And those are just the calls made against the Knicks. What about the no calls for Miami? How many times did a Knick drive the lane only to be greeted by three defenders and no whistle. And when Carmelo was knocked down in the third quarter? You guessed it, no call.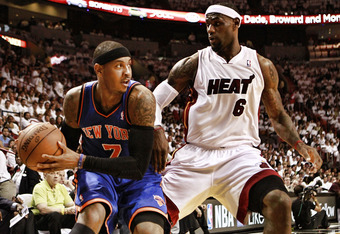 Marc Serota/Getty Images
And since when can refs take points off of the board during timeouts? I'm not saying Jared Jeffries's original shot should have counted after the shot clock expired in the first quarter. What I am saying is that I've never seen points taken off of the board in the first quarter of a playoff game. I highly doubt that shot gets reviewed if LeBron James had taken it. 
Let's talk about James for a moment. I've called him a lot of things in the past. "Traitor," "choker" and "scumbag" come to mind, but I've never called him a flopper. For all of the things I hated about him, I always respected him as a player. 
No more. The flopping I saw today was absolutely disgraceful. Look at the two illegal screens on Chandler. The "push off" by Carmelo. The loose ball where he was "pushed" out of bounds by Chandler.
The second screen was a foul on Chandler, but a flagrant? The rest were outright flops. It's a shame to see such a talented player resort to such a classless playing style. 
LeBron just declared war on the Knicks and their fans. I hope you're ready for Game 3 LeBron, because when you come to the Garden I hope you're ready for battle. You're getting everything Knicks fans have, and they've broken better players than you.
I'm not saying the Knicks should have won that game. With the way they were shooting it probably wasn't going to happen even in a fairly officiated game.
What I am saying is the performance we saw from both LeBron James and the referees was an absolute disgrace to the game of basketball. Don't be surprised when Tim Donaghy comes out in a few years and claims that it was rigged. 
How the Knicks react to this will determine if they can stay in this series. If they use it as motivation and come out guns blazing in Game 2 then this series isn't over.
But if they roll over the way they did in Game 1 this series is over. Hopefully we'll see them come out angry and ready to go. 
And hopefully we'll see the refs treat the rest of this series like basketball instead of a WWE match.