Where Does the 2012 Miami Hurricane Draft Class Rank in the Last Decade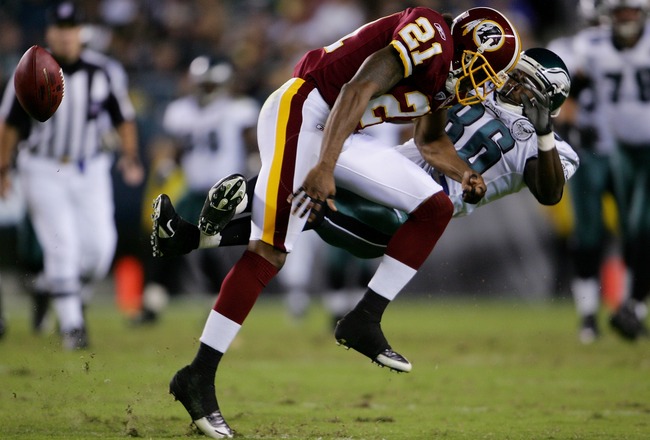 Chris McGrath/Getty Images
Over the last 10 years there have been an amazing 58 players taken from the University of Miami. That is almost six players drafted per season. That is crazy considering the Hurricanes haven't had a very good football team since 2002.
Over those 10 years there have been multiple Pro Bowlers, All-Pro players, Rookie of the Year award winners, and Super Bowl champions.
The latest NFL draft took place last week, and there were six more Hurricanes taken by the NFL.
Here is my ranking from worst class to the best class, over the last 10 years at Miami.
2009 Class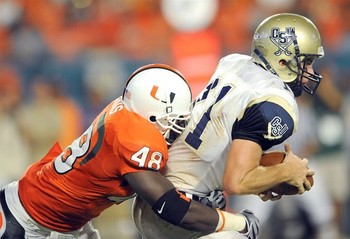 Players drafted: Spencer Adkins (LB)
Notes: Spencer Adkins was the only Hurricane drafted, taken in the sixth round by the Atlanta Falcons. He is currently on the roster but has registered only 12 total tackles in three years.
Reason for the ranking: This is a no-brainer on being the Hurricanes' worst NFL drafted class as only one player was taken in the draft, and he doesn't even see the field too often.
2012 Class
Players drafted: Olivier Vernon (DE), Sean Spence (LB), Lamar Miller (RB), Travis Benjamin (WR), Tommy Streeter (WR) and Brandon Washington (OL)
Notes: The Hurricanes' 2012 class has some serious potential in turning its No. 9 ranking into a legitimate top-five class. Olivier Vernon, Sean Spence and Lamar Miller seem to be the most NFL-ready players who could see a lot of playing time this year.
Travis Benjamin will most likely be used as a kick/punt returner and maybe see some time in a five-receiver set. His lack of size and iffy hands will permit him from becoming a full-time starter.
Tommy Streeter has the most potential just because of his athletic ability and size. Standing 6'5" and running a 4.40 40 means he could certainly compete with the best receivers in the league. His only downfall is that he is raw. He needs to learn how to run better routes and when he does, he may be the best Hurricane in this draft.
Brandon Washington needs more work all around. He has a good start but really could have benefited by staying an extra year. He moves well for his size but tends to struggle against quicker guys.
Reason for the ranking: The Hurricanes' 2012 class is ranked this low only because it has yet to prove anything in the NFL. Even without playing a down in the NFL, this class is already better than the single player they drafted in 2009.
2010 Class
Players drafted: Jimmy Graham (TE), Darryl Sharpton (LB), Jason Fox (OT) and Dedrick Epps (TE)
Notes: Jimmy Graham alone gave this class its ranking. Graham not only made it to the NFL but has become one of the best tight ends in the league. In fact, he owned the NFL record for receptions caught by a tight end for one day, Patriots' Rob Gronkowski broke his record the following day.
The rest of the draft class has been a letdown and has seen limited playing time. Jason Fox seems to have the best chance of getting some playing time but has been limited in his brief NFL career due to injuries.
Reason for the ranking: If it weren't for Graham, this class would be ranked No. 9 on my list. Graham has turned into such a stud and because of that, this class moved up to No.7.
2011 Class
Players drafted: Orlando Franklin (OT), Brandon Harris (CB), Leonard Hankerson (WR), DeMarcus Van Dyke (CB), Allen Bailey (DT), Colin McCarthy (LB), Richard Gordon (TE) and Matt Bosher (P)
Notes: The 2011 Hurricanes class to me was overrated, but when it is all said and done, it ended up being a very solid class. All players are still currently on active rosters, and each saw the field at times during last season.
Orlando Franklin, Colin McCarthy, and Matt Bosher are the only players that were drafted that started multiple games last year. In fact, Bosher and Franklin started every game last year.
Reason for the ranking: Out of the eight Hurricanes drafted, just a few of them are turning in a great beginning to their careers. It is still too early to see how great this class can be, but this has been a good start so far. I expect Brandon Harris, Allen Bailey and Leonard Hankerson to get much more playing time in the next couple of years.
2008 Class
Players drafted: Kenny Phillips (S), Calais Campbell (DE) and Tavares Gooden (LB)
Notes: Kenny Phillips and Calais Campbell have been starters for their respective teams for the last few years. Phillips is a tremendous safety who recently had his best year as a pro with four interceptions and 82 tackles for the Super Bowl champion New York Giants.
Campbell has been a tremendous talent for the Arizona Cardinals and their starter now for the third straight year.
The last Hurricane from this draft was Tavares Gooden who played a backup roll behind Ray Lewis but was traded a year ago to the San Fransisco 49ers and saw playing time only on special teams.
Reason for the ranking: Although there were only three players drafted, Phillips and Campbell have proven to be good regular starters for their teams. None of them have been named to any Pro Bowls but one, Phillips, does have a Super Bowl ring as a starter.
2006 Class
Players drafted: Kelly Jennings (CB), Rocky McIntosh (LB), Sinorce Moss (WR), Devin Hester (CB), Eric Winston (OT), Rashad Butler (OT), Leon Williams (LB), Orien Harris (DT) and Marcus Maxey (CB)
Notes: Devin Hester was obviously the best player in this class as he has set numerous records in the NFL for his kick and punt returns. In my eyes, he already is a future Hall of Famer.
Kelly Jennings, Rocky McIntosh, Eric Winston, and Rashad Butler are still currently on active rosters. Jennings, McIntosh and Winston are the only players that see legitimate playing time.
Orien Harris and Sinorice Moss currently play for other professional football leagues.
Reason for the ranking: Besides Hester, none of the other Hurricanes drafted had stellar careers. Winston and Butler are the only other players who get significant playing time. McIntosh was a solid starter but was reserved to a backup role in the middle of last year. Jennings had been pretty solid but was recently traded to the Cincinnati Bengals.
2007 Class
Players drafted: Brandon Meriweather (S), Jon Beason (LB), Greg Olsen (TE), Baraka Atkins (DE) and Kareem Brown (DT)
Notes: Brandon Meriweather and Jon Beason are multiple Pro Bowlers who have had great careers so far. Meriweather has struggled since being traded from the Patriots but is still young enough to make an impact on his newest team, the Washington Redskins.
Beason on the other hand is one of the best middle linebackers in the NFL and was recently paid that way when he became the highest-paid middle linebacker in NFL history, $50 million over the next five years.
Greg Olsen has also had a solid career as a starting tight end for the third straight year.
Reason for ranking: Beason, Meriweather and Olsen make this class a legitimate one with three starters who have excelled at their respective positions.
2003 Class
Players drafted: Andre Johnson (WR), Jerome McDougle (DE), Willis McGahee (RB), William Joseph (DT), Andrew Williams (DE), Jamaal Green (DE), Matt Walters (DE) and Ken Dorsey (QB)
Notes: In my opinion Andre Johnson is the best wide receiver in the NFL. He has been placed on the Pro Bowl team five times, All-Pro team four times, and he led the NFL in receiving two straight years (2008 and 2009). In fact, he became only the second receiver in NFL history to have 1,500 or more receiving yards for two straight seasons; Jerry Rice was the only other player to do that.
Willis McGahee also has had a great career in the NFL. The two-time Pro Bowl player has more than 7,300 yards rushing and 59 rushing touchdowns so far in his career. After a few subpar seasons with Baltimore, he was traded to the Denver Broncos and resurrected his career after rushing for 1,199 yards and four touchdowns last year.
The rest of the Hurricanes are no longer in the NFL.
Reason for ranking: Although McGahee and Johnson are the only remaining players from this class still in the NFL, this class ranks high because of the play of both of these players. McGahee looks to have a few more good years, and Johnson is still considered one of the best receivers in the league.
2005 Class
Players drafted: Antrel Rolle (CB), Roscoe Parrish (WR), Frank Gore (RB), Kevin Everett (TE) and Chris Myers (G)
Notes: Antrel Rolle and Frank Gore put this draft above and beyond the lower-ranked classes. Both players had two or more Pro Bowl appearances and are considered top-tier players in their respective positions.
Roscoe Parrish had a solid career with Buffalo but was recently traded to the San Diego Chargers. Chris Myers is also having a nice career as the starting center for the Houston Texans.
Kevin Everett played for a limited time before having to retire from a neck injury he obtained on special teams for the Buffalo Bills.
Reason for the ranking: Gore and Rolle make this class better than any of the previous classes. I do not believe either player is in the prime of his career, as Graham is, but they are still great players. Out of the five players drafted in this class, three are starters and one, Parrish, will most likely be the starting kick/punt returner for the Chargers.
2004 Class
Players drafted: Sean Taylor (S), Kellen Winslow II (TE), Jonathan Vilma (LB), D.J.Williams (LB), Vernon Carey (OT), Vince Wilfork (DT), Darrell McClover (LB), Alfonso Marshall (DB) and Carlos Joseph (OT)
Notes: Sean Taylor was the first of an NFL record six (from one college) Hurricanes to be drafted in the first round. Taylor ended up deserving such a high draft for a safety (fifth overall) as he became one of the best safeties in the NFL in just four short years. Taylor was well on his way to becoming a future Hall of Famer when he was brutally murdered by burglars in his Florida home. At the time of his death, he was tied in the NFL in interceptions with five, despite missing two weeks due to injury.
Taylor will go down as my favorite Hurricane of all time.
Kellen Winslow, Jonathan Vilma, D.J. Williams, Vernon Carey, and Vince Wilfork were all starters for their respective teams last year.
Like Taylor, before his untimely passing, Wilfork is considered one of the best at his position for the New England Patriots. Wilfork was named to his third straight Pro Bowl and All Pro teams last season.
Reason for the ranking: The list of players and what they have done in the NFL (10 Pro Bowls, five All-Pro teams combined, and the NFL Rookie of The Year) isn't just the best class the Hurricanes had in the last decade but one of the best classes in Hurricanes history.
Keep Reading

Miami Hurricanes Football: Like this team?