Baltimore Ravens 2012 NFL Draft Report Card: Grades for Every Pick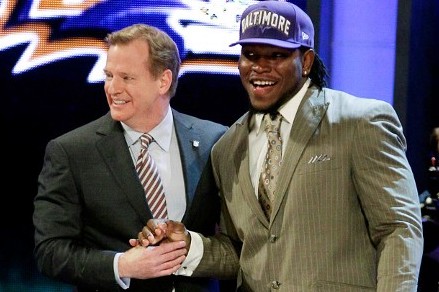 Courtesy: http://www.wbal.com/
After waiting until the end of Thursday night to hear the Baltimore Ravens have traded back into the second round, Baltimore fans were pleasantly surprised with the Ravens first pick.
In total, the Ravens made eight selections in the 2012 NFL draft. They addressed needs left by key starters that signed elsewhere in free agency. They added depth as well.
Most importantly, the Ravens drafted players who fit their style of football without sacrificing the structure of their draft.
Like any team that was seconds away from a Super Bowl, the Ravens knew they were a very good football team before this draft. Still, they stayed true to their board and had a productive draft that could yield big dividends in the near future.
Begin Slideshow

»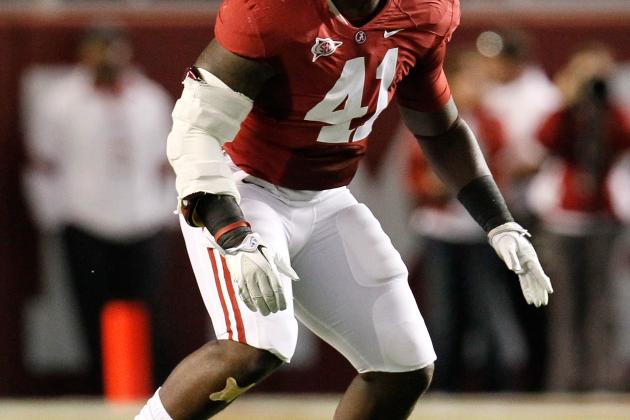 Kevin C. Cox/Getty Images

As the defensive MVP of the BCS National Championship game, Courtney Upshaw should've been a first-round draft pick.
Instead, he saw four of his former Crimson Tide teammates leave the Radio City Music Hall green room before he did.
The Ravens traded back from No. 29 to No. 35 and took the outside linebacker/defensive end from Alabama with their first pick this year.
Baltimore lost Jarret Johnson to San Diego via free agency. Johnson's void could be filled by Upshaw as soon as Week 1.
Head coach John Harbaugh said Paul Kruger is the starter right now, but Upshaw is very talented and was coached well, which will help him challenge Kruger for that starting role.
Upshaw is a really good choice for the Ravens because he fits a need and plays smart, physical football. He's a very strong player that can 'set the edge' on run plays, forcing the flow of the play back inside, where Haloti Ngata, Terrence Cody and Ray Lewis will be waiting.
This pick was worth the wait...for both Upshaw and the Ravens.
Grade: A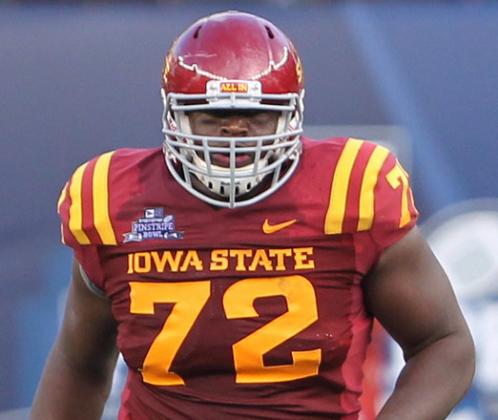 Courtesy: bleacherrport.com (http://bit.ly/Kbly6w)
Kelechi Osemele was a huge 'get' for the Ravens. He is a mean football player, who has tremendous size and explosive strength.
Osemele needs some grooming, but he's a good prospect who could play guard as well.
His profile: 6'5", 333 pounds, 36" arms, 32 bench press reps of 225 pounds. This is just what the doctor ordered for Baltimore, who lost Pro Bowl guard Ben Grubbs and who isn't sure what their left tackle future will look like.
Grade: A-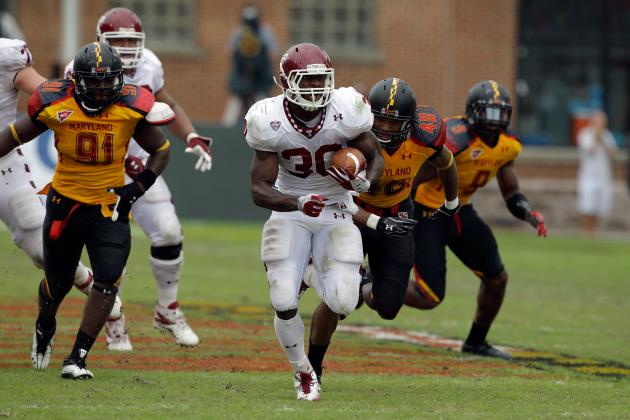 Rob Carr/Getty Images

With the retirement of Ricky Williams and unproven backups such as Anthony Allen and Damien Berry, the Ravens made an aggressive move in drafting Bernard Pierce.
In three years at Temple, Pierce rushed for 3,570 yards and 53 touchdowns (27 rushing touchdowns in 2011).
Of the last 12 running backs drafted by Baltimore, only Ray Rice (2008, Round 2, Pick 24) and Musa Smith (2003, Round 3, Pick 13) have been selected higher than Pierce. Meaning the Ravens expect for Pierce to be an immediate contributor to the team.
Whether on special teams or as a backup, Pierce will help Baltimore continue their tradition of strong running offense. He's a bigger back than Rice, and is used to producing at a high level like the former Rutgers product.
Pierce's speed is okay, but his instinct and running style put him and his offense in good position to gain a lot of yardage.
Odds are Rice will sign a long-term deal with Baltimore. In the event that doesn't happen, it's nice to know Pierce is on the team.
Grade: B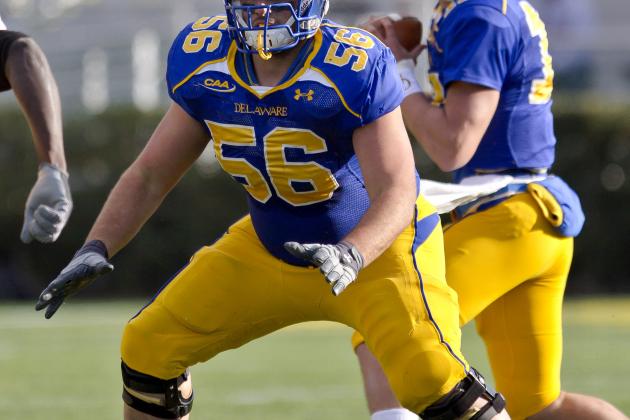 Courtesy: nmnathletics.com (http://bit.ly/IIDJio)
Continuing their efforts to add depth and potential starters to the offensive line, the Ravens selected Gino Gradkowski with the third pick in the fourth round.
Gradkowski started his collegiate career at West Virginia, where he was a backup for the Mountaineers from 2007-08.
While he won't be expected to start right away, he doesn't have to. Gradkowski could be the center of the future, while learning the ropes from veteran Matt Birk.
This isn't a fancy pick, but it's a pick that has minimal risk.
Grade: C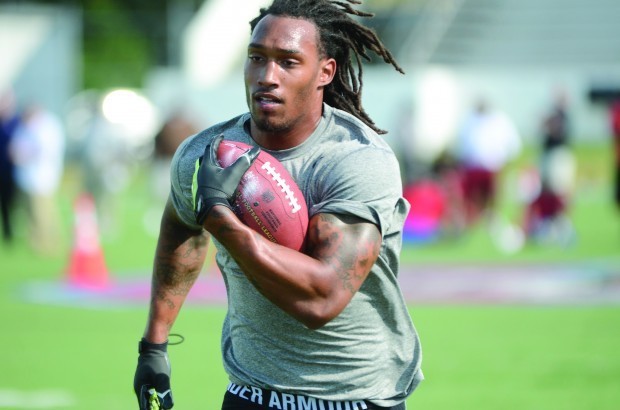 Courtesy: thetandd.com (http://bit.ly/JQ1PdG)
Baltimore addressed another big need when they drafted Christian Thompson with their fourth-round compensatory pick.
Thompson is a very good athlete that needs coaching. Fortunately for him he was mentored by Ed Reed, even before the draft. With the departure of Haruki Nakamura to Carolina this offseason, Thompson happens to be next in line to replace Reed.
New Ravens defensive coordinator Dean Pees said he was "shocked" when Thompson fell to the Ravens in the fourth round. Something tells me the Ravens know something we didn't.
Adalius Thomas, Bart Scott and Lardarius Webb are just some names of Ravens defenders that others didn't think highly of.
Time will tell if Thompson lives up to that line of success. But with Ed Reed in his corner, I wouldn't bet against him.
Grade: C+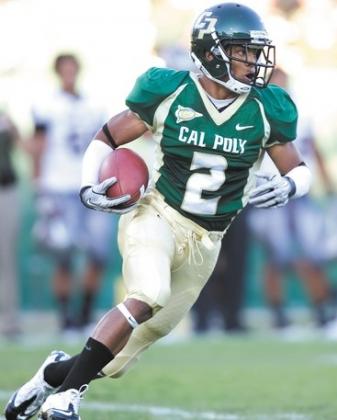 Courtesy: thejaggernaut.com (http://bit.ly/tY031l)
Lardarius Webb was a restricted free agent, but on April 5 he signed a six-year deal worth over $50 million. Cary Williams is a restricted free agent, but is expected to re-sign with the Ravens. Jimmy Smith (last year's No. 1 pick) is the third of the Ravens' young and talented cornerback trio.
On Saturday, by drafting Asa Jackson from Cal Poly, they added more depth to a position you can never have enough of.
Jackson played at a small school, but was frequently around the ball. He can definitely step in on special teams for the Ravens right now while getting acclimated to the NFL.
He is a tough, fast football player who could do a variety of things for the Ravens.
Grade: C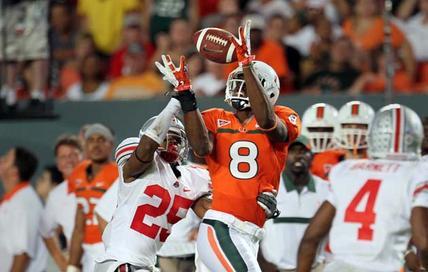 Courtesy: palmbeachpost.com (http://bit.ly/ICLtQ2)
Although he started just one season for the Hurricanes, Tommy Streeter is what the Ravens were looking for.
Like many sixth-round selections, Streeter will need to define his talent. But his talent and physical presence is something the Ravens couldn't pass up.
Streeter stands 6'5", weighs 219 pounds and ran the 40-yard dash in 4.40 seconds. In 2011, he caught 46 passes for 811 yards and eight touchdowns. Factoring in the wild inconsistency of his college quarterback (Jacory Harris) makes the Ravens' case for drafting him even stronger.
Anquan Boldin is a really good slot receiver. Torrey Smith is a really good deep receiver. Given some time to fine-tune his footwork, Streeter could turn into the steal of the draft for the Ravens.
If Streeter is coached well and works hard, he could become a bigger, faster version of Bengals wide receiver A.J. Green.
Grade: B+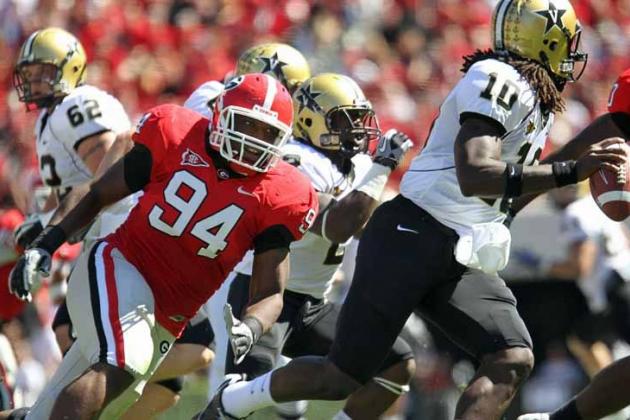 Courtesy: georgiasports.blogspot.com (http://bit.ly/JtzeZb)
Deangelo Tyson is a strong, interior run defender, who's also big enough to play defensive end. He was named to the Preseason All-SEC Second Team in 2011.
He's not as big as Haloti Ngata, nor is he the pass-rusher Ngata is. But Tyson plays similar to Ngata, in that they both are forceful on the inside, shed blocks well and are sound tacklers.
His play recognition and pass rush need work, but he will learn from an excellent defensive line coach in Clarence Brooks.
Grade: C
Courtesy: baltimoresun.com (http://bsun.md/Kj6te9)
Overall Grade: A-
The Ravens filled every need they had, picking up quality, versatile players without reaching.
Out of their eight draft picks, five of those players could start and contribute within two years.
Pierce will back up Ray Rice. Jackson is, at best, the fifth-best cornerback on the roster. Tyson is, at best, third-best behind Art Jones and Pernell McPhee. All others could see the starting lineup in the near future.
Again, a team like the Ravens that was so close to a Super Bowl didn't need to do much to improve their roster. Regardless, Baltimore did just that with another shrewd late-April performance.