10 Most Memorable Devils vs. Flyers Playoff Moments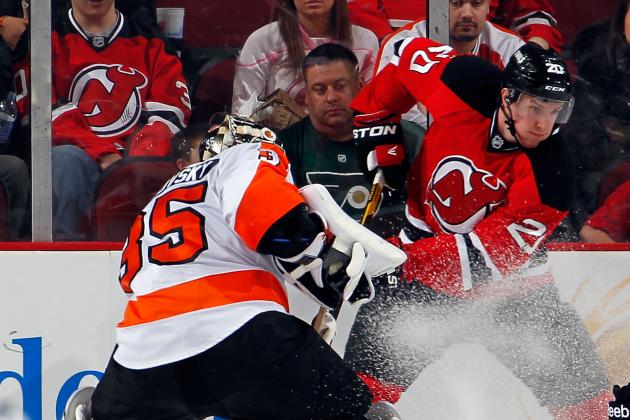 Paul Bereswill/Getty Images

The New Jersey Devils will face the Philadelphia Flyers for the fourth time in their playoff history when the puck drops at 3:00 PM ET Sunday.
The teams' prior meetings in 1995, 2000, 2004 and 2010 all have provided great playoff moments, with New Jersey prevailing in 1995 and 2000 and the Flyers winning the latest meetings in 2004 and 2010.
In anticipation of what should be a great series between the two rival franchises, let's count down the top 10 most memorable Devils vs. Flyers playoff moments.
Begin Slideshow

»
Claude Lemieux was on a tear in the 1995 playoffs. His 11th goal of the postseason sealed the Game 6 victory and the series for the Devils.
Lemieux's play in the 1995 playoffs also added to his reputation as one of the NHL's most clutch performers.
Danny Markov scores in the third period of Game 5 to put the Flyers ahead.
Scott Stevens lays two back-to-back hip checks, adding to the tension of the 1995 Eastern Conference Finals.
Jason Arnott fires a shot past Philadelphia's Brian Boucher in the 2000 Eastern Conference Finals.
The Flyers gained control of the 2004 Eastern Conference Quarterfinals with a win on the road in New Jersey. Flyers goalie Robert Esche recorded a 3-0 shutout victory.
Dan Carcillo scores in overtime of Game 3 to give the Flyers a 3-2 victory and a 2-1 series lead in the 2010 Eastern Conference Quarterfinals.
The Flyers would go on to make a run to the Stanley Cup Finals in 2010.
Brian Boucher loses his helmet while robbing Patrick Elias on a breakaway in the 2000 Eastern Conference Finals.
Sami Kapanen puts in an empty-netter, and the Flyers win Game 5 of the Eastern Conference Quarterfinals, finally defeating the Devils after having been eliminated by New Jersey in 1995 and 2000.
Scott Stevens' hit on the Flyers superstar not only shifted the momentum of the 2000 Eastern Conference Finals, but it also tainted the remainder of Eric Lindros' career.
This was Lindros' last shift as a Flyer.
The 2000 Devils overcame a 3-1 series deficit en route to defeating Philadelphia in the Eastern Conference Finals.
Patrick Elias scored in the third period of Game 7 to give the Devils a 2-1 lead that they would not relinquish. The New Jersey Devils went on to win their second Stanley Cup in franchise history.