2012 NFL Draft Grades: Breaking Down Winners and Losers of Fourth Round
April 28, 2012

Mike Ehrmann/Getty Images
The fourth round of the 2012 NFL draft came and went this afternoon and a number of teams made some noise with their picks.
Some of that buzz is for good reasons, while other teams made some head-scratching decisions.
Let's take a look at the winners and losers from the round.
Winners
No. 97: Miami Dolphins, Lamar Miller, RB, Miami
Teams must have been scared of his injury, because some early mocks had him going in the first round.
Miami had no problem picking up the homegrown prospect, and he's going to reward their running game with big-play potential and game-breaking speed.
No. 109: Pittsburgh Steelers, Alameda Ta'amu, DT, Washington
This may have been the most perfect selection of the fourth round. The Steelers had a need to get a nose tackle to fit their 3-4 scheme. Alameda will compete for the job with Casey Hampton and eventually take over when the 34-year-old retires.
The Steelers literally got the best player available to them on the board and filled a huge need with an amazing choice here.
No. 112: Arizona Cardinals, Bobby Massie, OT, Mississippi
Massie was bound to go in the fourth round after he was neglected for no apparent reason during the first two days of the draft.
He's got a chance to start at tackle for the Cardinals, who had one of the worst lines in the league in 2011-12.
Losers
No. 100: Cleveland Browns, Travis Benjamin, WR, Miami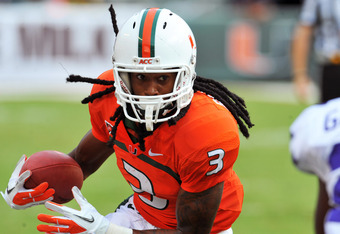 Al Messerschmidt/Getty Images
The Browns have a lot of receivers with speed, and they just added another undersized guy in Benjamin.
The Hurricanes WR is not going to add anything to the roster that was missing during their dismal 2011-12 campaign, and this pick just doesn't make sense for a team that has so many other needs.
No. 114: Seattle Seahawks, Jaye Howard, DT, Florida
Seattle is hell bent on upgrading their pass-rush with one-dimensional players. Howard is a one-gap type tackle that will help get pressure on the QB, but he's got little other use unless he drastically improves his skills in the NFL.
The Seahawks need to find more versatile players, and this was a wasted opportunity.
No. 131: New York Giants, Brandon Mosley, OT, Auburn
New York filled a need by adding an offensive lineman, but Mosley is a project at best right now.
This team wants to stay on top of the NFL after winning a Super Bowl and should have gotten a prospect that is ready to contribute on the line, not someone they have to hope pans out after a few years.