Washington Redskins Wise to Draft Kirk Cousins and Release John Beck
April 28, 2012

Joel Auerbach/Getty Images
The Washington Redskins have added two new quarterbacks in Robert Griffin III and Kirk Cousins at this year's NFL draft, which consequently ended their relationship with veteran passer John Beck.
According to NFL Network's Michael Lombardi, the Skins have released Beck:
Liked the new Raider pick and Skins have released John Beck

— Michael Lombardi (@michaelombardi) April 28, 2012
While everyone knew that the Redskins were going to select Baylor Bears star RG3 after moving up in the draft, mostly everyone was caught by surprise when they took Cousins of the Michigan State Spartans in the fourth round.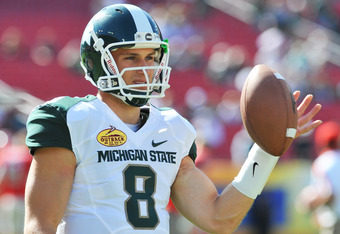 Al Messerschmidt/Getty Images
The Redskins went with both Beck and Rex Grossman last year, neither playing that well as the team finished the season 5-11.
Beck appeared in just four games last season, throwing for 858 yards with two touchdowns and four interceptions.
The move leaves the roster sitting at Griffin, Cousins and Grossman, but it remains to be seen who will be the No. 2 passer on the depth chart.
If the team was contemplating cutting either Grossman or Beck, then it would be to nobody's surprise that Cousins could earn that spot in camp.
Either way, it was the right move for the team to cut Beck. While they likely didn't need to waste a fourth-round pick on a quarterback, last season it was pretty clear that the Redskins need solid options under center.
It is clear that Griffin will be the starter, but pending an injury or a failure to live up to expectations, the team now has another young option that it can continue to groom under head coach Mike Shanahan.
At Michigan State this past season, Cousins threw for 3,316 yards with 25 touchdowns and 10 interceptions. He nearly led the Spartans to the Rose Bowl but fell to the Wisconsin Badgers in the Big Ten title game, 42-39.
Cousins may not have the stuff to be considered a regular starter, but he could be a very solid backup to this team trying to complete a quick rebuild.
Jeff Chase is a Featured Columnist for the Chicago Cubs and Arizona State football.
Follow @Real_Jeff_Chase