2012 NFL Draft Results: Predicting the Top Rookie-Vet Training Camp Battles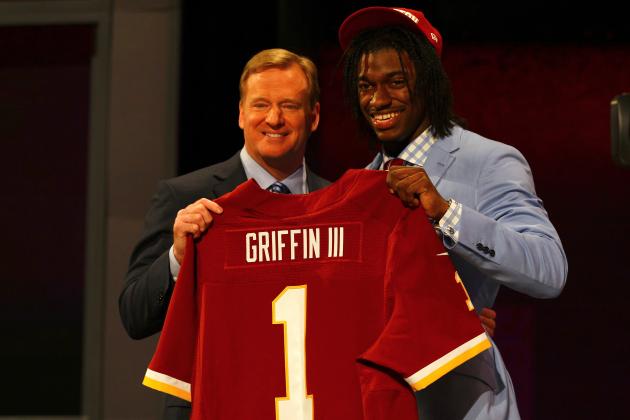 Al Bello/Getty Images

After months of speculation and debate, along with an innumerable amount of mock drafts, the NFL now has its new rookie draft class.
While many of these draft picks should slide quickly into starting roles, others may find there are starters in place who may not be too thrilled to relinquish their starting positions.
These battles should give fans plenty to talk about in the barren football months ahead of us.
Here are some predictions for the top rookie and veteran training-camp battles of 2012.
Begin Slideshow

»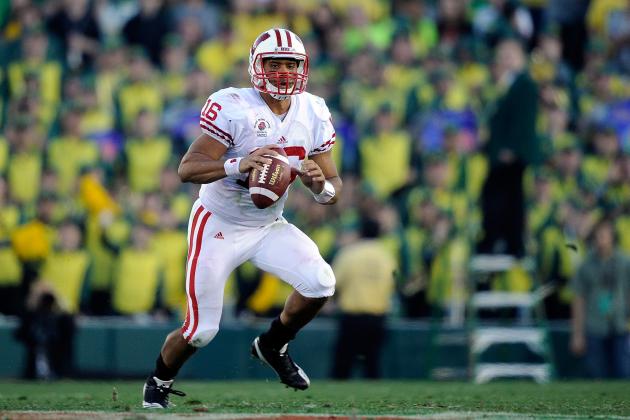 Kevork Djansezian/Getty Images

Competition: Russell Wilson vs. Matt Flynn vs. Tarvaris Jackson
The third-round selection of Wisconsin/NC State quarterback Russell Wilson adds another layer to what should be a full-on quarterback battle taking place this offseason.
The likely loser in this equation: Tarvaris Jackson, who failed to inspire much confidence for much of last season.
Look for Matt Flynn to start, with Wilson in the backup role.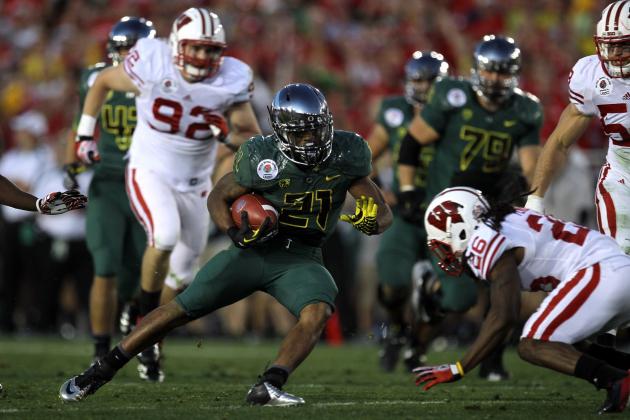 Stephen Dunn/Getty Images

Competition: LaMichael James vs. Frank Gore vs. Kendall Hunter vs. Brandon Jacobs vs. Anthony Dixon
There are only so many carries that can go around, so it has to be considered somewhat of a head-scratcher for the San Francisco 49ers to go after another running back—even one as talented as Oregon's LaMichael James.
While some have considered him to be a challenger to starter Frank Gore, I see him more likely stealing carries from Kendall Hunter, who impressed last season as a rookie, change-of-pace back.
Look for James to make more of an impact in the special-teams game during his rookie campaign.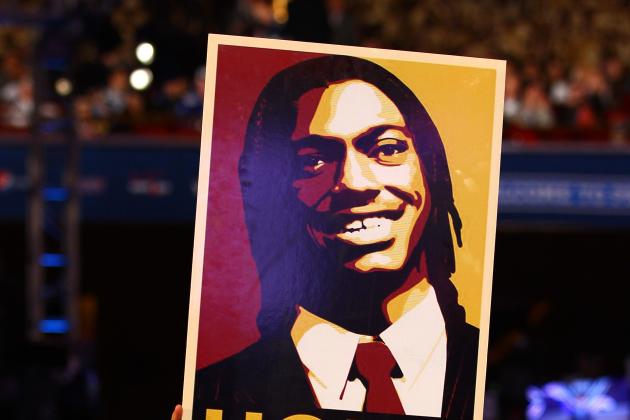 Al Bello/Getty Images

Competition: Robert Griffin III vs. Kirk Cousins vs. Rex Grossman
I don't care what Washington Redskins head coach Mike Shanahan says about how his new starter Robert Griffin III "understands" the team's drafting of quarterback Kirk Cousins.
It was a jerk move, plain and simple. It doesn't make sense to go out of the way like the Redskins did to get a player like Griffin, only to undercut him less than two days later with the unnecessary competition of Cousins.
The signing also brings back memories of the painful saga of the Redskins' 1994 first-round draft pick, Heath Shuler, who was usurped by seventh-round pick Gus Frerotte.
Somewhere in the mix, Rex Grossman will be involved in the quarterback battle, but it's tough to visualize him getting very serious consideration beyond being the starter for a handful of games next season.
Look for Griffin to start, with Grossman backing him up.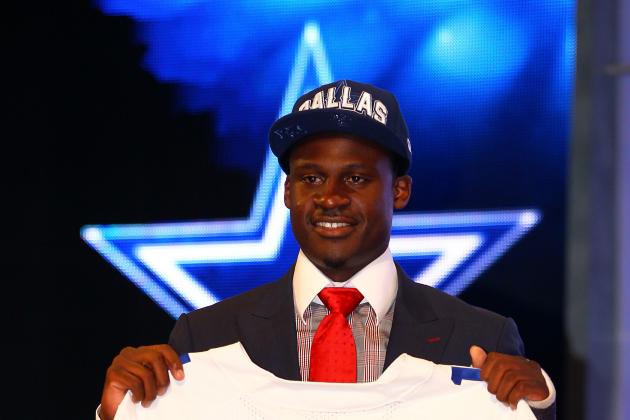 Al Bello/Getty Images

Competition: Morris Claiborne vs. Mike Jenkins
The competition for the Dallas Cowboys' second starting cornerback spot, likely between first-round pick Morris Claiborne and returning starter Mike Jenkins, may be over before it starts.
The team is looking to ship out Jenkins, who, in addition to having lingering injury woes, also has too high of a salary cap hit in 2012.
Expect Claiborne to fill the starter's role with new signee Brandon Carr this coming season.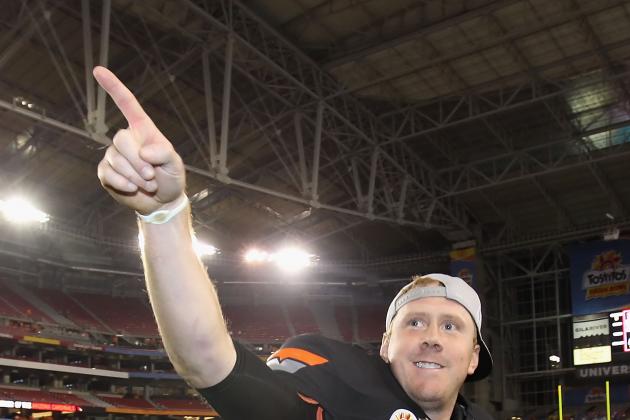 Christian Petersen/Getty Images

Competition: Brandon Weeden vs. Colt McCoy
Colt McCoy is likely going to the bench, after the Cleveland Browns selected Brandon Weeden with their second pick of the first round Thursday.
While the jury is still out on McCoy's effectiveness as a starter, it's clear the team felt the need to move in a new direction.
While it would have been nice for Weeden to sit a year to let the franchise fully assess McCoy, his age means they have to pull the trigger now on him as the starter.
Remember, Browns fans, Weeden is older than McCoy by three years (he'll be 29 years old in early October), older than 2007 draft bust JaMarcus Russell and older than reigning league MVP Aaron Rodgers by about two months.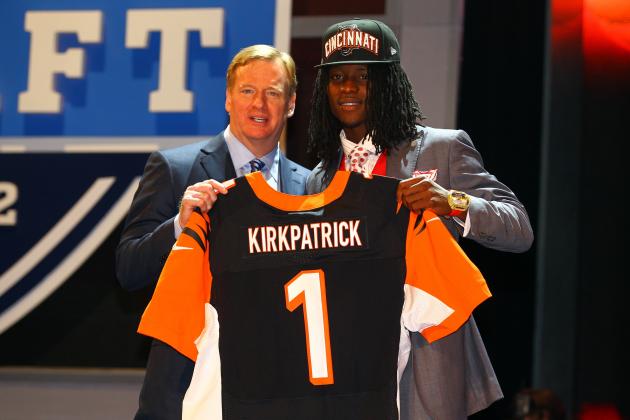 Al Bello/Getty Images

Competition: Dre Kirkpatrick vs. Leon Hall vs. Nate Clements vs. Adam "Pacman" Jones vs. Terence Newman vs. Jason Allen
As this AP profile phrases perfectly, Dre Kirkpatrick may need to replace that No. 1 on his jersey with a No. 6. He will face a tremendous amount of competition for playing time with several former first-round draft picks.
Kirkpatrick may be a bit undisciplined, and his skills are a little raw, but his confidence (emphasized by his "Swagga" nickname) may be a big help as he takes on challengers with more years in the league.
Look for Kirkpatrick to surprise and land either the second or third cornerback spot entering his rookie year.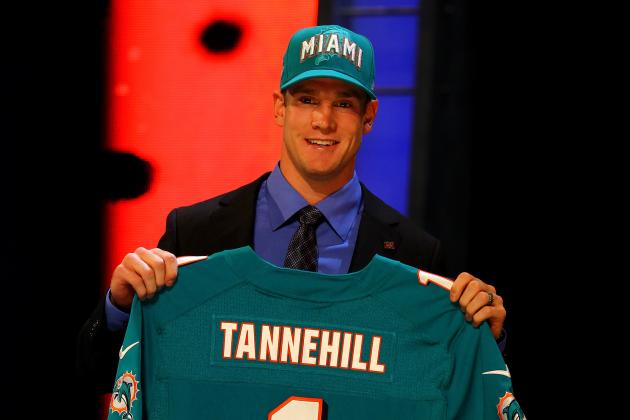 Al Bello/Getty Images

Competition: Ryan Tannehill vs. Matt Moore vs. David Garrard
All signs indicate that Miami Dolphins rookie passer Ryan Tannehill could start immediately in 2012, but it's unlikely that he'll get the job unchallenged.
He'll have to hold off last year's starter, Matt Moore, who finished 2011 with some excellent play.
The surprise contender in the competition? David Garrard, who returns from a back injury that kept teams from signing him in 2011.
Look for Tannehill to start right away in 2012. No matter who starts, the loss of wide receiver Brandon Marshall means passing yardage could be tough to come by.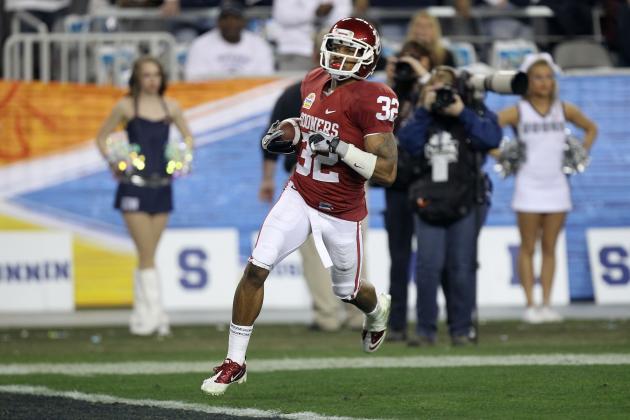 Ronald Martinez/Getty Images

Competition: Jamell Fleming vs. Greg Toler vs. A.J. Jefferson vs. William Gay
With the Arizona Cardinals' first cornerback slot all but guaranteed for Patrick Peterson, competition should be tight for the second cornerback spot.
The team's third-round pick, Jamell Fleming, will have to play well to break out of a nine-player-deep cornerback logjam. Among his biggest challengers will be William Gay, signed in free agency from the Pittsburgh Steelers.
Look for Fleming to slide into the third cornerback spot about midway through the season after establishing himself on special teams, a role he says he enjoys.
Joe Robbins/Getty Images

Competition: Luke Kuechly vs. Jon Beason vs. Thomas Davis vs. James Anderson vs. Jordan Senn
The Carolina Panthers may have reached in grabbing Luke Kuechly with the ninth overall pick of the draft instead of a defensive lineman, but Kuechly will have a chance to start immediately.
Helping his cause is the questionable injury status of returning starters Jon Beason and Thomas Davis.
Look for Kuechly to start the season paired with the healthier of Beason and Davis, along with James Anderson.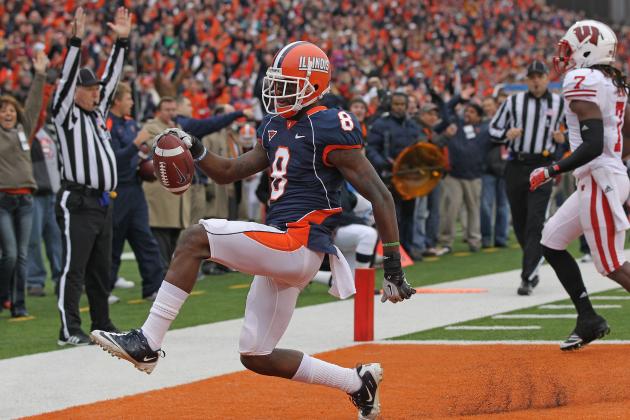 Jonathan Daniel/Getty Images

Competition: A.J. Jenkins vs. Michael Crabtree vs. Mario Manningham vs. Randy Moss vs. Kyle Williams vs. Ted Ginn, Jr. vs. Brett Swain
Apologies for another slide dedicated to the San Francisco 49ers, but the team has another logjam at its wide-receiver position, compounded by its first-round selection of A.J. Jenkins.
He'll have to fight off new signees Mario Manningham and Randy Moss, along with several returning contributors, including Michael Crabtree.
Needless to say, barring a superhuman training camp for Jenkins, he may be relegated to the fourth wide-receiver role (at best). Jenkins will likely have his best shot to contribute on special teams.