NFL Draft 2012 Results: Lamar Miller and 4th Round Picks Who'll Be Studs
April 28, 2012

Mike Ehrmann/Getty Images
While it is often perceived that the best rookies come out of the first round of the NFL draft, you can never eliminate those who are taken later.
With guys such as Miami Hurricanes running back Lamar Miller being taken in the fourth round, there are quite a few guys taken in this round who have a chance to be real studs at the next level.
We have seen it before with guys like Marques Colston and Tom Brady, so perhaps these post-first-round picks will be stars as well.
Miami Dolphins, Pick 97: Lamar Miller, RB, Miami Hurricanes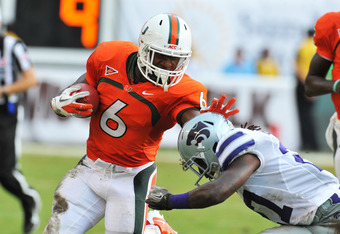 Al Messerschmidt/Getty Images
The Dolphins got a steal here in the fourth, selecting a running back who some perceived as a potential first-round selection.
Miller fell quite far, but the former Hurricanes star will be a nice complement to Dolphins running back Reggie Bush.
While Bush isn't a true back, the addition of Miller will relieve him of taking on the heavy duty of being the primary option out of the backfield.
Bush did prove this past season that he can be a running back, but most people know he is best utilized in passing schemes and special plays.
Miller, who had seven games of over 100 yards, should be able to come in and create a two-headed monster with Bush in 2012.
Arizona Cardinals, Pick 112: Bobby Massie, OT, Ole Miss Rebels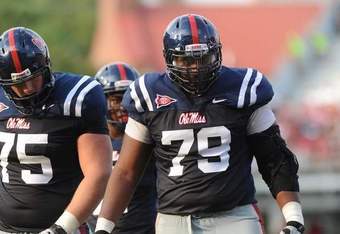 If the Cardinals realized one thing last season, it was that they must protect the quarterback. Kevin Kolb was on the ground way too much in 2011, let alone hardly on the field due to injuries.
Adding a guy like Massie is a smart pick, as he should be able to add instant protection, as well as allowing players like Beanie Wells find some more holes to move the ball on the ground.
While offensive linemen are never sexy picks, they are necessary to a team finding big play potential.
The Cardinals offense is looking strong, and now they just upgraded the protection to make sure it functions.
New Orleans Saints, Pick 122: Nick Toon, WR, Wisconsin Badgers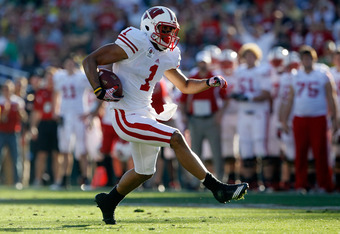 Jeff Gross/Getty Images
The Saints lost a huge part of their offense this past season in Robert Meachem, so Toon should be able to find a role in this pass-heavy offense immediately.
This past season, Toon had 64 receptions for 926 yards and 10 touchdowns. At 6'3" and 220 lbs., Toon will provide a nice target for quarterback Drew Brees, who can always use more targets.
Marques Colston hasn't been the most stable player over the years, but if he can stay healthy, it would be hard to go against this team's offense in 2012, no matter what is going with their ongoing "Bountygate" investigation.
Toon is a steal here for the Saints, especially since they will be able use him right away.